The actress and dancer Mara Lynn, who had a small part in Let's Make Love, is profiled in today's Winchester News-Gazette. Born Marilyn Mozier in Chicago in 1927, she is believed to have attended Winchester High School in Indiana. After studying classical dance with George Balanchine, she found fame on Broadway in Inside USA (1948.) This led to more musicals, and a long career as a dance director and performer in Las Vegas.  She broke into movies with the camp classic, Prehistoric Women (1950), and appeared on television as a glamorous sidekick to comedians Groucho Marx and Milton Berle.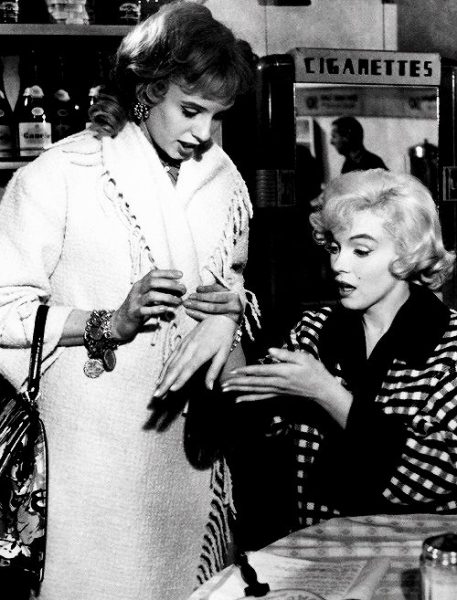 Let's Make Love is perhaps her most notable film. The article claims that Mara 'gave acting lessons to Marilyn Monroe at Marilyn's New York apartment,' but this seems highly unlikely. She may have helped Marilyn to limber up for her dance numbers, however.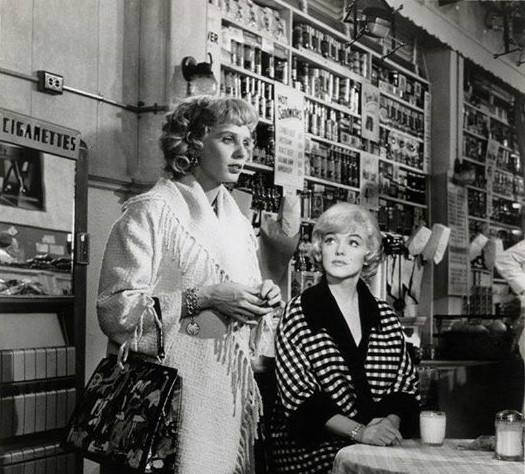 In Icon: The Life, Times and Films of Marilyn Monroe, Gary Vitacco-Robles summarises Marla's brief scene with Marilyn and Yves Montand.
"Clement [Montand] is used to women who are interested in him for his money and is moved by Amanda's [MM] noble intention. He claims to sell costume jewellery between acting jobs and offers to sell her the diamond bracelet for five dollars. 'The box looks like it's worth more than that!' she says, agreeing to buy it. Another dancer (Mara Lynn) admires the bracelet as a gift for her sick mother, and Amanda graciously offers it to her. Later, the dancer tells Clement her mother is long deceased. To retrieve the bracelet, he explains that its gems were exposed to radioactive atomic rays to produce their sparkle and will make the skin on her wrist peel. Horrified, the dancer removes the bracelet from her wrist, throws it at Clement, and takes back her money."