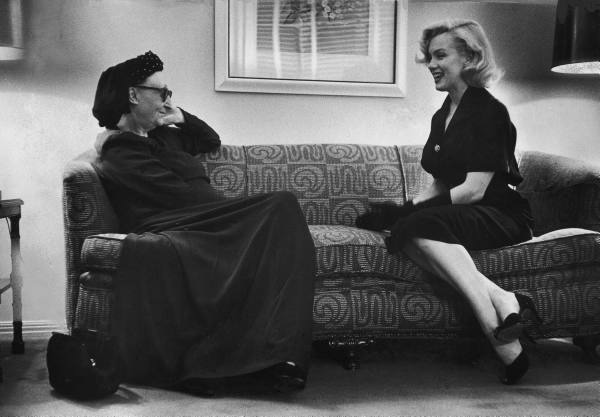 Talk at the BBC is a compilation show featuring clips from vintage interviews with Robert Mitchum, Jayne Mansfield and more. Of particular interest to Monroe fans will be the clips where poet Edith Sitwell (pictured here with Marilyn during a trip to Hollywood in 1953) and Wilfrid Hyde-White (who appeared in MM's penultimate film, Let's Make Love) both sharing fond memories of her.
For those unable to view the footage, ES member timetravelangel has made a transcription:
Face to Face (BBC, 1959)
Interviewer: 
Now I want to change the subject and ask you about something quite different because there is one episode in your career which has puzzled people. Why did you decide some years ago to go to Hollywood and work in the Hollywood machine?
Edith Sitwell: 
Well, I was not working in poetry at that moment and I needed to earn money.
Interviewer: 
Did Hollywood either succeed in or seek to lower your standards?
Edith Sitwell:
Oh, not for a moment.
Interviewer:
How did you ward them off because they have after all corrupted a great many?
Edith Sitwell:
I didn't have to. I only saw people who, whose behaviour was impeccable, who were highly educated and the sort of people I would know in England.
Interviewer:
Is the story of your, er, affection for, or whatever it was, Marilyn Monroe just a press story or is it true? Did it really happen?
Edith Sitwell:
Well, I'll tell you what happened exactly. You see, she was brought to see me in Hollywood and I thought her a very nice gal. I thought that she had been disgracefully treated, most unchivalrously treated. If people have never been poor, perhaps they don't know what it is like to be hungry. That girl allowed a calendar to be made of her, you see. Well there have been nude, er…
Interviewer:
Models?
Edith Sitwell:
…Models before now. It means nothing against a person's moral character at all. This poor girl was absolutely persecuted by people. I mean, she has, or had an unfortunate attraction for an extremely unpleasant kind of man- whom she avoided assiduously. I have seen her do that when she was brought to see me, I really did, you see. I mean, she behaved like a lady.
Interviewer:
And has she shown pleasure and, and gratitude if you like, for the kindness which you showed to her?
Edith Sitwell:
Well, indeed, yes! When she and her husband, for whom I have a very great admiration,came to London they were asked whom they wanted to see. And I was one of the first people whom they wanted to see. And they came. But of course we couldn't talk because every kind of person was just hanging about outside and interfering and all the rest of it, you know and going and telling lies afterwards. But I saw her again alone in New York and we had a most delightful talk and I hope that one day I shall see them alone again.
Interviewer:
Do you in fact find it very easy to make close personal friendships or do they come hard?
Edith Sitwell:
Yes. When I die, I will be able to say that I think that I've had- that I've given more devotion and had more devotion than most people I know.
* * *
Unknown show before a studio audience (BBC, 1969)
Interviewer:
To transfer for one second to an actress now unfortunately no longer with us, but one of my idols forever, Marilyn Monroe. You worked with her once?
Wilfred Hyde-White:
Ah, yes, the most wonderful, darling, genuine eccentric you could ever possibly meet. She was a wonderful, wonderful woman and a very, very great artist. I adored her. Marvellous woman.
Interviewer:
The legend is still with us, isn't it?
Wilfred Hyde-White:
Yes well of course, there will never be anyone else like her. She was most extraordinary because – I'd admired her, of course, just like you and everyone else – but when I went to work with her I wondered how much was her and how much was direction. And one hundred per cent was her. And George Cukor who was a very, very bright, clever director, with a particular reputation for handling leading ladies, he of course let her do it entirely her own way. Marvellous woman! She was not a very regular attendant.
Interviewer:
You mean she was late?
Wilfred Hyde-White:
She used to sometimes be a fortnight late, yes.
[Audience laughter]