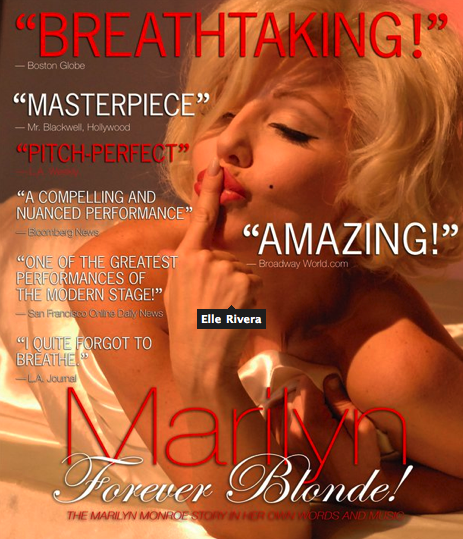 Sue Glover's Marilyn, currently showing at the Glasgow Citizens' Theatre, is described as  'a witty take on celebrity and feminism in the 1960s' in The List. Others, including The Scotsman and STV, praise Frances Thorburn's performance as MM, but consider the play itself rather disappointing.
'In act one we are given brief insights into the more interesting aspects of Monroe's personality (such as her defence of her husband, Arthur Miller, against McCarthyism), as well as her burgeoning self-doubt and increasing reliance on drugs and alcohol,' writes Mark Brown in Herald Scotland. 'In act two, however, the play really comes apart, descending into a stereotypical "catfight" between Signoret and Monroe (caused by the latter's affair with Montand) which is so blunt and badly written as to be almost an affront to feminism.'
These comments echo our own ES Updates Fan Review by Lorraine. It would seem that the more you know about Marilyn's real story, the more problematic this play will be. But it all adds to the continuing public interest in Marilyn, and Frances Thorburn deserves our respect for taking on such a challenging role.
By far the most popular MM-related play among fans is Sunny Thompson's one-woman show, Marilyn: Forever Blonde, which has toured the world to considerable acclaim. Sunny will appear at the Annenberg Theatre, Palm Springs, from March 3-22.
You can read fan reviews of Forever Blonde at MM and the Camera and Loving Marilyn.