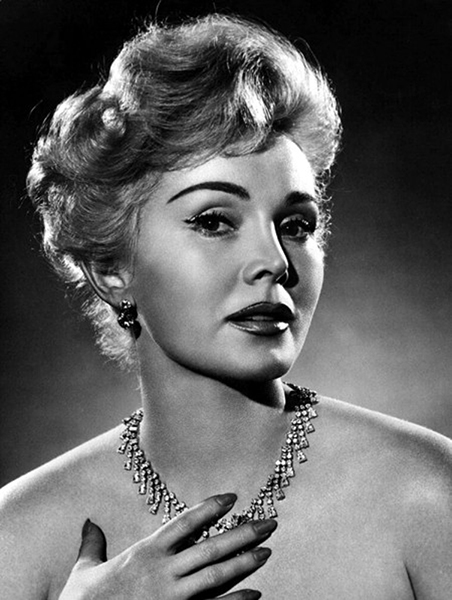 Zsa Zsa Gabor, whose flamboyant lifestyle and many husbands made headlines for nearly eighty years, has died of a heart attack at her home in Bel Air, aged 99.
The second of three daughters, Sári Gábor was born in Budapest on February 6, 1917 (although she later claimed the year was 1928.) She made her theatrical debut in a Viennese operetta at seventeen, and was crowned 'Miss Hungary' two years later. Her first marriage, at twenty, was to politician Burhan Asaf Belge.
In 1942 she married the American hotelier, Conrad Hilton. During their five-year marriage she gave birth to  a daughter, Francesca, and co-wrote an autobiographical novel, Every Man For Himself. In 1949 she rejected the lead role in a film adaptation of Lady Chatterley's Lover, and married the British actor, George Sanders.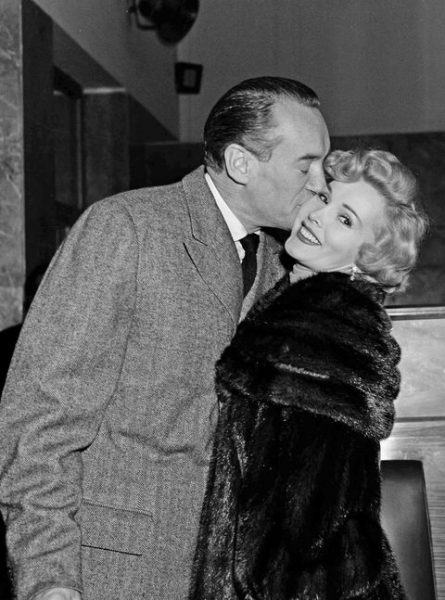 In 1950, Sanders was cast as the acerbic theatre critic Addison DeWitt in Joseph L. Mankiewicz's classic Broadway satire, All About Eve.  Among his illustrious co-stars was Marilyn Monroe, as a beautiful young starlet who accompanies DeWitt to a party hosted by ageing star Margo Channing (played by Bette Davis.)
In her 1954 memoir, My Story, Marilyn remembered being seated next to Sanders during lunch at the studio, when a waiter called him to the telephone. On his return, a pale, nervous Sanders quickly paid for his meal and left. That afternoon, his stand-in asked Marilyn to keep her distance.
"I turned red at being insulted like this but I suddenly realised what had happened," she wrote. "Mr Sanders' wife, Zsa Zsa Gabor, obviously had a spy on the set, and this spy had flashed the news to her that he was sitting at a table with me, and Miss Gabor had telephoned him immediately and given him a full list of instructions."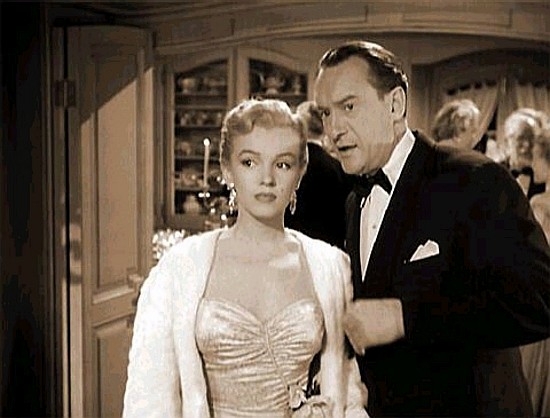 But Zsa Zsa's jealousy was soon reignited at a Hollywood party. "George went straight over to say hello to Marilyn, but Zsa Zsa got no farther than the door," photographer Anthony Beauchamp recalled in his autobiography, Focus on Fame. "She too had spotted Miss Monroe, and she turned on me like an infuriated Persian kitten. In a voice that echoed across the room, and with the well-known Gabor intonations, she exploded in indignation: 'How can you 'ave this woman in your 'ouse, I will not stay in the room wis her!' Nor did she.  Zsa Zsa when she gets going is quite powerful – in lungs, accent and gesture."
"Poor Marilyn was sitting quietly in a corner, making trouble for no one except perhaps for half a dozen men and their wives," Beauchamp added wryly. "Zsa Zsa swept into a bedroom closely followed by her mother where they sat it out until George was ready to go home."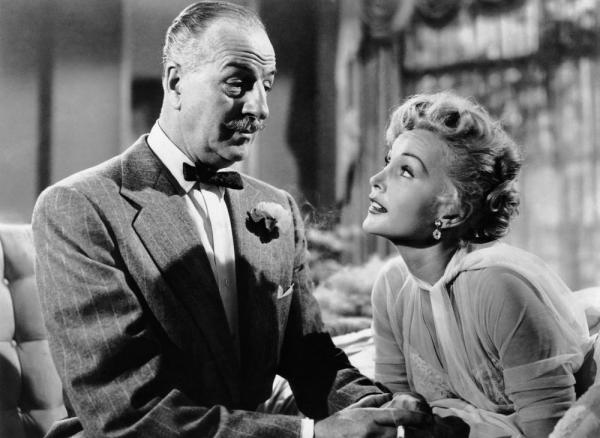 Zsa Zsa made her movie debut in the 1952 musical, Lovely To Look At.  Her next film, We're Not Married!, was an anthology about a justice of the peace who accidentally marries several couples on Christmas Eve, two days before his license becomes valid. Marilyn starred as a beauty queen in one episode, and Zsa Zsa played the gold-digging bride of Louis Calhern in another. (Back in 1950, Marilyn had played Calhern's mistress in The Asphalt Jungle.)
In November 1952, Look magazine further exposed what Marilyn called "the one-sided Gabor feud" by publishing 'What's Wrong With American Men?', an article penned by Zsa Zsa, with marginal notes by Marilyn highlighting their very different attitudes towards the opposite sex (click on the photos below to enlarge.)
Zsa Zsa went on to play roles in Moulin Rouge, The Story of Three Loves and Lilli. After she divorced Sanders in 1954, he went on to marry her sister, Eva. Nonetheless, Zsa Zsa would often describe him as the love of her life.
In the late 1950s, she starred in two cult B-films (The Girl in the Kremlin and Queen of Outer Space), as well as taking in a cameo role in Orson Welles' masterpiece, Touch of Evil. She continued working in the theatre and was regularly seen on television.
Her sixth marriage was to Barbie doll designer Jack Ryan, and her eighth (to a Mexican actor) was annulled after just one day. In 1986, she joined the ranks of royalty by marrying Frédéric Prinz von Anhalt, a German-American entrepreneur who had paid Princess Marie Auguste of Anhalt to adopt him six years earlier.
In 1989, Zsa Zsa was arrested for slapping a Beverly Hills policeman after he stopped her in her car for a traffic violation. She later recreated the incident in one of her last films, The Naked Gun 2½: The Smell of Fear (1991.)
"Marilyn was a very dull girl," Zsa Zsa told Playboy (as quoted in The Unabridged Marilyn, 1987.) "She thought that if a man who takes her out for dinner doesn't sleep with her that night – something's wrong with her." She went on to claim that she and Sanders had once counted four men visiting Marilyn's hotel room in one evening during filming of All About Eve, a tale that is probably apocryphal. "That's a terrible thing to say about somebody whom the whole country admires," she admitted.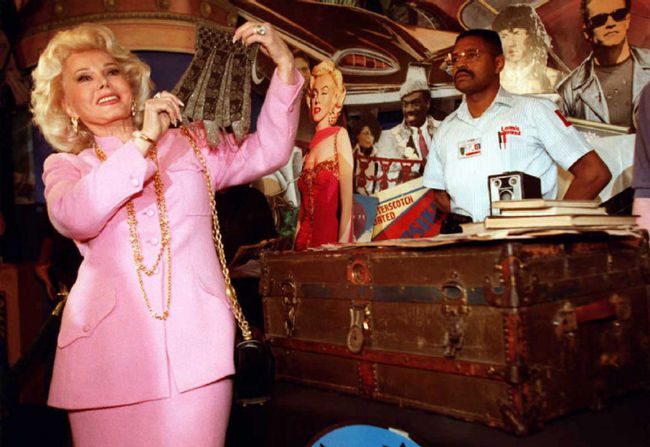 By 2011, Zsa Zsa had mellowed considerably. "In the beginning I didn't like her because she was flirting with my husband," she said, while opening a trunk owned by Marilyn during a fan contest at Planet Hollywood. "We had lunch and we talked it over, and she was very nice and she never flirted with him again."
Zsa Zsa's final years were marred by ill-health, and legal and financial problems. When her estranged daughter Francesca died in 2015, Zsa Zsa was too frail to hear the news. She is survived by her last husband, with whom she lived for thirty years.