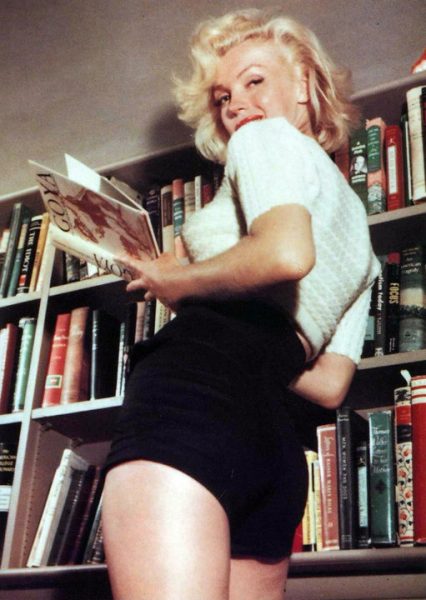 The literary world's interest in Marilyn shows no sign of abating, with several major books due to be published in the coming months.
1) Michelle Vogel's Marilyn Monroe: Her Films, Her Life is now available via Kindle. Print copies can be ordered from McFarland Publishing, and will soon be stocked by Amazon and other bookstores. It is 'essentially a filmography interlaced with a complex biographical account of Marilyn Monroe's life and loves throughout her career.'
2) Novelist Anna Godbersen is the author of the bestselling The Luxe and Bright Young Things series for teenagers. Her first adult novel, The Blonde, will be published on May 13. It reimagines Marilyn's relationships with the Kennedy brothers, and while it's sure to cause a stir, some may feel this work of fiction takes too many liberties with the facts. Here's a synopsis:
"In Anna Godbersen's imaginative novel, set at the height of the Cold War, a young, unknown Norma Jean meets a man in Los Angeles—a Soviet agent? A Russian spy?—who transforms her into Marilyn the star. And when she reaches the pinnacle of success, he comes back for his repayment. He shows her a photo of her estranged father and promises to reunite them in exchange for information: Find out something about presidential candidate John F. Kennedy that no one else knows. At first, Marilyn is bored by the prospect of, once again, using a man's attraction to get what she needs. But when she meets the magnetic Jack Kennedy, she realizes that this isn't going to be a simple game. What started with the earnest desire to meet her father has grave consequences for her, for the bright young Kennedy, and for the entire nation. The Blonde is a vivid tableau of American celebrity, sex, love, violence, power, and paranoia."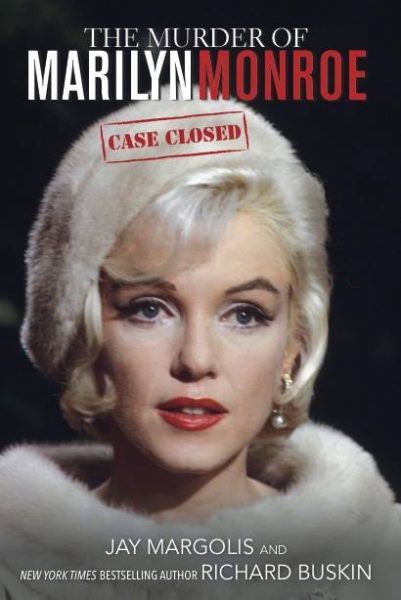 3) Jay Margolis, author of MM: A Case for Murder (2011), has penned a new book on the subject with Richard Buskin, author of Blonde Heat: The Sizzling Screen Career of MM (2001.) The Murder of Marilyn Monroe: Case Closed is currently slated for release in June (US) and August (UK.)
"Implicating Bobby Kennedy in the commission of Marilyn's murder, this is the first book to name the LAPD officers who accompanied the US Attorney General to her home, provide details about how the Kennedys used bribes to silence one of the ambulance drivers, and specify how the subsequent cover-up was aided by a noted pathologist's outrageous lies. This blockbuster volume blows the lid off the world's most notorious and talked-about celebrity death, and in the process exposes not only the truth about an iconic star's tragic final hours, but also how a legendary American politician used powerful resources to protect what many still perceive as his untarnished reputation."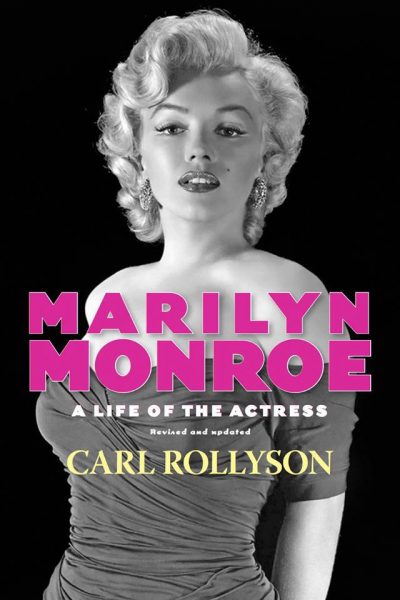 4) Meanwhile, Carl Rollyson's Marilyn Monroe: A Life of the Actress, Revised and Updated is set for US release in June, coming to the UK in August. As the first edition of Rollyson's biography, published in 1987, was highly acclaimed and remains a fan favourite.
"Through extensive interviews with many of Monroe's colleagues, close friends, and other biographers, and a careful rethinking of the literature written about her, Rollyson is able to describe her use of Method acting and her studies with Michael Chekhov and Lee Strasberg, head of the Actors' Studio in New York. The author also analyzes several of Monroe's own drawings, diary notes, and letters that have recently become available. With over thirty black and white photographs (some published for the first time), a new foreword, and a new afterword, this volume brings Rollyson's 1986 book up to date. "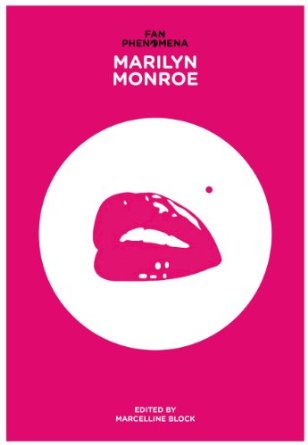 5) Fan Phenomena: Marilyn Monroe, edited by Marcelline Block, is part of a series on fandom, and is also headed for an early summer release. You may spot some familiar names in there!
" Marilyn Monroe was an actress, singer, and sex symbol whose influence far outlasted her short life. Contributors to Fan Phenomena: Marilyn Monroe situate the platinum blonde starlet's omnipresent cultural relevance  within the zeitgeist of current popular culture and explore the influence she has had on numerous elements of it…The essays here explore representations of Monroe in visual culture by looking at the ways she is reimagined in visual art while also considering how her posthumous appearance and image are appropriated in current advertisements. With an inside look at the universe of Marilyn Monroe impersonators and look-alike contests for both males and females, the book also explores numerous homages to Monroe in music…The definitive guide to one of the most famous women who ever lived, the book will be essential reading for any scholar of twentieth-century American popular culture."
6) As I mentioned yesterday, Gary Vitacco-Robles' Icon: The life, Times and Films of MM, Volume II (1957-1962) will also be published this summer.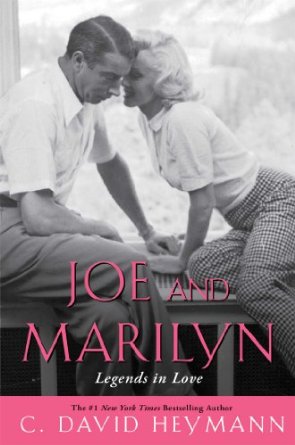 7) C. David Heymann's Joe and Marilyn: Legends in Love was originally due to be published in 2013, but was postponed (perhaps because the author passed away in 2012.) It is now set for release in July. High hopes are riding on a definitive account of Marilyn's most enduring relationship. However, as previously noted here, many of Heymann's celebrity biographies have proved controversial.
According to the blurb, Joe and Marilyn is  'based on extensive archival research and personal interviews with family and friends….Sixteen pages of striking photos accompany this unforgettable and quintessentially American story.'
8) As previously mentioned on this blog, Jacqueline Rose's Women in Dark Times will be published in September.
"Jacqueline Rose's heroines could not appear more different from each other: revolutionary socialist Rosa Luxemburg; German-Jewish painter Charlotte Salomon, persecuted by family tragedy and Nazism; film icon and consummate performer Marilyn Monroe.

Yet historically these women have a shared story to tell, as they blaze a trail across some of the most dramatic events of the last century – revolution, totalitarianism, the American dream. Enraged by injustice, they are each in touch with what is most painful about being human, bound together by their willingness to bring the unspeakable to light."
9) The recent Life magazine special, The Loves of Marilyn, will be published in hardback in September. Although lavishly illustrated, the text is rather gossipy and speculative.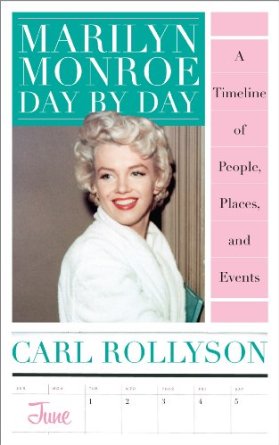 10) And finally, a second, fully illustrated book by Carl Rollyson – Marilyn Monroe Day By Day: A Timeline of Places, People and Events – is slated for US release in October, reaching the UK in December.
"Carl Rollyson provides a documentary approach to the life and legend of this singular personality. With details of her childhood, her young adult years, her ascent to superstardom, and the hour by hour moments leading to her tragic early death, this volume supplements—and, in some cases, corrects—the accounts of previous biographies. In addition to restoring what is left out in other narratives about Marilyn's life, this book also illuminates the gaps and discrepancies that still exist in our knowledge of her. Drawing on excerpts from her diaries, journals, letters, and even checks and receipts—as well as reports of others—Rollyson recreates the day-to-day world of a woman who still fascinates us more than fifty years after her death."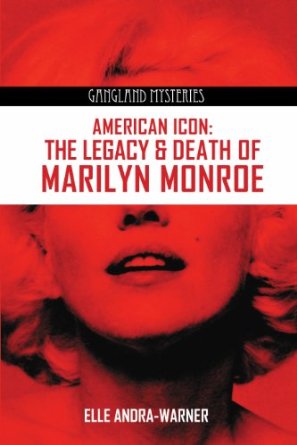 Looking forward to next year, Marilyn's Blue Book Years: Marilyn Monroe in Unseen Pictures and Letters, by Michelle Morgan (author of MM: Private and Undisclosed) and Astrid Franse, will be published by The History Press in 2015. And Elle Andra-Warner's American Icon: The Legacy and Death of Marilyn Monroe, originally slated for release this year, has been postponed until next spring.
"American Icon: The Legacy and Death of Marilyn Monroe is a blockbuster book that delves deep into her life and death, and separates it from the myth, rumors and Hollywood chatter. Was Monroe's death a suicide or were dark sinister forces at work? Based on strong research, interviews, investigations, news clippings and files, American Icon takes the reader along on a unique journey that looks at Marilyn from a fresh perspective, neither sensationalizing nor sugar-coating the truth. Her life ran the gamut from happy, bored, funny, loving and loved to shocking and scandalous. She did whatever she had to do to reach her childhood dream goal to be a famous movie star. American Icon: The Legacy and Death of Marilyn Monroe delivers a fast-paced, fact-filled page turner of a book about one of the great cultural legends of the 20th century."