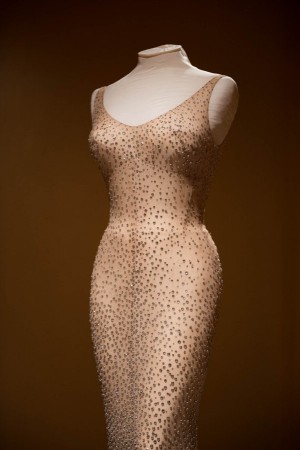 Whoopi Goldberg attended the opening night of Marilyn: Character Not Image (which she curated) at MANA Contemporary in Jersey City this weekend, reports NJ.com.
"'We have pieces of her as the actress, but it's not the actress acting,' she said. 'It's the woman reacting to what's happening around her.'

Pointing to a Greene shot of Monroe with playwright Arthur Miller, Goldberg said, 'This is the Marilyn you know.' Then, pointing to a photo of Monroe coming out of a pool, beaming and wearing a black-and-white bikini, she said, 'That's the Marilyn you don't.'

The exhibit also includes some of Monroe's drawings and videos of the late screen star narrated by readings of her poetry. The dress, though, is the star of the show.

Made of soufflé gauze and 2,500 hand-stitched crystals, the gown is displayed on a mannequin standing on a white pedestal. When Goldberg saw it, she said, 'She had a big derrière.'

Monroe's legendary performance — 'Happy Birthday, Mr. President'— came at a Democratic Party fundraiser at Madison Square Garden held 10 days before Kennedy's 45th birthday.

The gown is up for auction in November. It last sold in 1999 for nearly $1.3 million, then a record. Martin J. Nolan, executive director of Julien's Auctions, which is handling the sale, believes it will go for up to $3 million, though he thinks it's worth far more. He called it the 'holy grail' of collectibles.

'It's a piece of art, but it's Hollywood, it's pop culture, it's Marilyn Monroe, it's the Kennedys — everything wrapped up into one piece of fabric,' he said. 'It's truly amazing.'

Nolan added that, despite Goldberg's comment on Monroe's backside, the actress was petite in May 1962, weighing about 112 pounds."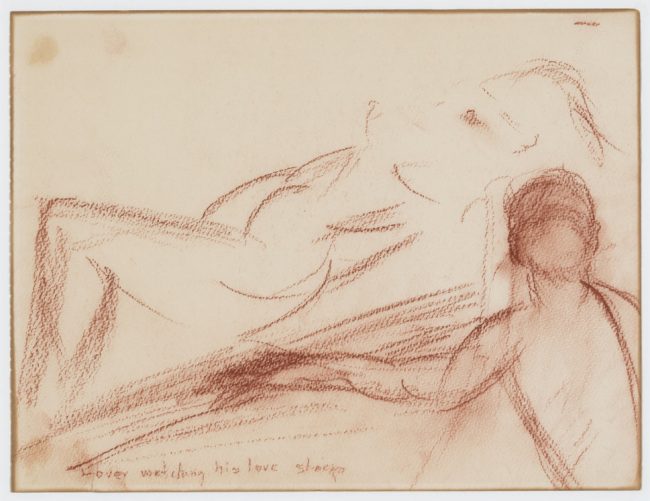 Meanwhile, Priscilla Frank has reviewed the show for Huffington Post.
"The drawing above, titled 'Lover watching his love sleep,' was made by Monroe herself in the late 1950s, with Conté crayon on paper. The sepia-toned image depicts a woman who may or may not be Monroe herself, unclothed and reclining leisurely while her lover watches on, entranced.

It's a simple drawing, but powerful nonetheless, not only in its aesthetic qualities but in what it reveals about its maker. The artwork hints at a different Marilyn than the bold vixen we see on screen. Rather, a Marilyn who is thoughtful, introspective, and creative ― an avid reader and obsessive writer. "