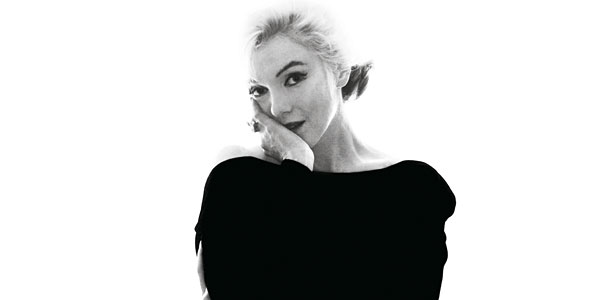 Carrie White of the Huffington Post reports on the launch of Bert Stern's new Marilyn book for Taschen, with text by Norman Mailer, at the Hotel Bel-Air, Los Angeles, where Stern photographed Monroe in 1962.
Guests included legendary music producer Quincy Jones, actresses Penelope Ann Miller and Julie Newmar (who played Catwoman in the cult 1960s TV series, Batman), and comedian Chris Tucker. (Interestingly, some guests were as shocked as me by the book's $1,000 price tag!)
Stern was introduced by Lawrence Schiller, who photographed Marilyn during filming of the pool scene in the unfinished Something's Got to Give.
While at the launch, Stern spoke to the Los Angeles Times about his memories of the shoot. The suite where he photographed Marilyn is now part of the hotel's La Prairie Spa.
'"I didn't want any clothes. I wanted things — jewelry, scarves, objects," said Stern of the Monroe session. As usual, she showed up three hours late but thinner then he had expected. The 36-year-old Monroe sipped on her favorite Dom Pérignon champagne, picked up a few scarves from off the bed and giddily danced around while Stern snapped away. "She was in a terrific mood, a lot of fun," Stern said. "She wanted to be in Vogue."

"She got fed up with the dresses and wanted to go back to less things," recalled Stern, who didn't want a glitzy showbiz photo. An admirer of Edward Steichen's black and white portrait of Greta Garbo, he wanted something more intimate, that definitive, immortal picture.

"It was a once-in-a-lifetime event. I knew I'd never shoot her again."'