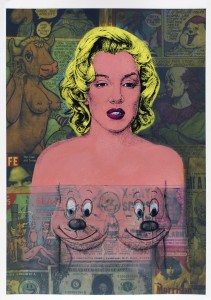 'Marilyn Comic', a screen print by pop artist Ron English, is currently on display as part of the English 101 exhibit at the Post No Bills gallery space, Abbot Kinney Boulevard, Venice Beach, until October 30.
'Marilyn Comic' is loosely based on Richard Avedon's 1957 portrait of Monroe, and can be purchased for $350.
English describes his art as 'POPaganda'. An exhibit of his new work will open at the Corey Helford Gallery, Culver City, on November 19.