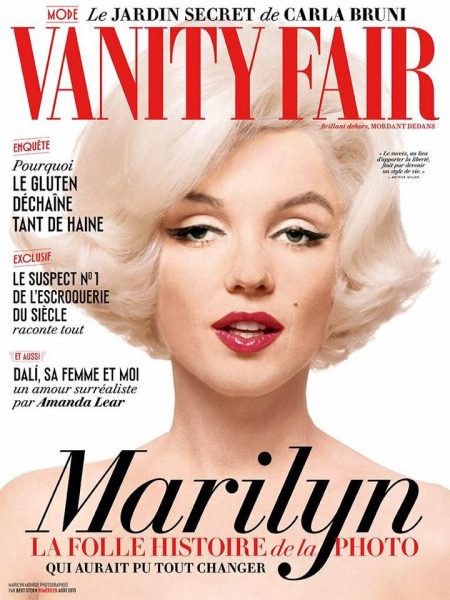 Marilyn makes the cover of Vanity Fair's August issue (French edition only.) If the photo looks familiar, that's because it was previously used on Vanity Fair's US edition, back in October 2008.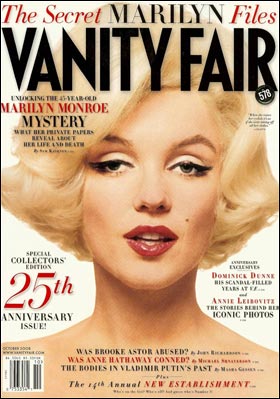 And by comparison with Bert Stern's original photo, you can tell that poor Marilyn has fallen victim to the digital airbrush!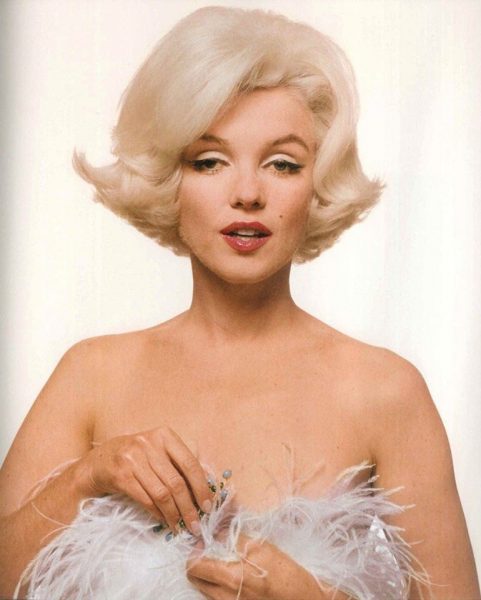 Some fans have suggested that another, more flattering Stern photo could have been used…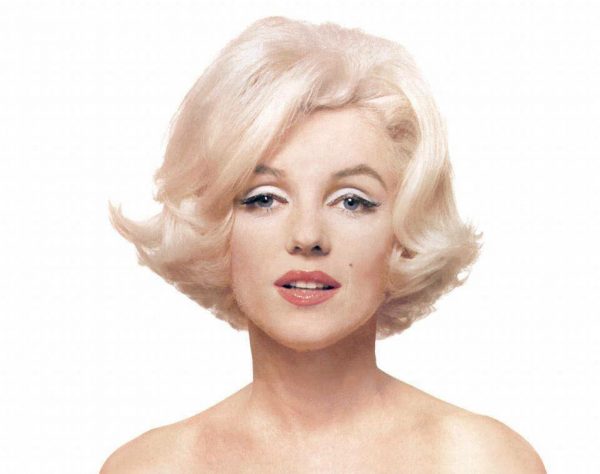 The magazine includes an article about Lawrence Schiller's photos of Marilyn, filming the poolside scene in Something's Got to Give. As some readers may recall, an extract from Schiller's book, Marilyn & Me, was published in the US edition of Vanity Fair in June 2012. The French article, however, is written by MM superfan Sebastien Cauchon.
Which begs the question – why wasn't a Schiller photo used on the cover? Many fans were asking the same question in 2012, when an Andre de Dienes photo was used on the US cover of Vanity Fair, and not Schiller.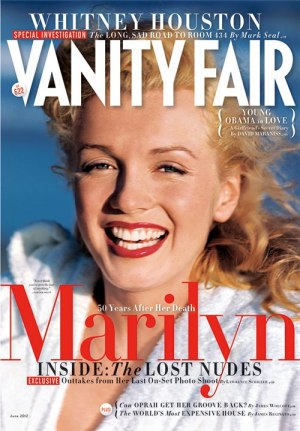 The answer, according to Sebastien Cauchon, is that Schiller's poolside nudes don't include a full-face, colour shot of Marilyn making eye contact with the camera. Marilyn & Me's original cover (later rejected) showed a pensive, full-face shot of MM in a fur hat, on the set of Something's Got to Give – but not a nude. Presumably Vanity Fair's editors felt that a cheerful beach shot from De Dienes – though taken 13 years previously – was more in keeping with the summery, au naturel theme.
And as Sebastien Cauchon explained to members of Immortal Marilyn's Facebook group this weekend, his article differs from the 2012 extract because its main subject is the proposed Playboy cover shoot Marilyn was considering at the time of her death (though according to Schiller, she was having second thoughts about the project.)
The article includes Hugh Hefner's letter to Schiller and fellow photographer Bill Woodfield, explaining the concept of the mooted cover – click on the photo below to read in full.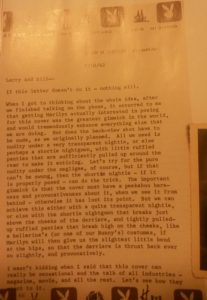 The photo shoot went ahead with model Sheralee Connors taking Marilyn's place, and was featured in Playboy's 1962 Christmas issue.