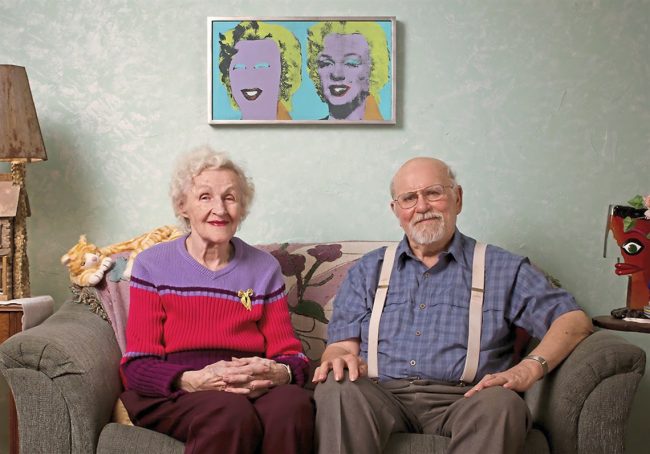 Double Marilyn (or Two Marilyns), originally a gift from Andy Warhol to his late brother, is to be sold as part of the 20th Century & Contemporary Art Evening Sale this Thursday (May 17) at the Phillips auction house on Park Avenue, NYC, with an estimate of $3-4 million, as Marylynne Pitz reports for the Pittsburgh Post-Gazette.
"Seven of the artist's nieces and nephews, who range in age from 58 to 75, will share the proceeds. They are the children of Paul Warhola, who died in 2014, and his wife, Anne, who died in 2016.

Until last fall, 'Double Marilyn' and 10 early Warhol artworks owned by the Warhola family hung at The Andy Warhol Museum on the North Side. James Warhola, who lives in Long Island City in the New York borough of Queens, took them back after he was unable to arrange a sale or trade with museum director Patrick Moore.

'My dad was the oldest brother,' said James Warhola, a 63-year-old artist. 'He saved the early works when my uncle left for New York. They have been in the family ever since as well as the "Double Marilyn" silkscreen. That was part of our household for close to 60 years.'

He said The Andy Warhol Museum 'would have loved for us to have donated the collection' but that was not possible.

'My uncle's estate went to a foundation. We didn't get anything from the foundation. We're not the Rockefellers. It was my dad's main asset,' Mr. Warhola said.

Pre-sale estimates are not always indicators of a painting's actual auction price. Warhol's works often sell for more than the pre-sale estimate. A 1962 'White Marilyn' silkscreen by Warhol was estimated to sell for $12 million to $18 million in 2014. It fetched slightly more than $41 million at a Christie's auction on May 13, 2014.

In this case, Phillips auction house has a third-party guarantee on 'Double Marilyn.' This means that one bidder has guaranteed a price of $3 million for the painting if no one bids higher."
UPDATE: 'Double Marilyn' has been sold at Phillips for $3.6 million, as reported in an editorial for the Post-Gazette.