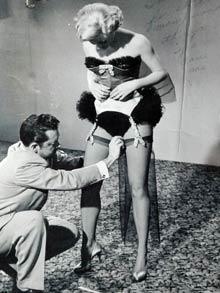 The Life archive has taken a look back at the career of actress Sheree North, who replaced Marilyn after she refused to appear in Fox's How to Be Very, Very Popular (1955.) The parallels between them are also noted in a separate article by Jen Carlson for LAist.com.
Monroe didn't take the threat very seriously, telling columnist Earl Wilson rather impishly, "Sometimes I kid the fans. They say, 'Oh, you're Marilyn Monroe!' I say, 'Oh no, I'm Mamie Van Doren' – or, 'Sheree North' – if I'm in a real hurry."
Six years Marilyn's junior, Sheree was groomed by the studio as a stand-in for their rebellious star. This was not her decision, as she had no wish to dethrone MM. She later became a respected character actress, even playing Gladys Baker in the TV movie, Marilyn: The Untold Story (1980.)
In 2008, three years after her death, a photo of Ms North being dressed for her role in How to Be Very Very, Very Popular by costume designer Travilla was misidentified as Marilyn in a number of leading newspapers, including the Telegraph.