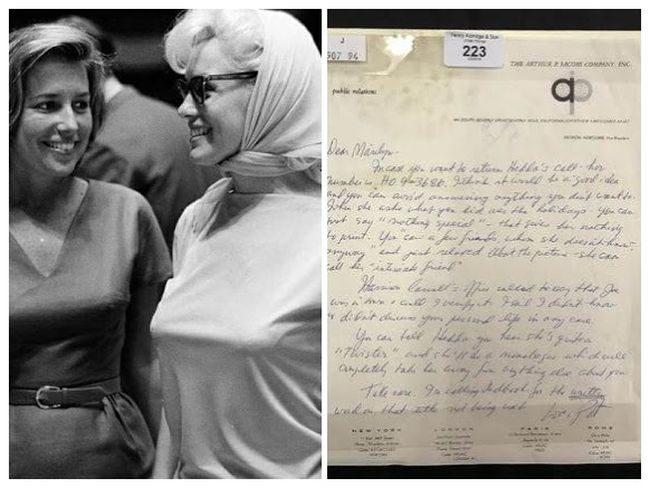 A letter written to Marilyn by Pat Newcomb, her publicist and close friend for the last two years of her life, is among the items on auction in the UK tomorrow (Saturday, September 22), as Fox News reports.
Henry Aldridge & Sons, based in Devizes, Wiltshire, is offering several lots from the estate of Monroe collector David Gainsborough Roberts, who died in 2016. Bidding opens at 10 am GMT, and bids can also be made online via The Salesroom or Invaluable (but you'll need to register first.)
In the letter, Pat advises Marilyn on how to field intrusive questions from the acerbic Hollywood columnist, Hedda Hopper. "If you want to return her call … I think it would be a good idea and you can avoid answering anything you don't want," Pat writes. "When she asks what you did over the holidays you just say 'nothing special' – that gives her nothing to print. You 'saw a few friends, whom she doesn't know anyway' and just relaxed.'" Probably referring to the latest dance craze, Pat makes a further suggestion: "You can tell Hedda you hear she's quite a 'Twister' and she'll do a monologue which will completely take her away from anything about you."
Pat also mentions that "Harrison Cannall's office called to say that Joe [DiMaggio] was in town and could I confirm it. I said I didn't know and didn't discuss your personal life in any case." Pat refers to related matters, such as the title of an upcoming Redbook article. The letter has an estimated price of £300-£500.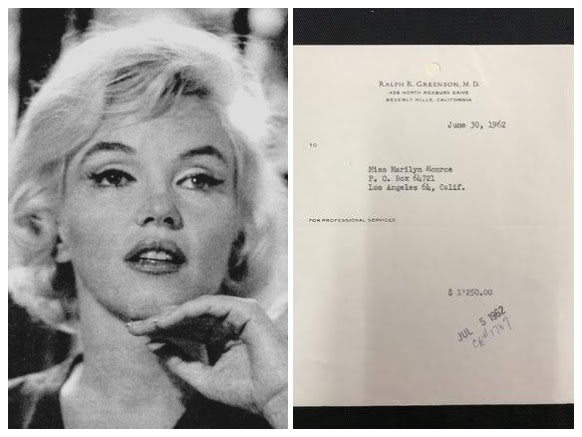 Another letter from Marilyn's psychiatrist, Dr Ralph Greenson,  is dated June 30, 1962, billing her for services totalling $1,250, with an estimated price of £400-£600.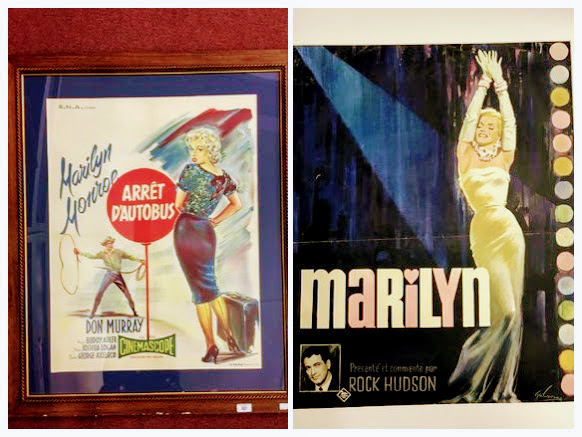 Two vintage movie posters are also available, plus a four-page 1955 calendar featuring a censored version of Marilyn's famous nude photo by Tom Kelley and three other pin-up shots, complete with envelope (estimated at £600-£800.)