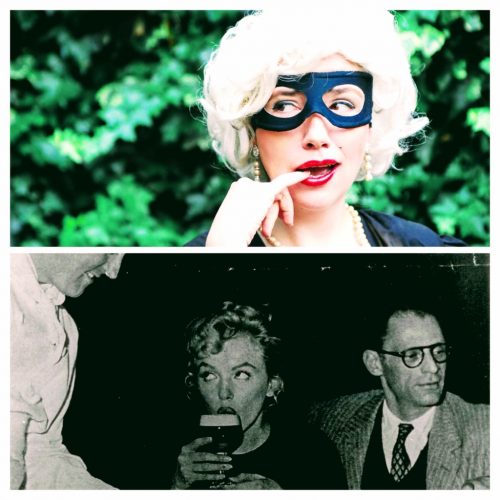 Plays about Marilyn are increasingly popular, though often of dubious quality. But Leonor Bethencourt scores top marks for originality, using Marilyn's brief stopover at Shannon Airport (while flying home to New York after filming The Prince and the Showgirl in November 1956) as a starting point for a zany one-woman show, as Charlie McBride reports for the Galway Advertiser. In Marilyn Monroe Airlines: Always Late and Unreliable! she plays Marilyn-worshipping air hostess Zocorro. You can catch the play at the Cava Bodega restaurant on April 20-21, as part of the Galway Theatre Festival.
"Zoccoro is the sole crew member of an accident-prone budget airline, one who proudly perpetuates the spirit of Marilyn Monroe. Simmering with raw emotions, this is a comedy about flying and reaching for the stars. How can Zocorro, masked Spanish ingénue, sustain the teasing sensuality demanded by the aviation business? Marilyn has the answer…

'Zocorro is like a female Zorro, she wears a mask like his,' Bethencourt tells me. 'She's from a small village in Spain and finds herself in different situations. In my previous show, Zocorro – Rose of Tralee, she infiltrated that contest by pretending to have Irish roots and this show is a different adventure in which she is committed to perpetuating the memory of Monroe on a budget airline.'

Bethencourt herself is Hispano-Irish, with her mother hailing from Strabane and her father from Madrid where she grew up. She expands on the character of Zocorro: 'As a child, Zocorro took an overdose of iron tablets and was taken to hospital. Doctors were all around her, and she realised then how to be the centre of attention which is a big factor with her. Being an air hostess everyone has to listen to her so she enjoys that attention and also the safety and comfort of the passengers depends on her.'

'She relates different adventures that happened with Marilyn Monroe Airlines– it has a lot of security issues, there is a good chance at any time that things will go wrong. The nervousness passengers might feel on the flight is like how Marilyn Monroe was unable to leave her trailer during film shoots because of stage fright.'"
UPDATE: You can read a review of the show here.