By Sirkku Aaltonen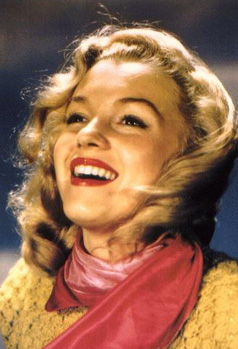 Norma Jeane Baker was born on June 1st 1926 in Los Angeles. Her father was unknown and her mother, Gladys Baker, was mentally unstable and had to be hospitalized when Norma Jeane was still a baby.
Little Norma Jeane spent her childhood with various foster families, including the Bolenders, and even spent a year in an orphan's home. She often felt like she was unwanted and not loved. She lived with her mother for just a few months.
After that, Norma Jeane went to live with her mother's friend's aunt, Ana Lower. "(She) was the first person in the world who I really loved and she loved me," Marilyn later said. Ana was a Christian Scientist and taught Norma Jeane her religion. Later when Ana became ill, Norma Jeane moved in with her mother's friend, Grace Goddard, and her family.
At school Norma Jeane was shy and quiet and thin, so other kids called her names like 'Norma Jean the String Bean' or 'Mouse'. Her nicknames changed a bit when she started to develop her womanly figure around the age of twelve. Suddenly she was 'the mmm girl' or 'the oomph girl', and popular with boys.
Even high school guys wanted to take Norma Jeane out when she was still in junior high. She didn't quite understand it all: "I used to lay awake at night and wonder why the boys came after me". But she was glad that she wasn't the lonely one anymore.
Norma Jeane was living with Grace and her family and was in high school when she found out she had two choices: she was either to go back to the orphan's home until she'd turn eighteen, or to get married. The Goddards were moving to a different state and couldn't take her with them.
Norma Jeane had recently met 21-year-old Jim Dougherty, the son of their neighbor. They had dated for a few months, and liked each other. Grace suggested to Jim's mother that to save Norma Jeane from the orphanage, Jim should marry her.
On June 19 1942, when Norma Jeane had just turned sixteen, she and Jim were married. They moved into their own home and Norma Jeane started to learn the role of a housewife.
Jim remembers Norma Jeane as a sweet and loving young woman, who cared a lot about animals but wasn't very interested in housework. (Sometimes, when Jim came home from work hungry, she would bring him a plate of peas and carrots. She thought they looked pretty and colourful…)
America was now embroiled in World War II, and Jim wanted to join the Navy. Norma Jeane was scared she might lose him and begged him not to go, or at least to have a child with her. She craved affection and as Jim said later, "If I didn't kiss her good-bye, she thought I didn't love her any more".
In 1944, Jim went to war and his young wife stayed at home alone.
Norma Jeane needed a job, and she found one in a factory. She made parachutes for the troops until one day a photographer came to take photos of some of the workers. He spotted the young and beautiful Mrs. Dougherty and asked if he could photograph her.
Norma Jeane hesitated and was insecure at first but agreed to pose for a couple of photos. The photographer, David Conover, immediately spotted a new talent and wanted to photograph her also on other occasions. She said yes, and her career as a model began.
Jim was still at war when he saw a familiar face in some magazines. Norma Jeane's career was rising and she posed for many photographers. Some of the photos were published in magazines. Jim was jealous because other men stared at Norma Jeane and whistled, even though she ignored them.
Jim decided to let Norma Jeane know how he felt, and told her she had to choose between him and her career. Some time later, Jim received a letter in which Norma Jeane said she wanted a divorce. She had made her decision.
***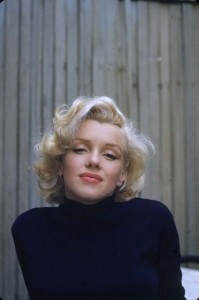 After her divorce was granted in October 1946, Norma Jeane continued to work as a model – but what she really wanted to do was to act in movies. She went to auditions and finally signed a contract with 20th Century Fox and was paid $75 per week.
Ben Lyon, chief talent scout at Fox, and Norma Jeane took some time to think about her new name. Norma Jeane Dougherty was not a name of a movie star. Norma Jeane herself suggested Monroe to be her last name, because that had been her mother's maiden name.
Ben Lyon then thought of Marilyn after a Broadway star Marilyn Miller (note: Marilyn actually became Marilyn Miller when she married the playwright Arthur Miller.)
Norma Jeane thought about the name for a while and then said: "Well, I guess I'm Marilyn Monroe."
Marilyn was also persuaded to dye her hair blonde, even though she said she didn't want to. She was told she'd photograph better is she was blonde and it would also be good publicity. Finally she agreed.
Her early roles were tiny (in such movies as Scudda Hoo! Scudda Hay! and Dangerous Years) and her contract wasn't renewed. During this time Marilyn continued modelling, exercised daily, studied acting and read widely. She was determined to become a great actress.
Columbia signed Marilyn in 1948 and she got one of the leading roles in Ladies Of The Chorus. But the movie was only a B-feature, and went unnoticed. Soon Marilyn was out of work again.
In 1949 she posed for Tom Kelley, who took the infamous nude calendar shots (aka the 'Golden Dreams' session). Marilyn later explained that she had desperately needed that 50 dollars to get her car out of hock. Rather than killing off her career, the 'scandal' actually gave Marilyn a boost.
Things really started to happen when young Marilyn met agent Johnny Hyde. Hyde was 30 years older than Marilyn, and he recognised a would-be-star in this hopeful young actress. Hyde became her agent and also her close friend – in fact, he fell in love with her.
Hyde told Marilyn that he wanted to marry her, but she said she didn't feel the same way. Johnny didn't care: he told Marilyn he wasn't going to live forever and wanted her to inherit his money and property. But Marilyn still refused to marry him.
They remained close friends and Hyde suggested Marilyn for a role in John Huston's Asphalt Jungle. She auditioned and got the part. That is really when her acting career started to rise – but Johnny Hyde died soon afterwards.
Asphalt Jungle was a big success, and Marilyn got another good part in All About Eve. Next year she made herself better known with movies such as Don't Bother To Knock (in which she played a deranged babysitter stunningly well), Clash By Night (in which she played an 'ordinary' girl instead of a glamorous sex bomb) and Monkey Business, (with Ginger Rogers and Cary Grant – Marilyn was the 'dumb blonde' secretary.)
All those movies brought Marilyn closer to her dream, and a real opportunity came to her in Niagara. Marilyn played Rose, a scheming, sexy woman who plans to murder her husband with her young lover, set against the mighty scenery of Niagara Falls.
Niagara made Marilyn the hottest star in Hollywood. She landed the lead role in Gentlemen Prefer Blondes, co-starring Jane Russell. Marilyn played the ultimate blonde bombshell – and many people viewed and still view her that way. She proved herself a talented singer, dancer and comedienne.
Leading roles in movies like How To Marry A Millionaire (co-starring Betty Grable and Lauren Bacall) and River Of No Return (co-starring Robert Mitchum) followed.
The baseball player Joe DiMaggio had seen a picture of Marilyn in 1952 and was keen to meet her. His friend arranged a blind date. When Marilyn heard about this, she wasn't that excited. She expected DiMaggio to be a "typical sports guy": loud, talking about himself all the time, wearing a loud tie and clashing colors.
Marilyn was surprised to find out that Joe was actually quiet and pleasant – a gentleman. They started seeing each other more often and were finally married on January 2nd 1954 in San Francisco.
Marilyn agreed to act in There's No Business Like Show Business, even though her role wasn't very big. The studio had promised her that if she acted in Show Business, she'd be given the lead in a would-be hit comedy, The Seven Year Itch, directed by Billy Wilder.
So Marilyn played Vicky in Show Business, performing three songs by Irving Berlin with zest, and then got the part she really wanted as The Girl, the sexy and innocent heroine who makes the married man downstairs go crazy.
Marilyn was perfectly cast and The Seven Year Itch became one of her most successful films, but unfortunately it also made her own husband go crazy – and not in a good way.
The Seven Year Itch features a famous scene in which Marilyn stands over a subway grating and her white dress blows up in the night air. Promo pics for that scene were shot for hours, and masses of people gathered around to watch.
Joe DiMaggio was furious and they had an argument later that night. "It's no fun to be married to an electric bulb", he said later. Joe had wanted to settle down with Marilyn, but she was still very ambitious. The couple divorced after only nine months of marriage.
***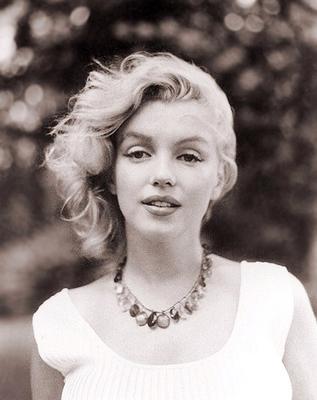 In 1955 Marilyn moved to New York. It was time for a change. She was tired of the blonde bombshell image and the fact that the studios didn't take her seriously as an actress. "I don't want to be known as the girl with the shape."
She enrolled in the Actor's Studio and made friends with photographers Milton H. Greene and Sam Shaw, who took beautiful photos of her showing more than just her "blonde bombshell" side.
Probably the most important change was when she met Arthur Miller, the playwriter, through some mutual friends. The two started dating, and quickly fell in love.
In early 1955, Marilyn formed Marilyn Monroe Productions with Milton Greene. Another notable change was when Fox asked Marilyn to go back to the studio. They offered her more creative control and Marilyn accepted.
Marilyn flew back to Los Angeles to shoot Bus Stop, in which she plays Cherie, a 'chanteuse' who desperately wants to go to Hollywood. Her performance was touching and realistic, confirming that Marilyn was a truly gifted actress.
Arthur Miller announced that he was going to divorce his wife and marry Marilyn. They had both a civil wedding (June 29th 1956) and a Jewish wedding ceremony (Miller was Jewish and Marilyn converted to Judaism.)
Soon after that they left to London, where Marilyn was to shoot her next film, Prince and the Showgirl. Her co-star Laurence Olivier disliked her. But it was a fine movie, the only one that Marilyn Monroe Productions ever made.
The Millers took a break in Amagansett, Long Island in the summer of 1957. Their life together seemed peaceful and content, and Marilyn was overjoyed to discover she was pregnant. It seemed that she would finally have the child and the real family she had always wanted.
A terrible blow came when Marilyn suffered a miscarriage. She recovered at the Millers' new farm in Roxbury, Connecticut, and also rented an apartment in Manhattan.
Even though she didn't want to play dumb blonde roles anymore, Marilyn agreed to star in Some Like It Hot because the Millers needed the money. Her performance as Sugar, whose two best girlfriends are actually men in drag (played by Tony Curtis and Jack Lemmon) was brilliant, earning her a Golden Globe award.
Marilyn was pregnant again during filming, but lost the child after the movie was completed. She became depressed and then started seeing a psychoanalyst and went to various doctors, who all prescribed her pills.
Miller gave Marilyn a gift to show his love for her: he had written a play called The Misfits, with a part for Marilyn. Misfits was filmed with John Huston directing and Marilyn Monroe, Clark Gable, Eli Wallach and Montgomery Clift in the leading roles.
Marilyn's marriage to Miller was not as strong as it had been. When filming Let's Make Love, she reportedly had an affair with her co-star Yves Montand.
The Millers divorced soon after The Misfits was completed. "If that's what he thinks of me, well, then he's not for me and I'm not for him," Marilyn is supposed to have said about the character, 'Roslyn', that Miller had created for her.
The Misfits was acclaimed by most critics, and Marilyn's performance was once again highly praised. But the movie was overshadowed by the death of Clark Gable, which devastated Marilyn.
***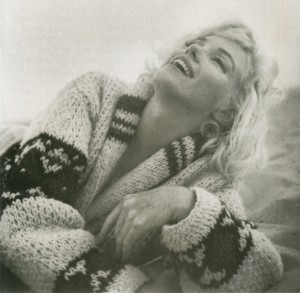 1962 was an interesting year in Marilyn's life. On one hand, she was keen on starting new projects and seemed happier – as if she was once again creating a new, improved Marilyn Monroe.
On the other hand, she was increasingly dependent on her psychoanalyst, Dr Greenson, and was taking a dangerous amount of pills.
Marilyn met President John F. Kennedy though a mutual friend, Peter Lawford. She is said to have became Kennedy's lover for a while, and she also partied in Las Vegas and Lake Tahoe with Frank Sinatra and his 'Rat Pack'.
But there was also a rumour that Marilyn and Joe DiMaggio were going to remarry. He had rescued Marilyn when she was held in a mental hospital after becoming depressed again in 1961, and they remained close (though Marilyn insisted they were just good friends.)
In the spring of 1962, Marilyn began filming Something's Got To Give. She was to play Ellen Arden, a woman presumed dead for five years after a boating accident, who then returns from a desert island to find out her husband has remarried.
As before, Marilyn was constantly late on the set, and after being diagnosed with sinusitis, she was often too ill to perform. When she flew to New York in May to sing 'Happy Birthday' at a gala for President Kennedy, Marilyn was fired by Fox. But Dean Martin, her co-star (and a member of the Rat Pack) threatened that he would leave too, and it seems likely that Marilyn was going to be reinstated.
A daring nude scene for the film had already been shot, and some promotional photos were published. Marilyn also worked on several modelling projects: Bert Stern took the stylish shots in Beverly Hills Hotel for Vogue magazine, and George Barris took some of the most natural shots of Marilyn on the beach and near her new home.
Marilyn Monroe was found dead in her bedroom, alone, on August 4th, 1962. She was 36 years old. She had apparently overdosed on barbiturates, and her death was judged a probable suicide. But questions have been raised ever since (mainly over Marilyn's alleged involvement with the Kennedys, and also her controversial treatment by Dr Greenson), and so her death remains, for many, a mystery.
Joe DiMaggio arranged Marilyn's funeral with Berniece Miracle, Marilyn's half-sister. They didn't invite any of Marilyn's famous Hollywood friends to attend the funeral that took place on August 8, 1962.
Marilyn's long-time make up man and friend, Whitey Snyder, made her up for the very last time as he had promised her. She is buried in a crypt in Westwood Memorial Park Cemetery. The plaque on her crypt reads simply:
Marilyn Monroe
1926-1962