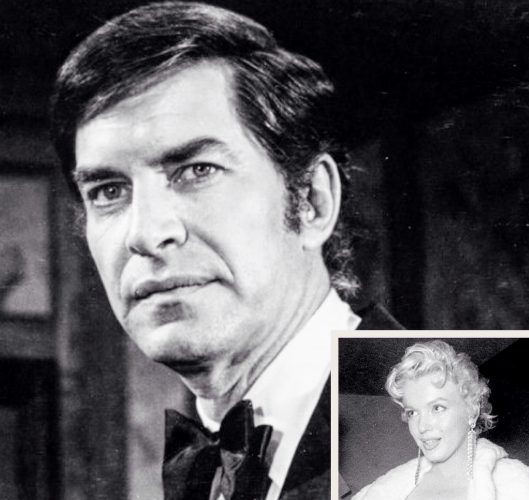 Actor Martin Landau has died aged 89. He was born into a Jewish family in Brooklyn in 1928, and worked as a political cartoonist at the New York Daily News before joining the Actors Studio (alongside Steve McQueen) in  1955. His audition piece was a scene from Clifford Odets' Clash by Night, which had been filmed with a young Marilyn Monroe three years earlier. He became a close friend of fellow student James Dean, and reportedly dated Marilyn for a few months before her 1956 marriage to Arthur Miller.
Landau made his theatrical debut in a touring production of Paddy Chayefsky's Middle of the Night, starring Edward G. Robinson, in 1957. Marilyn had attended the Broadway premiere in 1956 (before Landau was cast.) Marilyn was offered the lead in the 1959 movie adaptation, but Kim Novak was eventually cast alongside Marilyn's sister-in-law, Joan Copeland. Landau did not reprise his role, having been spotted by Alfred Hitchcock during a West Coast performance. His first major film was Hitchcock's classic thriller, North by Northwest.
He went on to appear in Cleopatra and The Greatest Story Ever Told, finally achieving stardom in TV's Mission Impossible. An established character actor, he also worked as a drama coach and became an executive director of the Actors Studio. After winning a Golden Globe and an Oscar nomination for Francis Ford Coppola's Tucker: The Man and His Dream (1988), Landau was nominated again for Woody Allen's Crimes and Misdemeanours (1989), and at last won an Oscar as Best Supporting Actor in Tim Burton's Ed Wood (1994.)
He continued acting and teaching into his eighties, playing elderly billionaire  J. Howard Marshall in a 2013 biopic of Anna Nicole Smith, the tragic model and reality TV star whose bombshell image  was heavily influenced by Marilyn's. Landau's last major film was The Red Maple Leaf (2016), with two more currently awaiting release.
Martin Landau died at the Ronald Reagan UCLA Medical Centre in Westwood, Los Angeles on July 15, after being hospitalised and suffering from complications. He is survived by his former wife and Mission Impossible co-star, Barbara Bain, and their two daughters.
You can read more about his memories of Marilyn here.