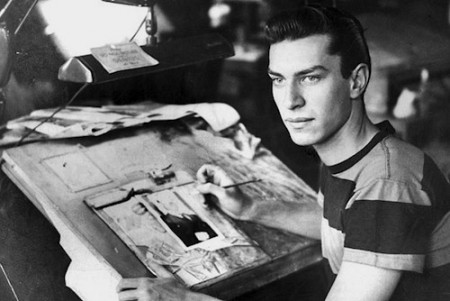 Veteran character actor Martin Landau, who appeared in Hitchcock's North by Northwest (1959), and the classic TV series Mission: Impossible, is currently featured in Tim Burton's latest movie, Frankenweenie. 
Now 84, Landau has spoken to The Guardian about his memories of Marilyn. They met at the Actor's Studio, and, Landau claims, dated for a while in 1955.
"In his youth, Landau was good friends with James Dean and briefly dated Marilyn Monroe. Was there a sense that the two were somehow ill-starred, pointed towards disaster, destined to die young?

'No, no, no, he says with uncharacteristic emphasis. 'Jimmy never talked about dying; Jimmy talked about living. Jimmy's only concern was that he would become an old boy, like Mickey Rooney. When Kazan tested actors for East of Eden, Paul Newman and Jimmy auditioned on the same day. Paul looked like a man when he was 20, whereas Jimmy was still playing high-school kids at 23. So that bothered him a bit. But Jimmy did not want to die. And there's always a lot of conjecture about Marilyn's death. It's still a mystery; no one seems to know exactly what happened. Yes, there were ongoing issues with Marilyn, but they did not support the idea of suicide in any way, shape or form.'"
In an interview with The Australian, Landau talks in more detail about Marilyn:
"He recalls taking classes with Monroe, a couple of years his senior, under Lee Strasberg at the Actors Studio in New York.

'She was there because she was dissatisfied. People perceived her as a Hollywood blonde bimbo. She was very needy and would go from being on top of her game to absolutely bereft of any self-belief or confidence. She seesawed between those two personalities.'

When they went to the theatre she'd change her outfits many times. 'We'd never see the first act of the play.' Did he desire her? 'She was terrific … I don't talk about those things,' he says, quietly. Did he have a relationship with her? 'I had a relationship with her. It was just before Arthur (Miller, the playwright whom she married in 1956). It was an interesting relationship, I look at it very differently than the way I did then. She was incredibly attractive but very difficult.'

How did he cope with that? 'You can't. That's why I didn't.' It lasted? 'Several months.' He couldn't cope with the poles of her personality? 'Yeah, you didn't know which one would show up in the middle of something.' Did he end the relationship? 'I did, by becoming more busy.' Was she upset by that? 'I don't know, probably. I didn't want to upset her.'

After the relationship ended, Landau and Monroe saw each other 'a couple of times in passing' in New York and Los Angeles.

Was he in love with her? 'I don't know if I was in love with her or fascinated by her or flattered by her. She was incredibly attractive and fun to be with much of the time. When she wasn't she wasn't. I mean, that was the problem. She could get very withdrawn.' Did he want to marry her? 'No, no. It was almost a form of purgatory. I never knew who (that is, which Marilyn) I was going to be with.'

Landau was changing planes in Rome in 1962 when he read that Monroe had died. 'I was heartbroken. As the mystery unfolded I was more and more shocked. It didn't seem possible that she killed herself intentionally. It was possible she took more barbiturates than necessary, just losing count, or possibly it was foul play. Nobody knows.'"
In his new book, They Knew Marilyn Monroe, author Les Harding also mentions Martin Landau. This anecdote is attributed to Paddy Chayevsky's biographer, Shaun Considine.
"After a class at the Actor's Studio, Landau, with Ben Gazzara and Elia Kazan, escorted Marilyn to the window table of a Times Square restaurant. Landau noticed that Marilyn's attention seemed to be somewhere else. Following her gaze, Landau glanced across the street which housed the office of the theatrical producer working on Arthur Miller's 'A View From the Bridge'. High up in the building, framed in the window, was Miller himself. 'He stood there for the longest time, with his foot on the windowsill, looking down at her,' said Landau. 'I was the only one who noticed, and nothing was said. Only later did I put it all together.'"