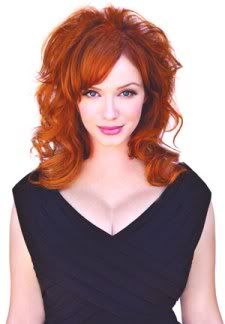 The stunning red-haired actress, best known as sexy, ambitious Joan Holloway on TV's Mad Men, speaks to Parade about those Monroe comparisons:
"I don't think any woman in the world could get tired of being compared to Marilyn Monroe. It is embarrassing, though, because I think that I could never hold a candle, but it is also incredibly flattering, and she's someone I admire greatly. So it's always a really nice thing to hear."
Set in the New York advertising world at the dawn of the sixties, Season 2 of Mad Men references MM's life and impact in depth. In Episode 6, 'Maidenform', the creatives devise a campaign slogan for Playtex bras, 'Are you a Jackie or a Marilyn?'
And episode 9, 'Six Months Leave', explores the differing reactions of the characters to Monroe's death. In a pivotal scene, Joan's sadness reveals a hitherto unseen vulnerability behind her glamorous persona.