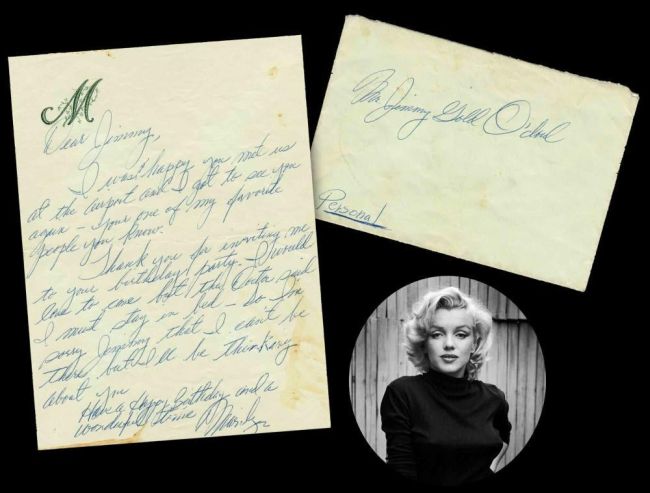 Three Marilyn-related lots are featured in the University Archives' Autographs & Books online auction on January 16, Artfix Daily reports. Interestingly, all three items were sold in another recent auction, A Southern Gentleman's Collection, at Julien's in November 2019.
The letter shown above, from Marilyn to baseball player Jimmy 'Lefty' O'Doul (circa 1954) fetched $6,400, and now has an estimate of $10-12K.
A typed letter from April 1950, addressed to the William Morris Agency and signed by Marilyn, sold for $2,280 and now has an estimate of $3.5-4.5K.
A financial document from the Woodbury Savings Bank, signed by Marilyn and husband Arthur Miller, sold for $4,480, and now has an estimate of $3.5-4.5K.
UPDATE: The financial document signed by Marilyn and Arthur Miller in 1957 was sold for $3,250 – more than $1K less than the $4,480 paid for it at Julien's just three months ago. The other two lots went unsold.