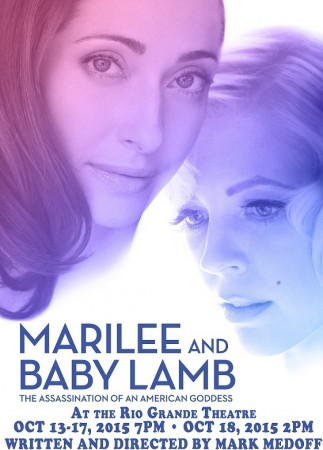 Following the recent premiere of Marilee and Baby Lamb – Mark Medoff's play about Marilyn's relationship with her maid, Lena Pepitone – the Las Cruces Sun-News reports that Pepitone's estate (who are planning a separate movie) have claimed that the play was staged without their approval.
"The play, which ran at the Rio Grande Theatre Oct. 13 through 18, was produced by Mark Medoff and Dennis D'Amico. It is based on videotaped interviews that D'Amico conducted with Pepitone.

Denis Bieber, president of Bieber Entertainment Enterprises in Los Angeles, is currently producing a film, titled Marilyn and Lena, which tells the story of the last six years of Monroe's life through Pepitone's eyes.

'It's really the story of a diva who wanted to be loved, and a friend who wanted to be a diva,' Bieber told the Sun-News last week. 'It was written by Frank Yandolino. In order to get the rights properly cleared, I contacted Joey and John Pepitone, Lena's sons and heirs, and acquired the exclusive rights to Lena's story. We entered into a legally binding agreement, and I felt very comfortable.'

'Everything was set, and all of a sudden I received a copy of the script of Marilee and Baby Lamb, which had been shopped around in New York for investors. I nearly fell off my chair,' Bieber said.

Bieber said he contacted his attorney, and requested a cease and desist letter be sent to Medoff and D'Amico.

According to Bieber, an investor for the film project began to get cold feet after learning about the production of Marilee and Baby Lamb.

Bieber said he will meet with the screenwriters guild in November to determine his next steps and will continue to explore his options.

'In 2007, Dennis D'Amico approached my mom and interviewed her on video, pertaining to her life with Marilyn,' Joe Pepitone told the Sun-News last week. 'With her permission at the time, he interviewed her several times. Upon her death, whatever agreement they had at the time ceased to exist.'

Pepitone said D'Amico announced at his mother's wake that he was going to make a movie to tell Lena Pepitone's story.

'My brother and I told him then that he didn't have an agreement in place, and asked him not to,' Pepitone said. 'To our surprise, he later announced publicly on the internet his intentions to go forward with the project. My brother and I have an agreement in place with Denis Bieber.'

'We are denying all accusations, allegations and implications,' D'Amico said. 'Our play honors Lena Pepitone, who I knew and interviewed. Marilee and Baby Lamb is based on my interviews with Lena, which I retain the rights to. We've conferred with counsel, and future statements and actions are forthcoming.'"
This is not the first time a Pepitone project has faced controversy. Her 1980 memoir, Marilyn Monroe Confidential – ghost-written by William Stadiem – has been criticised by fans. 'The biggest reason to doubt Pepitone's account is the fact that her English is very poor,' the well-known collector Melinda Mason wrote on her website. 'I doubt very much that communication between herself and Marilyn is the way is appears in the book. I met Lena in 2005 and I could barely understand anything she said.'
After Pepitone died in 2011, her nephew, Stephen Cateneo, told the New York Daily News that he believed his aunt's recollections of Monroe were distorted to sell books.