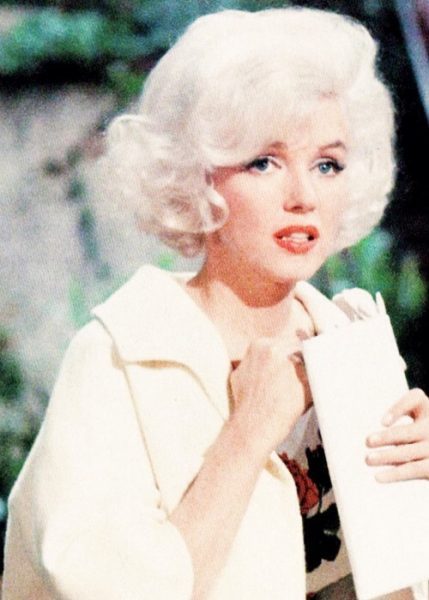 Marilyn's annotated script for her final, incomplete movie, Something's Got to Give, has been sold at the Nate D. Sanders Hollywood Memorabilia auction for $25,000. While reporters have poked fun at her minor spelling errors – such as 'leeding him on' – her comments are often perceptive. 'Needs more jokes', she remarked – an opinion shared by others during this troubled production.
If this script looks familiar, that's because it sold at Julien's only a month ago for $10,240. Other items from the event have also been spotted on auction sites like EBay, confirming that Marilyn's personal property is becoming a magnet for investors. A disused grave marker from her crypt, also sold in November, attracted no bids this time around.
"Monroe's handwritten pencil notes begin with her character's (Ellen Wagstaff Arden) introduction in the script on page 12 and carry through to the end on page 149, even including notes on the verso of the last page and back cover, such as a note reading, 'Joke writers Mel Brooks / Herb Gardner / Need spice / raisins / Need some funny lines.' There are notes in Monroe's hand on approximately 42 pages in the script, ranging from simple dialogue corrections and changes to in-depth sense memory notes when doing a scene that required a deeper emotional connection and understanding. Regarding her character's introduction, as she interacts with naval personnel who saved her after being marooned on an island for five years, Monroe writes, '1 – Gayity [sic] 2 – Excitement 3 – Then Dazed.' In one scene, Monroe references Arthur Miller's children to better help her relate to her character's children, 'Bobby M. / and early Janie / except their [sic] mine.' Throughout the script, Monroe writes succinct dialogue and character notes: 'Stunned / Dazed – sky high with adventure', 'dead pan/I really don't know', 'anticipating the joys', 'Trying to think or remember', 'start to wonder what's from now on', 'I don't know he knows', 'easy/very intimate/very real', '[L]et me get into something more comfortable / leading him on -'. Included is a small card with call times and scenes to be shot, and a small scrap of paper with a note in Monroe's hand wondering why they are shooting out of sequence, as well as notes about using Miss vs. Mrs."
This copy of the script is dated March 29, 1962. Another version, including revisions dated April 23 and 27, and with eighteen pages annotated by Marilyn, went unsold, after being purchased at Julien's last month for $12,800.
"Some of the highlights include notes Monroe made for Scene 168, in which she interacts with her children in the movie, who don't recognize her as they were too young when she became stranded on an island for five years and presumed dead. These hand-annotated typewritten pages were inserted into the script for this particular scene – one of the few that Monroe completed before her untimely death. Within these pages, Monroe writes a series of notes regarding her preparation: 'Real thought', 'Mental Relaxation', 'Look for the light', 'Place the pain/feeling where it is not in the brow', as well as specific sense memories to help find the emotional truth with her character's feelings toward her on-screen children, 'Substitute children – B & J if necessary', perhaps referring to Arthur Miller's children Bobby and Jane. There are also some notes from Monroe regarding her work with a Swedish dialect coach. Peppered throughout the script are further dialogue notes, changes and line strikes. Interestingly, the script also includes notes in an unknown hand giving blunt, critical assessments and insights of the script's scene descriptions, direction and dialogue. These notes start on the script's first page, 'Note for Marilyn/He has to woo her not the way it is / new blue pages' and continue in blue pen, 'Dull', 'Naggy, 'Make it funny!' and 'Smugly'. Interestingly, Monroe reacts to some of these notes, either changing dialogue and scene direction or, in some cases, striking the note itself if she doesn't agree with it."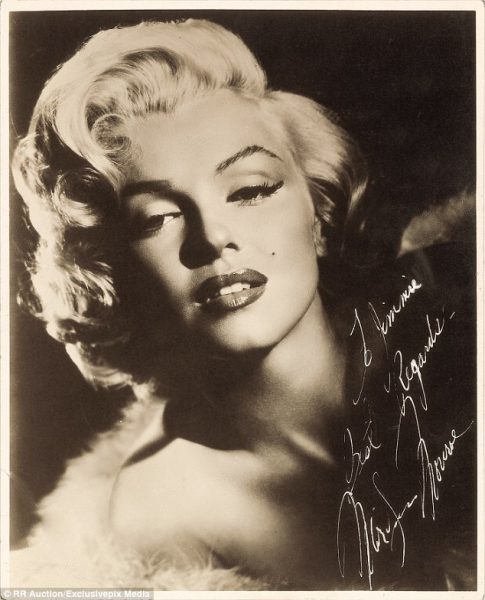 And in other news, a Frank Powolny portrait of Marilyn – signed by the lady herself to 'Jimmie' – was sold at R.R. Auctions for $24,959 this week, as part of the Tom Gregory Collection.