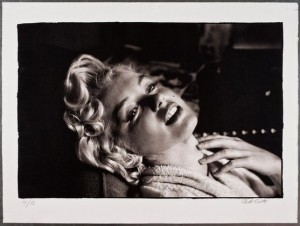 "Marilyn Monroe, on the other hand, I was able to take pictures of in an intimate situation rather than a public one. This was in her hotel room in 1956*, when I was covering the film she was making at the time, Some Like It Hot.* She may have been reading a script when I took it. It was just me and her, and she was going about her business. I like the atmosphere, and the fact that it's a famous person being photographed in an ordinary way. And I found her very sympathetic, I must say. She was nice, smart, kind of amusing, and very approachable. Not a bimbo at all."
*Actually, Erwitt first photographed Marilyn in 1954, while she was filming The Seven Year Itch in Manhattan. They worked together again on The Misfits (1960.)
Four of Elliott Erwitt's most iconic images will be presented in the UK for the first time as editioned, large format platinum prints, in an exhibition of fine photographs spanning Erwitt's distinguished career. Produced in May 2010 using cutting edge technology, and launched at this year's Recontres D'Arles in July, these 30"x40" platinum prints feature Erwitt's photographs of racial segregation in North Carolina, 1950; a kiss reflected in the wing mirror of a car, California, 1955; a glamorous movie star Marilyn Monroe … and one of his best loved pictures of the relationship between man and dog Felix, Gladys and Rover (New York, 1976).

Included alongside the platinum set are signed silver gelatin prints of some of Erwitt's most well-known images: portraits of Marlon Brando (1954), Grace Kelly (1956), Sophia Loren (1962) Che Guevara (1964) and his beloved dogs, as well as his evocative documentary of stolen moments such as the couple dancing in a kitchen in Spain (1952), a dove taking flight (1955), and a mother (his then wife) and baby (1953).

Now in his 80s, Erwitt continues to travel widely and produce both personal and commercial work. This year alone he has shot high profile campaigns for San Pellegrino, Tod's and the Puerto Rico Tourism board. Recent books include Rome and The Art of André S. Solidor in 2009, and his exhibitions Dog Dogs and his Retrospective continue to tour widely.
September 15 – November 30, Magnum Print Room, London