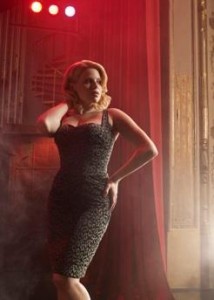 Megan Hilty, star of Smash, spoke to the New York Observer about the challenge of playing a wannabe Monroe:
'We asked, in the season that has seen Michelle Williams get nominated for an Oscar for playing Marilyn then trotting that character out on magazine covers, if it was possible to distinguish oneself playing Monroe. "Well, she is certainly having a moment!," said Ms. Hilty. "My whole career so far is taking things other people have established and trying to make them my own!" (Ms. Hilty took over a lead role in Wicked and played the Dolly Parton role in the musical adaptation of 9 to 5.) "I can always hide behind Ivy Lynn. I'm playing a character who's playing Marilyn Monroe. That makes it a little less daunting. But I'm constantly doing research and—all of her biographies are wildly different and all cover different parts of her life. No one biography has her whole story! There's always something else to learn and infuse into the character."'
And according to Broadway.com, Hilty will take on another MM-inspired role when she plays Lorelei Lee in a new stage production of Gentlemen Prefer Blondes, due to open in new York this spring.