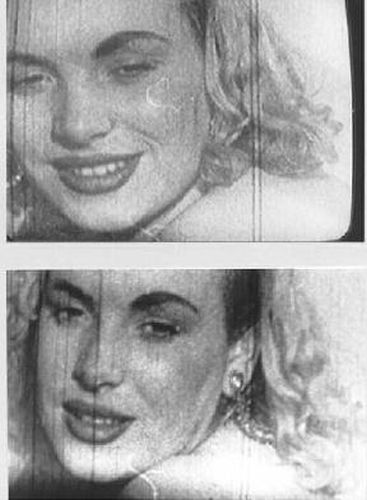 Another alleged sex tape has resurfaced, to be auctioned by Spanish collector Mikel Barsa. This tape is nothing new – it was released as a DVD a few years ago, rather cheekily entitled The Bluest Marilyn Monroe.
Speaking to NPR, Los Angeles-based collector Scott Fortner confirmed what most informed fans believe – that the girl in the clip was not Marilyn:
"That's not Marilyn. The chin is not the same, the lips are not the same, the teeth are not the same. Marilyn was a tiny little thing. And I know that for a fact. I own her clothing…In the Marilyn community, people have debated this for years and years and for the most part it's widely believed that this is not her."
However, Barsa insists that the woman is indeed the young, pre-stardom Monroe:
"People with romantic notions have denied that it's Marilyn Monroe, and have invented stories…This film shows the real Marilyn Monroe — it was only later that the studios discovered her and transformed her."
Barsa first made the film public in 1997, and at the time CMG – then MM's licensing company – threatened to sue. While it is true that Marilyn's appearance subtly changed over the years, in my opinion her jaw was never as square as that of the unidentified girl in the clip.
For comparison, here's a photo by J.R. Eyerman of a noticeably slimmer Marilyn in one of her early movies, Love Happy (1949.)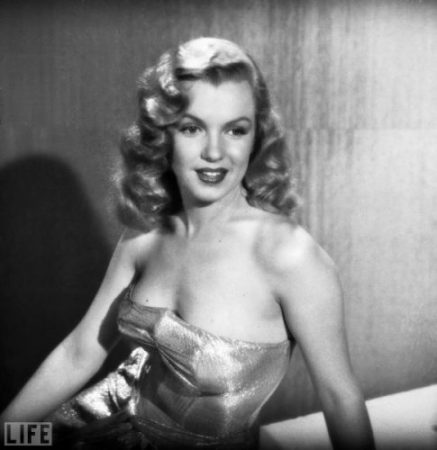 Another stag film attributed to MM, The Apple-Knockers and the Coke, was correctly identified as starring Playboy model and MM lookalike Arline Hunter by collector (and friend of Marilyn) James Haspiel as long ago as the 1970s.
While Marilyn did pose topless or even nude on occasion, no sex film has ever been attributed to her. And yet rumours continue to circulate, and titillate a scandal-hungry public.
Mr Barsa plans to auction the film in Buenos Aires on August 7, days after the 49th anniversary of Marilyn's. Coincidence, or marketing opportunity? You decide…
UPDATE: An excellent blog post from Scott Fortner points out the main differences between the girl in the film and the young Marilyn.