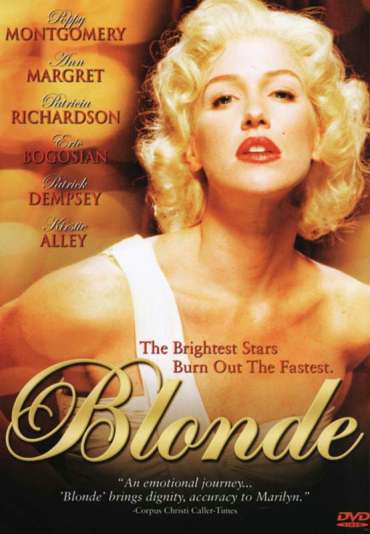 Blonde, a TV adaptation of Joyce Carol Oates' novel, was first aired in 2002, barely two years after the book's publication. Directed by Joyce Chopra and starring Poppy Montgomery (Without a Trace) as Marilyn Monroe, it is currently available to watch for free online at Blinkbox.
Although Blonde is based on Monroe's life, it plays fast and loose with the facts. Characters like 'I.E. Shinn', the fictitious agent, are amalgamations of several men who played significant roles in Monroe's early career. Her first husband, James Dougherty, is renamed 'Bucky Glazer', while DiMaggio and Miller are referred to as 'the Ballplayer' and 'the Playwright'.
This technique puts Monroe in the spotlight, and makes her brief, intense life seem much less complex than it really was. Vague, unconfirmed rumours about her relationship with peripheral figures, like Charlie Chaplin's son, are distorted beyond recognition. While proclaiming that 'she wasn't blonde, and she wasn't dumb' (seemingly paraphrasing Dolly Parton), Marilyn is portrayed as a victim, passive and helpless.
Poppy Montgomery's performance is actually quite good, but the other characters are little more than caricatures. Perhaps the most misleading scene of all shows Monroe exchanging sexual favours with Darryl F. Zanuck, head of Twentieth Century Fox, for a stock contract. This incident never occurred and, to me as a fan, it was offensive.
The first half of this two-parter mainly covers Monroe's pre-Hollywood life as Norma Jeane Mortenson. Her mother is played rather stridently by Patricia Richardson. The costuming in the latter part is somewhat sloppy, playing on stereotyped images and not acknowledging how subtly Monroe transformed herself.
Blonde is reasonably watchable, but fails to rise above other two-dimensional portrayals of Marilyn's life. It doesn't match the attempted lyricism of Oates' novel and fails to distinguish between fact and fantasy.
A new, big-screen version is now planned, to be directed by Andrew Dominik (The Assassination of Jesse James by the Coward Robert Ford) and starring Naomi Watts (Mulholland Drive, King Kong, The Painted Veil.)