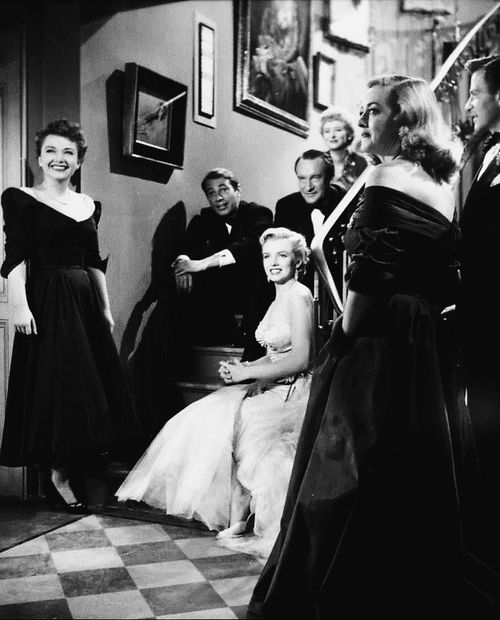 At first glance, it's hard to imagine two stars more different than Marilyn and Bette Davis, although they briefly appeared together in All About Eve. Many on the set found Davis intimidating, and few escaped her catty remarks.
However, as Bette later told a biographer, "I felt a certain envy for what I assumed was Marilyn's more-than-obvious popularity. Here was a girl who did not know what it was like to be lonely. Then I noticed how shy she was, and I think now that she was as lonely as I was. Lonelier. It was something I felt, a deep well of loneliness she was trying to fill."
In her latest column for the Chicago Tribune, Liz Smith finds another similarity between MM and Davis – both actresses were, at different points in their careers, known for their 'mannered' speech.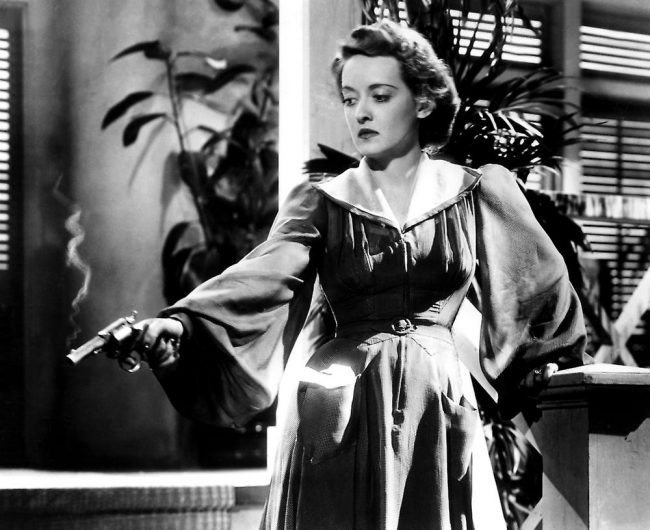 "Last weekend I watched two films, one a classic, the other not so much — though it has a cult following. I do mean William Wyler's The Letter, starring Bette Davis as a woman who murders her lover and River of No Return starring Marilyn Monroe as a tough saloon singer fighting turbulent rapids, Indians and Robert Mitchum. Quality wise there's no comparison, although River, directed by Otto Preminger, is a great looking movie, with excellent use of early Cinemascope. It's an entertaining potboiler. The Letter, based on Somerset Maugham's novel, is one for the ages.

And while you might imagine Bette Davis and Marilyn Monroe were as unalike as two actors could be, they shared one quality — an odd manner of speaking. Davis' clipped tones became famous instantly, and as she grew older, the static quality of her delivery increased, rendering many of her performances artificial. It took a strong director and an inspiring script to wrench Davis out of her habits.

AS for Miss Monroe, shortly after she began working in films, she met a dramatic coach named Natasha Lytess who convinced the insecure Monroe that her diction was 'sloppy' and she needed to enunciate more clearly. Well, Monroe, whose diction was just fine actually, did enunciate. Boy, did she en-nu-ci-ate. She came down so hard on her Ds and Ts she all but bit them off. Even she was not entirely comfortable with this, and when given a good script, her speech would relax, no matter what Miss Lytess said. River of No Return was not a script Monroe liked. The result was a performance that varies wildly. It's fun to see her as a smart-talking, back-talking woman. And when she unbends her diction, she's earthy and effective — refreshingly strong. But in other scenes, she comes off like a gorgeous Martian, who is just learning our language. It's a pity, because despite Monroe's objections, River was a change of pace, and all contract actors did westerns. They just did. (The chief pleasure of 'RONR' is the sight of Monroe in her physical prime, athletically running around in skin-tight blue jeans!)

But unlike Bette, Marilyn's vocal impairment didn't last. (Even in The Seven Year Itch, she is merrily relaxed.) After Monroe abandoned Hollywood and her 20th Century Fox contract, she went into the Actors Studio. Lee Strasberg convinced her, first of all, that she was nothing, had accomplished nothing. Only he (and wife Paula) could help her. That she was the biggest female star in the world at that point didn't impress the Strasbergs. At least that's what they said. Presto! Out with Natasha — who didn't go quietly — and in with Paula, who became even more hated on Monroe sets than Lytess. (Natasha at least lectured Marilyn on discipline. The Strasbergs told her only the 'art' mattered, and she should take as long as she liked.)

There was little change in the essentials of Marilyn's acting, except the disappearance of her excruciating diction, although every so often it would pop up on a word or two. Lytess must have used hypnosis on her!"