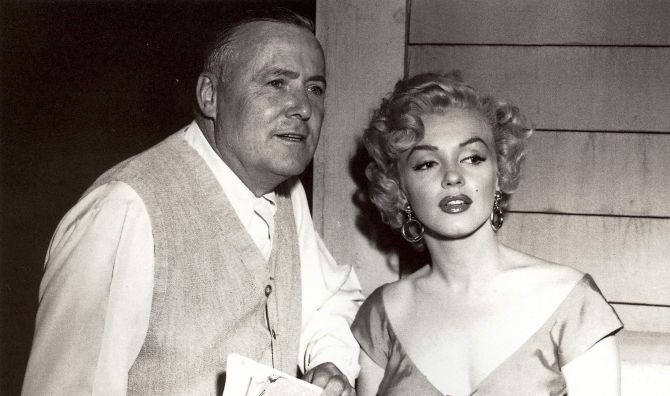 Director Henry Hathaway, who guided Marilyn through her star-making performance in Niagara, was a movie veteran, perhaps best-known for his action pictures. Although seen as gruff and domineering by some, he proved to be one of Marilyn's most supportive directors.
Henry Hathaway: The Lives of a Hollywood Director, published later this month, is a new biography by Harold N. Pomainville, and promises to be of interest to MM fans (although rather expensive, in my opinion.) He describes how Hathaway dealt with Marilyn's interfering coach, Natasha Lytess; and how he persuaded Marilyn to sing along to the record in the 'Kiss' scene.
Pomeraine also reveals that Zanuck thwarted Hathaway's plan to cast Marilyn in Of Human Bondage, and that Hathaway advised her to hire Charles Feldman as her new agent as a defence against the hostile studio head. And it was Hathaway who offered Marilyn the chance to star in a Jean Harlow biopic. She rejected it, partly because she was then in dispute with screenwriter Ben Hecht over a shelved autobiography (published after her death as My Story); but perhaps also because the pressures of Harlow's life mirrored her own.
"Though Hathaway worked with Marilyn only once," Pomeraine writes, "he became one of her prime defenders. At a time when the Fox hierarchy, including [Darryl] Zanuck, screenwriter Nunnally Johnson, and director Howard Hawks, regarded Monroe as little more than a passing novelty, Hathaway saw her as a rare and sensitive talent: 'Marilyn was witty and bright, but timid. She was afraid of people.'"