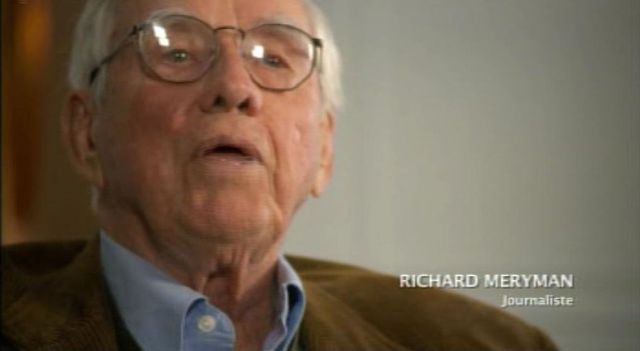 Journalist Richard Meryman – who was the last person to interview Marilyn, and went on to become an acclaimed biographer – has died aged 88, reports the New York Times.
The son of artist Richard Sumner Meryman, 'Junior' was born in Washington, and grew up in Dublin, New Hampshire. He graduated from Andover and Williams College, was an All-American lacrosse player, and a World War II Navy ensign. In 1949 he was hired by Life magazine,  and became its human affairs editor. Meryman is credited as a pioneer of the taped interview.
On February 10, 1962, Meryman wrote a letter to Marilyn requesting an interview. On May 17, Marilyn arrived in New York for John F. Kennedy's birthday gala (which took place two days later.) That evening, she and publicist John Springer met Meryman and his assistant, Barbara Villet, at the Savoy-Plaza Hotel, and arranged an interview.
On July 4, Meryman interviewed Marilyn at her new home in Brentwood, Los Angeles. On July 9, Meryman brought her a transcript of their discussion. She received a copy of the article on July 14, and it was published in Life on Friday, August 3 – the day before she died. In the magazine's next issue, Meryman published his own reminiscences of their encounter, entitled 'A Last Talk With a Lonely Girl.'
Thirty years after Marilyn's death, Meryman's tapes were broadcast  in an HBO documentary, Marilyn: The Last Interview. 'My experience with stars is that – through all the publicity and the hype and everything – the public senses the essence of the person,' Meryman told CNN's Larry King in 2001. 'And the essence of Marilyn is she communicated a kind of truth. And truth is very powerful.'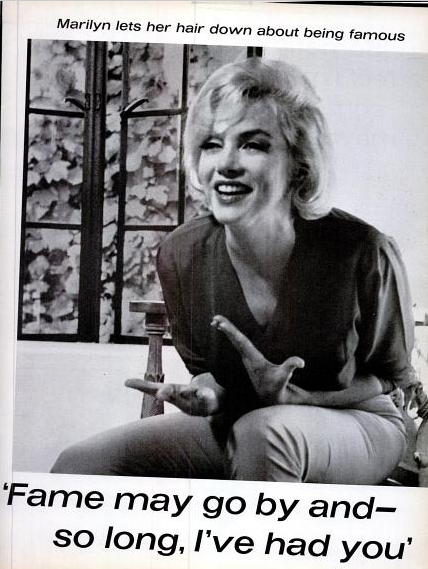 Meryman's interview was published as a compendium of quotes from Marilyn herself, without his questions. It gives the reader a sense of hearing Marilyn's own voice, perhaps for the first time. She talked about her difficult childhood, the double-edged nature of stardom, and her recent dispute with Twentieth Century-Fox. In 2007, the 'last interview' was included in 'Great Interviews of the 20th Century', a series of pamphlets published by The Guardian.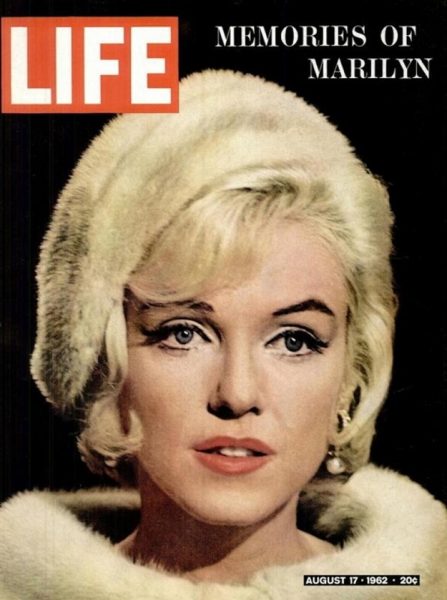 Perhaps inspired by his work with Marilyn, Elizabeth Taylor collaborated with him on a 1964 book, Elizabeth Taylor: An Informal Memoir. Louis Armstrong was among many other celebrities interviewed by Meryman, and a short book, Louis Armstrong: A Self-Portrait, was published following his death in 1971.
Meryman's subsequent biographies included Mank: The Wit, World and Life of Herman Mankiewicz (1978) and Enter Talking, a 1987 collaboration with acid-tongued comedienne Joan Rivers.
His first wife, artist Hope Brooks, died of a malignant melanoma in 1975, leaving behind two daughters. Meryman wrote about his grief in a 1980 memoir, Hope: A Loss Survived. In the same year, he was remarried to art consultant Elizabeth Burns.
Andrew Wyeth: A Secret Life,  Meryman's biography of the American artist (best-known for his 1948 painting, Christina's World) was published in 1998. Meryman had befriended Wyeth in 1964. Wyeth died in 2009. In 2013, Meryman published an illustrated compendium of their discussions, Andrew Wyeth: A Spoken Self-Portrait.
Meryman also wrote a novel, Broken Promises, Mended Dreams (1984.) He died of pneumonia in Manhattan on February 5, and is survived by his second wife, his two daughters and two stepsons, and grandchildren.