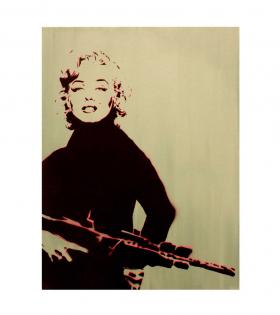 Michael Mahaffey is an artist based in Savannah, Georgia. 'Curious Tales and Terrible Creatures', his solo exhibit at Gallery Expresso, includes works inspired by Marilyn and is on display through to January 6.
The concept of an updated, 'gangsta' Marilyn has become a popular trope in recent years, as has 'zombie' Marilyn. What interests me about Mahaffey's work is that he takes these hackneyed ideas and creates something fresh and original.
'Marilyn MonROGUE' shows Marilyn not as gangster but revolutionary, while 'Endurance' suggests (to me) the beauty of Monroe's face (her own work of art) in perpetual conflict with the fact of her mortality.
"I used to be much more interested with just creating pretty pictures, and now I work hard to blend beauty and content," Mahaffey tells Savannah Now. "I like to pull people in with a striking image and then hope they'll stick around to consider the visual story happening on the canvas."
You can also find his work on Etsy