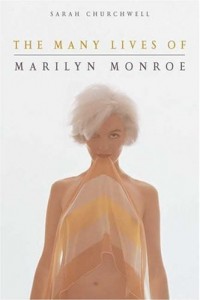 Sarah Churchwell, author of The Many Lives of Marilyn Monroe, a critical analysis of Monroe's treatment at the hands of her myth-makers, has joined the blogosphere with two posts about MM since yesterday.
The first piece, biographical in tone, focuses on some of the popular misconceptions about Marilyn; while the latter post, intriguingly, refers to the eagerly-awaited collection of Marilyn's writings, Fragments: Poems, Intimate Notes, Letters.
Marilyn: Fragments is due for publication in October; I will have more to say about it then. But I will say this: many books (many books) have purported to be "in her own words" since she died. This claim has been everything from highly arguable (such as her ghost-written "autobiography," My Story, which was co-authored by at least two writers, and probably ghost-revised after her death; it was certainly ghost-edited after her death) to the outright nonsensical (everything else). This book actually is Marilyn's own words–it reproduces notebook pages, in her handwriting, and then transcribes them. That alone makes it worth reading.