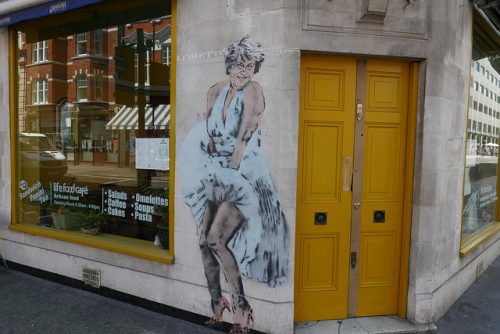 On the eve of the UK general election, a stencil painting of Prime Minister Theresa May wearing her favourite leopard-skin stilettos, in a recreation of Marilyn's 'subway scene' from The Seven Year Itch (originally photographed by Sam Shaw) signed by street artist 'Loretto', has appeared in London's West End, reports Fitzrovia News.
The merging of Marilyn, an icon of youth and beauty, with a right-wing politician is either comical or grotesque, depending on your perspective. However, comparisons of this kind are nothing new, especially in the art world. Photographer Philippe Halsman started the trend with 'Marilyn Mao', blending his own 1952 portrait of MM – her first Life magazine cover – with the head and shoulders of the Chinese premier, Mao Tse-tung.
Perhaps it's the rumoured affair with President Kennedy that triggered this strange phenomenon, or just that Marilyn's own cultural reach rivals that of our world leaders. For me, these images evoke the contrast between her radiant humanity, and the dangerous aura of those who wield power.