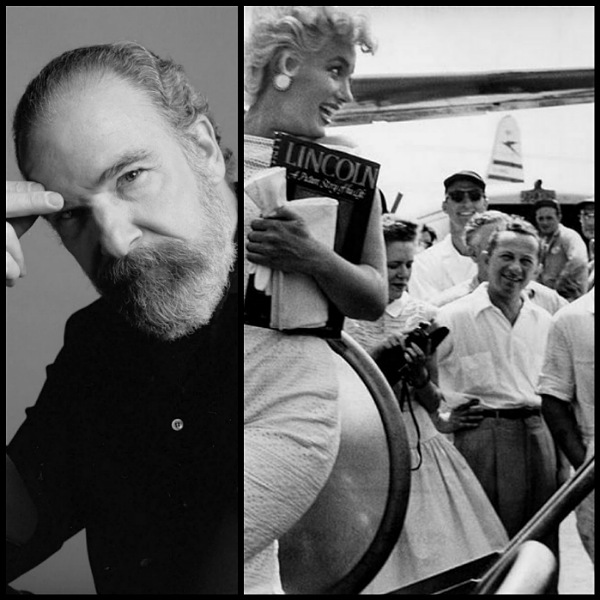 The singer and actor Mandy Patinkin, perhaps best-known for his role as Inigo Montoya in The Princess Bride, describes his first, and rather frightening encounter with the world of celebrity in The Guardian today.
"When I was four, we were at Midway airport in Chicago, and there was a large crowd of people surrounding a lady – everyone was screaming at her, lights were flashing. It was scary. I later learned she was Marilyn Monroe."
Marilyn flew into Chicago Midway at least twice: in 1955, en route to Bement, Illinois, to celebrate Abraham Lincoln; and again in 1959, while promoting Some Like It Hot. And on both occasions, she drew a crowd, As Mandy was born in 1952, the former incident seems most likely to be the time he saw her. (Marilyn also visited Chicago in 1949, but that was before his time!)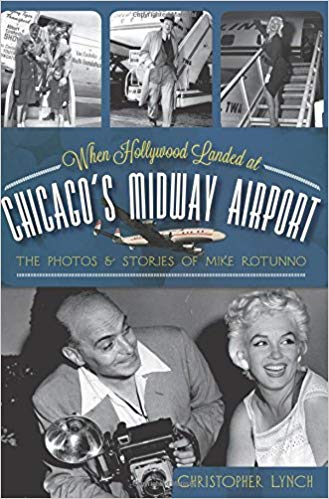 In his 2012 book, When Hollywood Landed at Chicago's Midway Airport, author Christopher Lynch recounted photographer Mike Rotunno's version of events.
"Actually, Chicago was just a layover for Monroe. Her final destination would be the little town of Bement, Illinois, not far from Champaign and famous for being the site of one of the seven Lincoln-Douglas debates. The tiny town of Bement was having an art exhibition to celebrate its one-hundred-year anniversary, and a member of the National Arts Foundation had approached Monroe asking her to make an appearance at the exhibit. To the surprise of just about everyone there, she readily agreed, and with her hairdresser and personal photographer in tow, they had left that morning from New York.

Meanwhile, back at Chicago Midway Airport, after he was given just twenty minutes' notice of her arrival, Mike Rotunno wrote, 'As I rushed down the corridor, people would ask me, "Who's coming in?" I yelled back, "Marilyn Monroe!" By the time I got to the gate a huge crowd had gathered … There was a slight drizzle as the [airplane] door opened and here was Marilyn with the umbrella in front of her. I shouted, "Marilyn, pull the umbrella back of you [sic] and let us see you." She cheerfully obliged, and gave me several different poses.'

Since she had a two-hour layover before boarding a plane to fly to Champaign, the photographers suggested that Monroe go upstairs to the Cloud Room … According to Jim O'Hara, whose father was a beat cop at the airport, Rotunno got a good shot of Monroe's posterior as she sashayed up the stairs – the picture was pinned outside the Metro News office later that week and no doubt sold briskly.

Once upstairs in the air-conditioned elegance of the Cloud Room, Marilyn was immediately recognised by a gaggle of sailors dining there. According to Rotunno, they started 'yelling, whistling and screaming. They came to our table and got her autograph.' Marilyn talked with the excited sailors, obliging them with her attention. Rotunno remembered that the assembled photographers 'decided to make her a member of the famous "Pastafazula Club", whose members are Italian news photographers or descendants. The scroll which was presented to Marilyn contained honorary members of the White House and of the movie industry.' There is a photo of Rotunno standing to Marilyn's right, camera in hand, as she signs the scroll, while the Chicago Tribune photographer Dan Tortorell stands to her left. Marilyn laughs while signing this document, as important as the Magna Carta to the photographers. Rotunno wrote that 'Marilyn got a big kick out of the initiation and we sent her a copy. Marilyn was very photogenic and showed it.'

After waving to the photographers at Midway and flying on to her appointment downstate in Bement, Monroe's flight out of Champaign was grounded due to bad weather. In order to catch their eleven o'clock flight out of Chicago, the governor's office gave permission for Marilyn Monroe's car to be escorted by two Illinois motorcycle troopers, wailing at top speed, all the way back to the airport at Chicago. At Midway, the governor's men even held the plane for ten minutes so that Marilyn Monroe could board her flight back to LaGuardia."