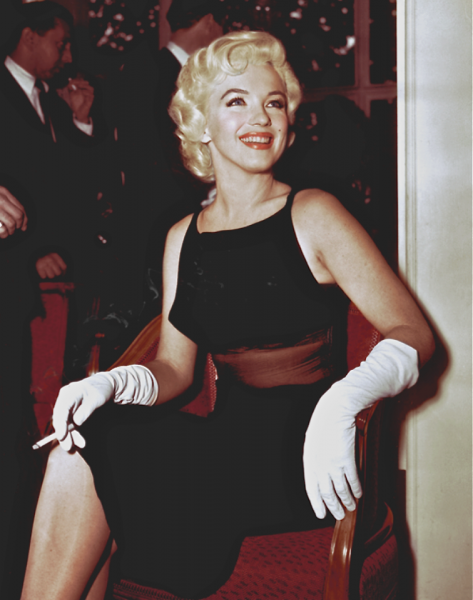 This elegant black shift dress with a chiffon midriff launched a fashion craze when Marilyn wore it at London's Savoy Hotel, quipping that while the dress was not her idea, her midriff was. Writing for the Hollywood Reporter, Vince Boucher notes that the couturier – the subject of a new exhibition at Drexel University in Philadelphia – was James Galanos, who went on to dress First Lady Nancy Reagan in the 1980s.
"Hollywood is represented in a brown-tweed suit from the fifties from Rosalind Russell with a portrait collar and empire-effect belt with trapunto stitching and in a violet jacketed gown similar to one that Diana Ross wore to the Academy Awards. And in a group of black dresses, there is a 1993 mini with a sheer midriff, a motif the designer returned to again and again, all the way back to a black sheath with chiffon inset worn by Marilyn Monroe at her 1956 press conference for The Prince and the Showgirl, as shown in the exhibition catalog."
In the late 1940s, Galanos was hired as a sketch assistant by Columbia Pictures' costumier, Jean Louis (who would also design for Marilyn.) By the 1950s, Galanos was designing collections for Saks Fifth Avenue in Beverly Hills, and Neiman Marcus in New York. He later settle in Los Angeles, and was known as the 'master of chiffon.'
Marilyn's wool crepe cocktail dress was purchased at Bergdof Goodman department store in Manhattan, and was sold at Christie's in 1999. It was also featured in 'A Short History of the Little Black Dress', an article posted on the Real Simple website in 2011.