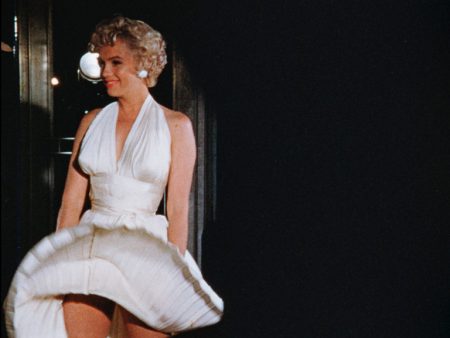 Amateur footage from the set of The Seven Year Itch has resurfaced, as Helene Stapinski reports for the New York Times. Shot by Jules Schulback, a furrier and home movie enthusiast, in September 1954, the missing reel – in pristine condition, and lasting for three minutes and seventeen seconds in total – was found by his granddaughter Bonnie Siegler and her husband Jeff Scher almost sixty years later.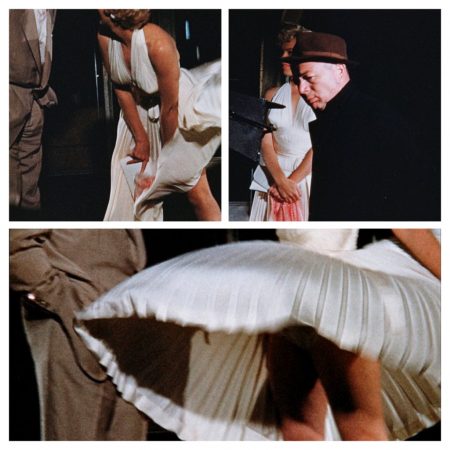 "The film starts with a spliced-in intertitle that reads 'World Premiere,' Mr. Schulback's little inside joke.

And then there is Marilyn Monroe, in a white terry robe, coming down the stoop of a white-shuttered building at 164 East 61st Street, between Lexington and Third Avenues. It was the earlier scene — before the subway grate footage — that Mr. Schulback had shot. Cameramen and press photographers are gathered outside as the actress smiles and waves.

Cut to Ms. Monroe in a second-floor window wearing a slip and blow-drying her hair. Mr. Ewell walks down the street and into the building. The film cuts inexplicably to 30 seconds of what must be a Shriners parade in Manhattan, then jumps to another intertitle, which reads 'Our Baby.'

And suddenly, there is Ms. Monroe again, this time on the subway grate in that famously fluttering white dress, holding a matching white clutch in her right hand and a red-and-white-striped scarf in her left.

Mr. Schulback was incredibly close, filming right behind Mr. Wilder's shoulder, stopping to wind his hand-held camera every 25 seconds. Now and then, a silhouette of the director's arm intrudes into Mr. Schulback's crystal-clear shot. At one point Mr. Wilder, in a fedora, passes across the frame. Ms. Monroe gets into position and yawns, while the cinematographer sets up the camera. Through a gap in the film crew, Mr. Schulback captures just her face, looking off to the left, serious and unsmiling.

Then Mr. Ewell is there, chatting with Ms. Monroe, who pushes him into position. The dress flutters again, Ms. Monroe holds it down, bending slightly, smiling and talking to Mr. Ewell, but it flutters up some more and she laughs, her head thrown back. It blows up again, but she doesn't push it down this time, and it flies up over her head, clearly revealing two pairs of underwear that, because of the bright lights, do not protect Ms. Monroe's modesty quite as much as she might have liked.

Then, as suddenly as she appeared, Marilyn is gone, and the film reverts to home-movie mode: Edith Schulback walking on the grass at a family outing in the country. It's like being shaken from some crazy dream, back to reality."
Elsewhere in the Times, Alexandra S. Levine retraced Marilyn's steps in today's New York.
"We started outside 164 East 61st Street, the townhouse shown in the film.

The house is still standing, and this week, it appeared to be the only one on the block still adorned with Christmas decorations.

(It's also now directly across from Trump Plaza, which was certainly not part of the movie's quaint side-street landscape.)

We then walked to Lexington to visit Gino, a restaurant where Ms. Monroe would often eat with her second husband, Joe DiMaggio, and later with her third, Arthur Miller.

We regret to inform you that the eatery is long gone. It's now Sprinkles, a cupcake shop, and the outside of the building has an A.T.M. that dispenses cupcakes. (How far we've come in 63 years!)

We headed south, to 52nd Street, the site of the celebrated subway grate.

There was no Marilyn Monroe plaque or street sign to be seen; the block is designated Lew Rudin Way. And the Trans-Lux Theater, which stood behind Ms. Monroe as she filmed the scene, is no longer there.

So we stopped above what we imagined was the same grate, now in front of the bistro Le Relais de Venise l'Entrecôte, to see if it might elicit an out-of-body experience.

Not quite.

The long, narrow subway grate was sandwiched on one end by a garbage can, and on the other by a large, thirsty-looking potted plant.

When we stood over the grate, we didn't feel the swoosh of the subway swiftly blowing at our heels. When we looked down, all we could see was our own reflection in some murky water. And we certainly didn't look like we were having an exceptional hair day.

What we'd suggest, to better recreate that unforgettable New York (but made in Hollywood) moment, is to ask a friend to come along with a giant fan and an iPhone. Ask that kind soul to turn on the fan, encourage passers-by to cheer your name, and let the photo shoot begin."