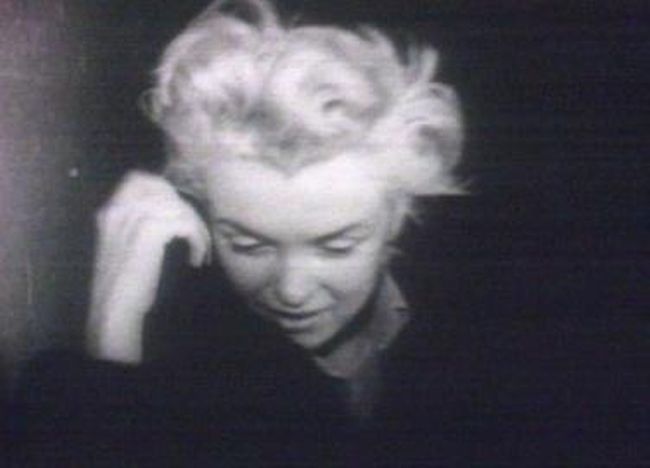 A 1954 X-ray of Marilyn Monroe's chest is reported to have sold for $45,000 (about £30,000) at the 'Hollywood Legends' auction in Las Vegas this weekend. Here's the item description from Julien's Auctions:
"X-ray of Marilyn Monroe's chest. Printed on the x-ray is the following information, 'Cedars of Lebanon Hospital/Drs. E. Freedman and S. Finck/ Name Di Maggio Marilyn/ No. 50612 Date 11-10-54/ Ref. By Dr. L. Krohn.' As a radiology resident at Cedars, a young doctor obtained these x-rays. When he taught at the school himself, he used these x-rays to ensure that students were paying attention. Monroe was said to have known about the x-rays and their use, about which she said 'Isn't that sweet.' Monroe's hospital visit was said to be for her chronic endometriosis – or as her doctor's described it, 'For correction of a female disorder she has suffered for years.' Accompanied by a copy of the X-Ray. 17 by 13 3/4 inches"
It's hard to know what to make of Marilyn's comment at the time, or how she might have felt about this sale.
The X-Ray dates from November 1954, when Marilyn underwent surgery to relieve her chronic endometriosis. Photos taken of her leaving Cedars of Lebanon Hospital the following day showed her to be extremely distressed by the paparazzi's presence.
To illustrate this point, I have posted the least upsetting photo from this occasion above (I have no intention of posting the X-ray here. This is a personal decision, those who wish to see it can search on Google.)
In The X-Rays of Others, an article for yesterday's Huffington Post, Dr Elaine Schattner criticises the auction:
"It seems ironic that Monroe, who was hospitalized for gynecological reasons and died childless, has no descendants to hold her records near, to intervene or somehow say 'no, the x-rays are off-limits.' Rather, it's her doctor's children who've cut the deal.

I can't help thinking that she, who struggled so in her life, in and out of strangers' households, love affairs and flicks, is defenseless now again. The films render her vulnerable, again, to more inspection. The loss of privacy is irrevocable, a violation after death."
Read full article here