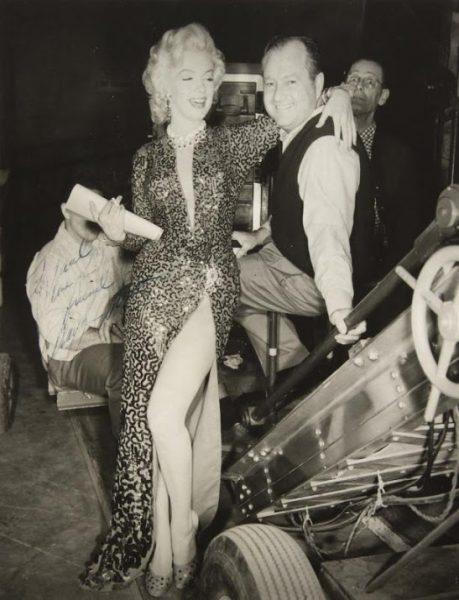 The upcoming Julien's Auctions sale includes many items related to the making of Marilyn's movies. An annotated script for Gentlemen Prefer Blondes reveals that Marilyn worked hard on her comedic performance. "Sense the feeling with the body," she wrote next to one line.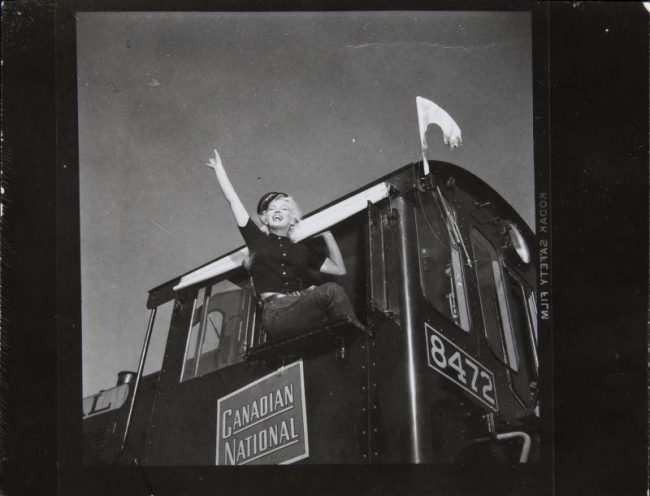 Darryl F. Zanuck may have blamed Marilyn for delays in the River of No Return shoot, but co-star Robert Mitchum did not, writing on this letter, "Dig!!! Marilyn – my girl is your girl, and my girl is you. Ever – Bob."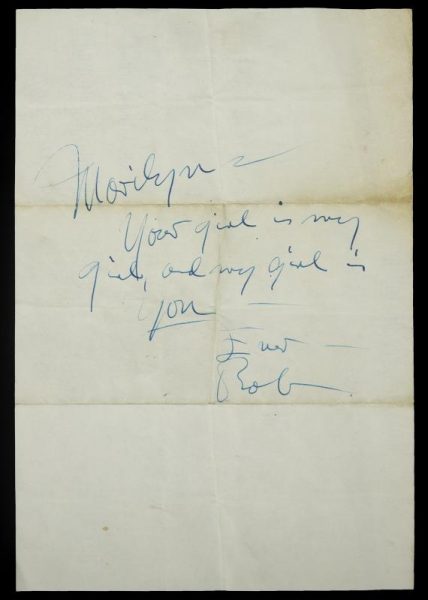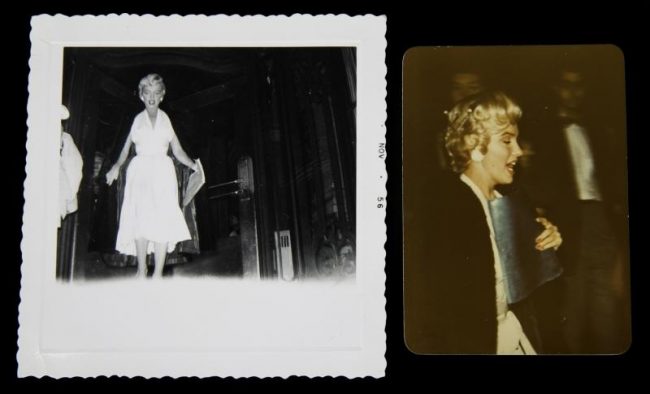 Candid photos from Frieda Hull's estate show Marilyn filming the iconic 'subway scene' for The Seven Year Itch, while Marilyn's evening gloves from the 'Rachmaninov scene' are also on offer.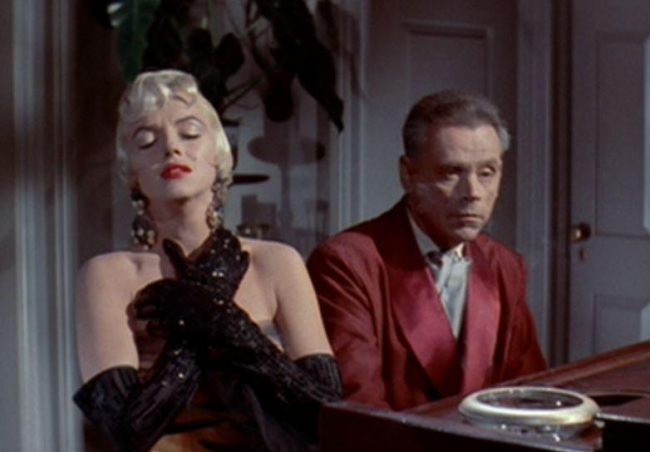 After a bitter legal battle with Twentieth Century Fox, Marilyn returned triumphantly to Hollywood in 1956, armed with a list of approved directors.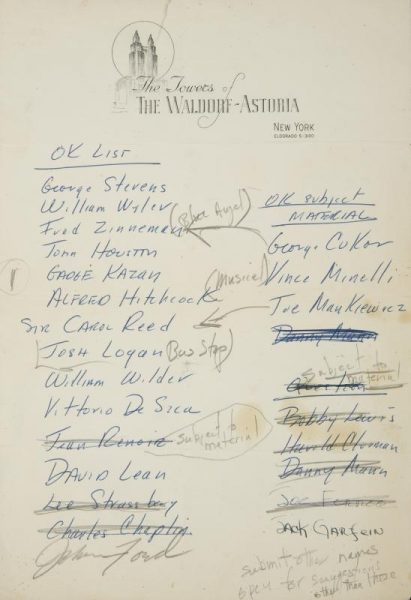 Her first project under the new, improved contract was Bus Stop. Several lots of annotated script sides are up for bids this week.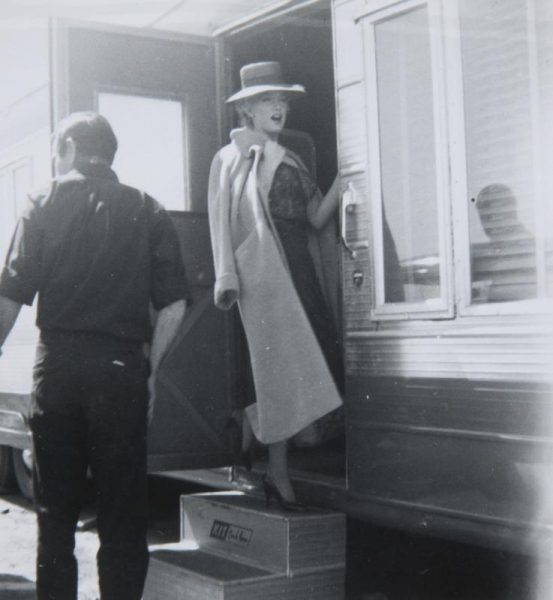 "This is the first film Monroe made after beginning to study at the Actors Studio in New York City with Lee Strasberg, and the notations in these script sides demonstrate her method. Some of the notes are sense memories, like the following notation written after the line 'I can't look': 'Effective memory (use Lester – hurt on lawn),' most likely referencing Monroe's childhood playmate Lester Bolender, who was in the same foster home with Monroe. Another note adds '(almost to myself)' before a line to inform her delivery or 'Scarfe [sic] around my arms) Embarrassed.'"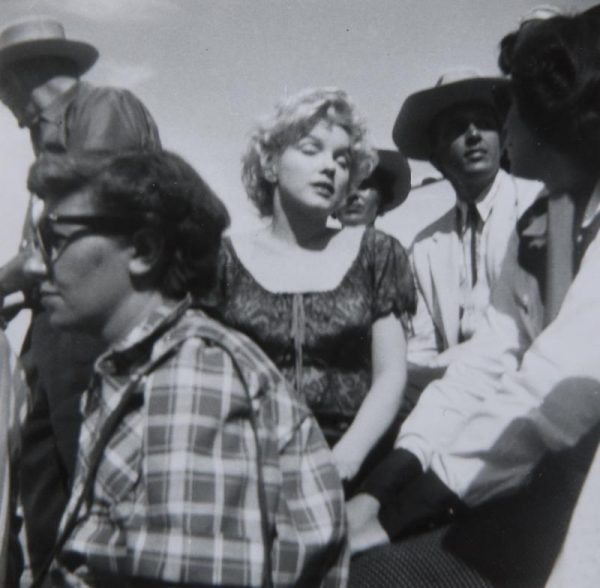 Arthur O'Connell, who played Virgil in the movie, sent Marilyn his best wishes after she was hospitalised with pneumonia.
"A collection of Marilyn Monroe envelopes, messages and notes, including a florist's enclosure card with envelope addressed to Monroe and a message that reads 'To make up for the ones you didn't recall receiving at the hospital. Please stay well so we won't go through this again', signed by 'Arthur O'Connell – Virgil Blessing.' Also included are five handwritten notes in an unknown hand that reference Clifton Webb, Lew Wasserman and Paula Strasberg."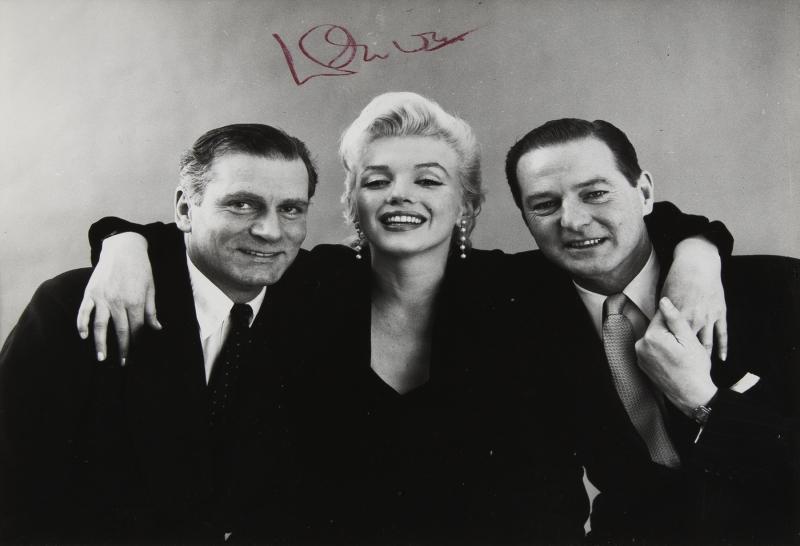 Marilyn clashed with Sir Laurence Olivier while filming The Prince and the Showgirl, although as this handwritten letter from Olivier indicates, their collaboration began cordially enough.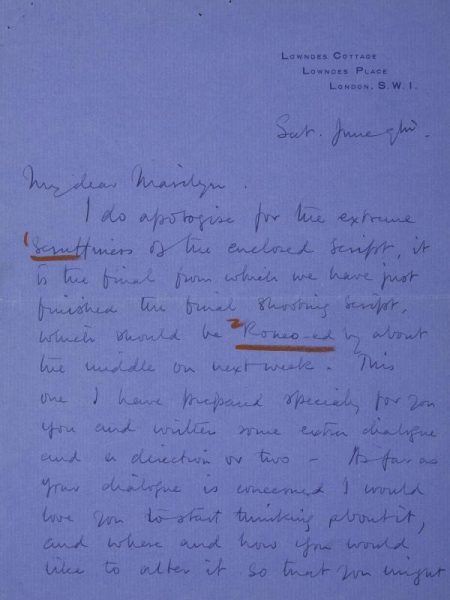 "The letter is dated simply June 9, and it accompanied the latest version of the script for The Prince and the Showgirl. Olivier discusses Monroe's dialogue and that he has 'written some extra dialogue and a direction or two.' He reports on where they are in the script writing process and that they have cut the script down from 'well over 3 hours' to 2 1/2, to 2 hours 10 minutes. He continues about the scenes that were and were not cut, including 'The Duke of Strelitz is, I think essential, as otherwise they will be saying what's the matter with them – why the heck can't they get married, particularly in view of Grace Kelly and all that, and our only answer to that question must be Yes but look at the poor Windsors do you see?'

On an amusing note, Olivier mentions, 'By the way Lady Maidenhead has degenerated to Lady Swingdale because I am assured the Hayes Office will not believe there is also a place in England of that name.' He closes 'I just called up Vivien at the theatre … and she said to be sure to give you her love. So here it is and mine too. Longing to welcome you here. Ever, Larry.'"
Marilyn had many advisors on this film, including husband Arthur Miller who made suggestions to improve the script.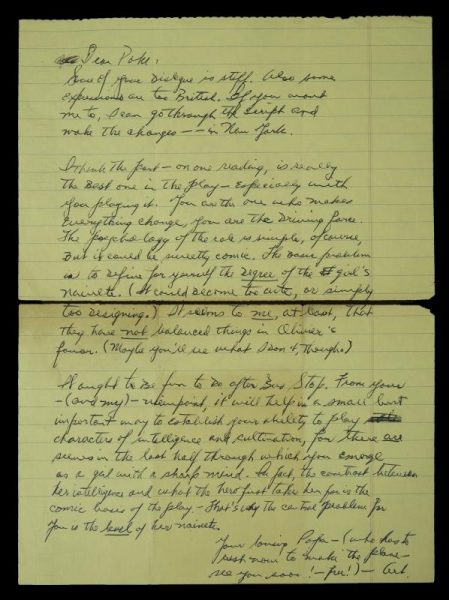 "Some of your dialogue is stiff. Also some expressions are too British. If you want me to, I can go through the script and make the changes – – in New York. I think the part – on one reading, is really the Best one … especially with you playing it. You are the one who makes everything change, you are the driving force … The basic problem is to define for yourself the degree of the girl's naivete. (It could become too cute, or simply too designing.) It seems to me, at least, that they have not balanced things in Olivier's favor. … It ought to be fun to do after Bus Stop. From your – (and my) – viewpoint, it will help in a small but important way to establish your ability to play characters of intelligence and cultivation. … Your loving Papa – (who has to rush now to make the plane – see you soon! – free!) – Art."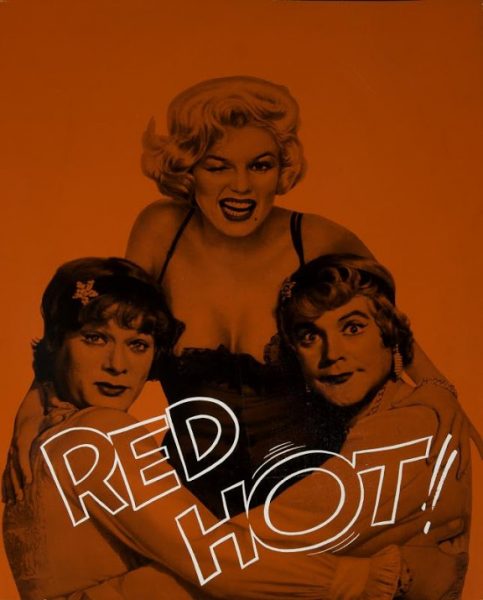 Marilyn had strong opinions about the casting of Some Like It Hot. In the minutes from a business meeting at her New York apartment, it is noted that "MCA on the Coast has told [Billy] Wilder that there are 'legal technicalities holding up her decision' so as not to offend Wilder. Actually, she is waiting for [Frank] Sinatra to enter the picture. She still doesn't like [Tony] Curtis but [Lew] Wasserman doesn't know anybody else."
This short note penned by Marilyn is thought to be a response to Tony Curtis' notorious remark that kissing her was "like kissing Hitler."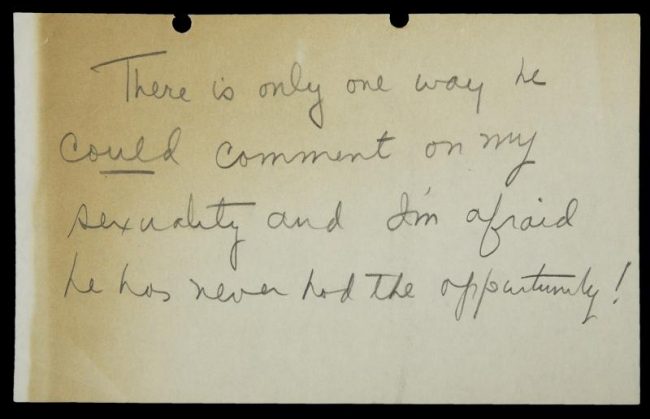 Although she never won an Oscar, Marilyn joined the Academy of Motion Picture Arts and Sciences in 1959.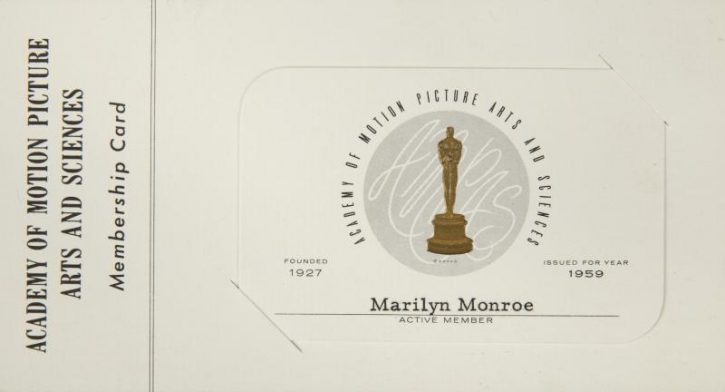 Novelist Truman Capote wanted Marilyn to star as Holly Golightly in Breakfast at Tiffany's. However, her own advisors deemed George Axelrod's watered-down adaptation unworthy of her talents. The film was a huge hit for Audrey Hepburn, but Capote hated it.
"A clean copy of the screenplay for Breakfast at Tiffany's written by George Axelrod and dated July 9, 1959. Monroe was considering the part, and she sought the opinions of her professional team including the Strasbergs, her husband, and management team. The script is accompanied by a single-page, typed 'report' dated September 23, 1959, which also has the name 'Parone' typed to the left of the date. Literary luminary Edward Parone was at the time running Monroe's production company and most likely is the one who wrote this single-page, scathing review of the script, leading with the simple sentence, 'I think not.' It goes on to criticize the screenplay, determining, 'I can see Marilyn playing a part like Holly and even giving this present one all the elan it badly needs, but I don't feel she should play it: it lacks insight and warmth and reality and importance.' It has been long reported that Monroe declined the part upon the advice of Lee Strasberg, but this document provides further evidence that other people in her inner circle advised her not to take the role. Together with a four-page shooting schedule for November 4, 1960, for the film."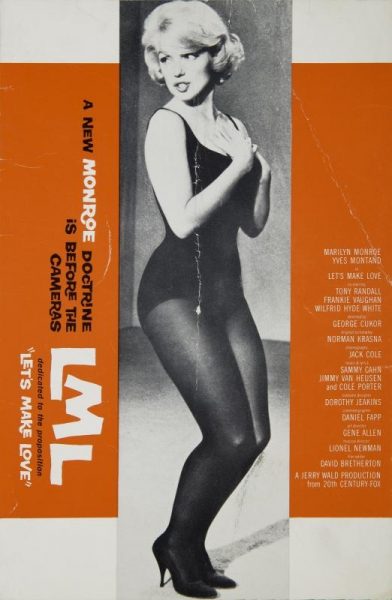 Marilyn was generous to her co-stars in Let's Make Love, giving a framed cartoon to Wilfrid Hyde-White on his birthday, and an engraved silver cigarette box to Frankie Vaughan. She also asked her friend, New York Times editor Lester Markel, to write a profile of her leading man, Yves Montand. "He's not only a fine actor, a wonderful singer and dancer with charm," she wrote, "but next to you one of the most attractive men."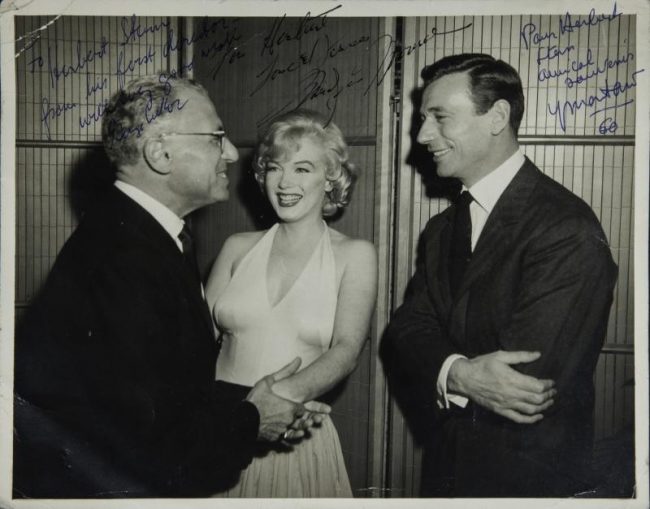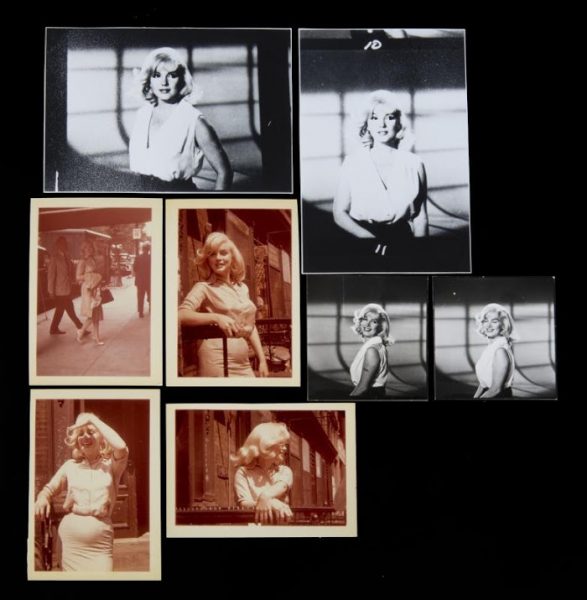 A handwritten note by Paula Strasberg reveals how she and Marilyn worked together on her role in The Misfits. "searching and yearning/ standing alone/ mood – I'm free – but freedom leaves emptiness./ Rosylin [sic] – flower opens bees buzz around/ R is quiet – the others buzz around."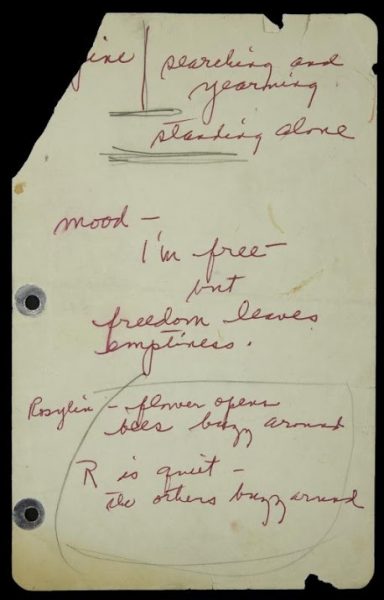 In 1962, Marilyn began work on what would be her final (and incomplete) movie, Something's Got to Give. This telegram from screenwriter Nunnally Johnson, who was later replaced, hints at the trouble that lay ahead.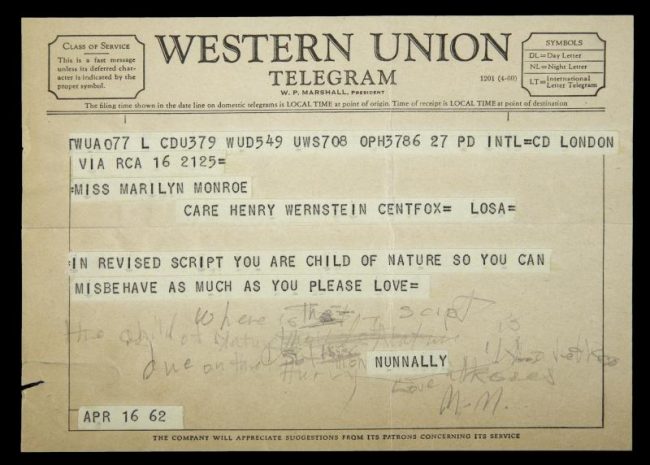 "The telegram from Johnson reads 'In Revised script you are child of nature so you can misbehave as much as you please love – Nunnally.' Monroe has quickly written a note in pencil for reply reading 'Where is that script – is the child of nature due on the set – Hurry Love & Kisses M.M.' 'Love and Kisses' is repeated, and additional illegible notations have been crossed out."
"Raw footage of Monroe performing with the children in Something's Got to Give exists, and Monroe's notations are evident in the footage. The top of the page reads 'Real Thought/ Mental Relaxation/ substitute children – B & J if necessary/ feeling – place the pain where it is not in the brow.' B & J likely refers to Arthur Miller's children Bobby and Jane. Another notation next to one of Monroe's lines of dialogue reads simply 'Mona Lisa', which does in fact mirror the expression she uses when delivering this line. Even the exaggerated 'Ahhhhh—' that Monroe does at the beginning of each take in the raw footage is written on the page in her hand, reading in full, 'Ahhh–Look for the light.'"