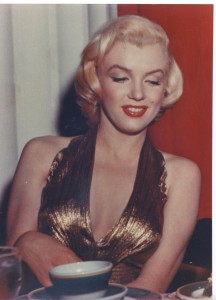 Marilyn Monroe's legendary gold dress, designed by Travilla for Gentlemen Prefer Blondes (1953), features in this exhibition of Hollywood wardrobe design, at the James A. Michener Art Museum in Philadelphia until September 5th.
Marilyn wore the dress while singing 'Down Boy', but most of the scene was cut.
Nonetheless, Marilyn modelled the dress for some of her most famous studio portraits, and caused a sensation when she was once again sewn into it for her appearance at the Photoplay Awards in March 1953, to accept her award as 'Fastest Rising Star'.