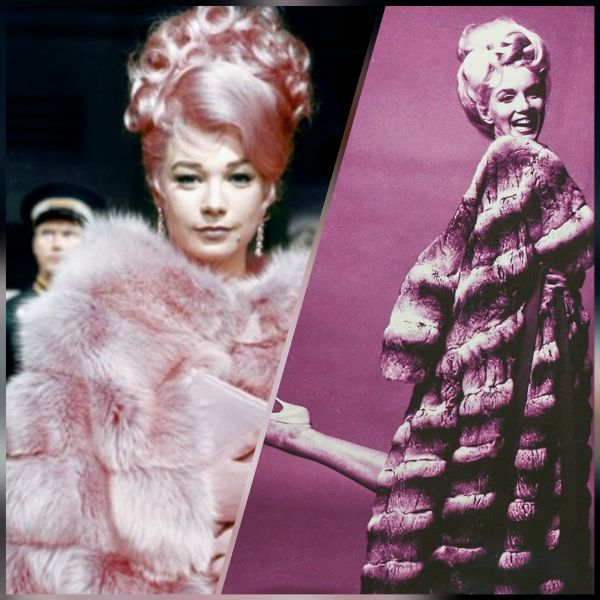 From Some Came Running to Irma La Douce, Shirley MacLaine played several roles previously considered for Marilyn.What a Way to Go! was first offered to Marilyn by Twentieth Century Fox and would reportedly have been her next film after the ill-fated Something's Got to Give.
In the week before she died, Marilyn was said to have attended screenings of films by J. Lee Thompson, who was set to direct. But the main attraction of this vehicle – then titled I Love Louisa – was undoubtedly that it would have rounded off her old studio contract.
Released on this day in 1964, What a Way to Go! featured several of Marilyn's friends and associates, including former co-stars Robert Mitchum, Gene Kelly and Dean Martin, plus Gentlemen Prefer Blondes songwriter Jule Styne (who spoke with Marilyn in her final days), cameraman Leon Shamroy. The film also marked the producing debut of Arthur P. Jacobs, who headed up Marilyn's team of publicists.
This musical extravagaza, with costumes by Edith Head, seems today like the last hurrah of a beleaguered studio system, but at the time it garnered a very favourable review from the Hollywood Reporter.
"What a Way to Go! is hard to define but easy to recommend; the 20th-Fox presentation is a funny musical comedy, or comedy with music, with all the glamour that Hollywood can throw into one film, and a high-powered cast to light the marquee. The J. Lee Thompson production, produced by Arthur P. Jacobs, is a dazzler. It should be one of the year's most popular attractions. Thompson directed the pleasantly nutty shenanigans.


Shirley MacLaine is the central figure in the Betty Comden-Adolph Green screenplay, a charmer whose attractions include the Midas touch and the kiss of death. Every man who takes up with her is rewarded by fabulous success. Unfortunately, he doesn't live long to enjoy it or her. Hence the title. In the midst of wealth and endearing charms, he departs this life. Each time, Miss MacLaine is a rich widow, and each time, increasingly rich.


The story is told in the form of a flashback, with Miss MacLaine trying to give away some $200,000,000. She feels guilt. Rich, but guilty. Since the government won't take her money, she goes to a psychiatrist … At the end she is reunited with the one man she said she'd never marry, Dean Martin. Bob Cummings plays the psychiatrist who listens to this gaily macabre tale.


The Comden-Green script, inspired by a story by Gwen Davis, is only the thread on which are hung a succession of funny scenes and musical numbers. The production is mounted richly. Sets are big and splendid. Costuming for Miss MacLaine by Edith Head is a major item … In this and other areas, this is the kind of movie Hollywood once made its worldwide reputation on, scorned by the aesthetes, adored by the multitudes.

Miss MacLaine is at her best as the girl who succeeds in getting her husbands' businesses started without trying at all. She has the figure for the clothes and the sense of fun for the lines. She dances, she sings (on one occasion with another voice, dubbed for humor) and she generally cements the episodic frame … Mitchum is offhand and amusing as the super-rich tycoon. Dean Martin is not as interesting as usual — perhaps the role doesn't give him a chance to get off the ground. Gene Kelly (who also did the bright choreography) clowns amusingly as a small-time operator who blossoms into the big-time."