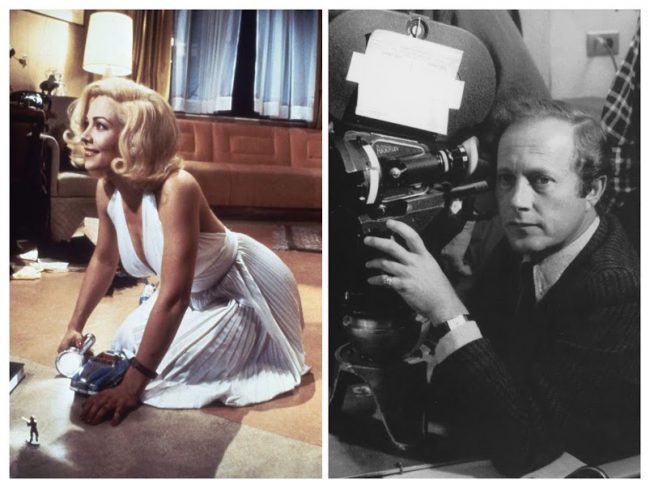 Britain's greatest arthouse filmmaker, Nicolas Roeg, has died aged 90. Born in London in 1928, he began his career in 1947 as a humble tea-boy at Marylebone Studios. By the 1960s, he was cinematographer for Lawrence of Arabia, Fahrenheit 451 and Far From the Madding Crowd.
In 1970, Roeg made his directorial debut with Performance, which starred Mick Jagger and has become a cult classic. Roeg followed it with Walkabout, Don't Look Now, The Man Who Fell to Earth (starring David Bowie), Bad Timing, Eureka, Castaway, Track 29, The Witches, and Cold Heaven. His final film was released in 2007.
Roeg is also known to Monroe fans for Insignificance, the surreal comic fantasy based on Terry Johnson's play, and starring Roeg's then-wife, Theresa Russell, as 'The Actress', a character based on Marilyn. It is one of the more successful films to feature Marilyn as a character. The story is set on the fateful night in September 1954 when Marilyn filmed her famous 'skirt-blowing scene' on a New York subway grate. Other characters included 'The Professor' (Albert Einstein), 'The Ballplayer' (Marilyn's soon-to-be ex-husband Joe DiMaggio, played by Gary Busey.) In an ironic twist, 'The Senator', based on Joseph McCarthy, was played by Tony Curtis, Marilyn's co-star in Some Like It Hot.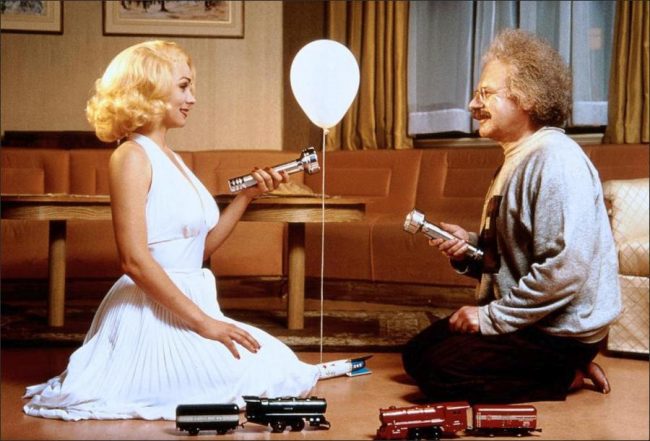 Film critic Jonathan Rosenbaum reviewed Insignificance for the Chicago Reader:
"Nicolas Roeg's 1985 film adaptation of Terry Johnson's fanciful, satirical play has many detractors, but approached with the proper spirit, you may find it delightful and thought-provoking. The lead actors are all wonderful, but the key to the conceit involves not what the characters were actually like but their cliched media images, which the film essentially honors and builds upon … But the film is less interested in literal history than in the various fantasies that these figures stimulate in our minds, and Roeg's scattershot technique mixes the various elements into a very volatile cocktail—sexy, outrageous, and compulsively watchable. It's a very English view of pop Americana, but an endearing one."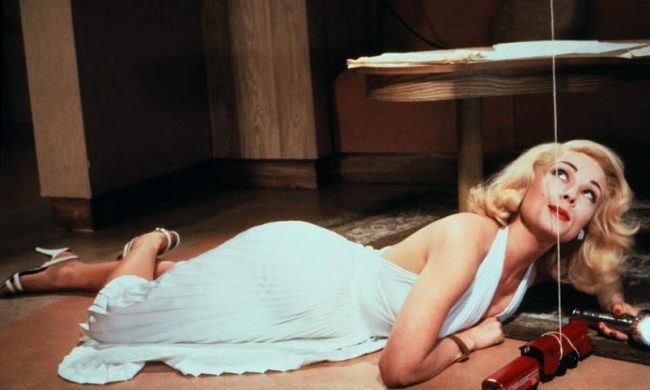 When Insignificance got the Criterion Collection treatment in 2011, Rosenbaum revisited the movie in an essay, which he has now posted to his blog:
"Insignificance pointedly doesn't sort out the differences between fact and fancy; it's more interested in playfully turning all four of its celebrities into metaphysicians of one kind or another … All this sport, to be sure, has specifically English inflections. These crazed American icons are being viewed from an amused and bemused distance, and much of the talk qualifies as fancy mimicry.

'I didn't write Insignificance because I was interested in Marilyn Monroe,' [Terry] Johnson avowed in a 1985 interview with Richard Combs for the Monthly Film Bulletin (August 1985). This film occasioned an extensive rewrite and expansion of the original by Johnson, but even then he couldn't be sure whether or not he'd ever seen The Seven Year Itch … One perk of his lack of interest in Monroe is complicating and confounding the popular notion of her as a dumb blonde — a stereotype that she'd helped to create herself — in order to shape and justify his outlandish plot.

The play stays glued over its two acts to Einstein's hotel room. The film adds crosscutting and incidental characters … The new locations include not only the Trans-Lux Theater, but also a bar where McCarthy and DiMaggio nurse their separate grudges, and the shop where Monroe buys her demonstration toys. Perhaps the most significant additions are the brief, telegraphic, and sometimes cryptic flashbacks pertaining to the respective youths of Monroe, Einstein, and DiMaggio, and last but not least, the Elephant in the Room, the H-Bomb itself — which one might say puts in a crucial, last-minute appearance as the celebrity to end all celebrities, dwarfing and making irrelevant all of the others."