A red taffeta gown with black lace overlay and fishtail skirt worn by Marilyn in 1952 has been recovered and will be on display at the New York Open House at the city's French Embassy this weekend, reports NY1. Marilyn wore the dress for a photo shoot with Bob Landry, and on several public outings.
"'We are pretty sure that it belonged to her but the mystery remains, we don't know why it is here, because to our knowledge, she never came to the French Embassy,' said Benedict de Montlaur, Cultural Counselor of the French Embassy."
The French embassy is situated on Fifth Avenue, at the former Payne Whitney family mansion. Ironically, Marilyn was briefly a patient at the Payne Whitney Psychiatric Hospital on East 68th Street in 1961. She also received a Crystal Star award at a venue described as the French Film Institute or Consulate in 1959, but wore a different outfit to the ceremony.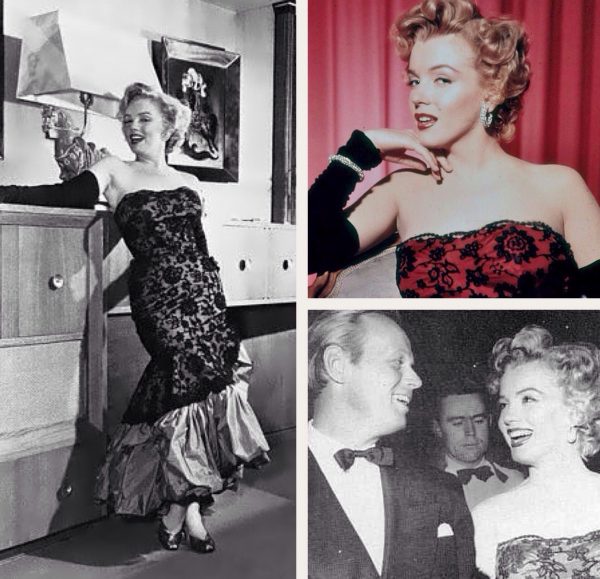 Christopher Nickens wrote about the dress – purchased 'off the rack' in 1951, after Marilyn rejoined Twentieth Century Fox – in his 2012 book, Marilyn In Fashion:
"With a steady pay-check coming in, she indulged in some new clothes. She bought this evening gown at I. Magnin's department store. It is a strapless red silk taffeta, snug from the bodice down to just below the hips, and covered in black French lace. The black lace gloves and a black fox boa Marilyn wore with the dress helped soften some of its gaudiness. 'I paid a stiff price for it,' Marilyn said. 'I was told that the dress was the only copy of an original purchased by a San Francisco social leader.'

Marilyn wore the dress on several occasions, including the 1952 Photoplay magazine awards, and for the party celebrating the opening of Don't Bother to Knock. She considered it her lucky dress because of the attention it always brought her although it was criticised in the press. 'This was the dress that provoked so much comment … it was proof positive, they claimed, that I was utterly lacking in taste. I'm truly sorry, but I love the dress.'"