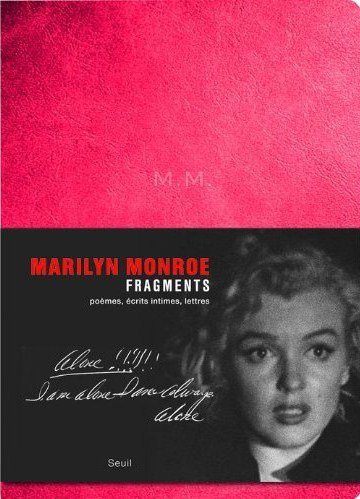 Now available for pre-order on Amazon.Fr – thanks to Fraser Penney for the heads-up!
(PS: this edition is in French)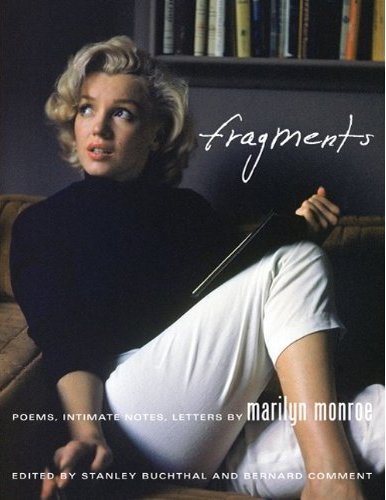 More details about the publication of Marilyn Monroe's collected writings and artwork, due for release in September, from the US Macmillan website.
Fragments: Poems, Intimate Notes, Letters

By Marilyn Monroe; Edited by Stanley Buchthal and Bernard Comment

Farrar, Straus and Giroux, 9/28/2010
ISBN: 978-0-374-15835-4, ISBN10: 0-374-15835-5,
7 11/16 x 10 inches, 256 pages, 5-Color Throughout

Synopsis

Marilyn Monroe's image is so universal that we can't help but believe that we know all there is to know of her. Every word and gesture made headlines and garnered controversy. Her serious gifts as an actor were sometimes eclipsed by her notoriety—and the way the camera fell helplessly in love with her.

But what of the other Marilyn? Beyond the headlines—and the too-familiar stories of heartbreak and desolation—was a woman far more curious, searching, and hopeful than the one the world got to know. Even as Hollywood studios tried to mold and suppress her, Marilyn never lost her insight, her passion, and her humor. To confront the mounting difficulties of her life, she wrote.

Now, for the first time, we can meet this private Marilyn and get to know her in a way we never have before. Fragments is an unprecedented collection of written artifacts—notes to herself, letters, even poems—in Marilyn's own handwriting, never before published, along with rarely seen intimate photos.

These bits of text—jotted in notebooks, typed on paper, or written on hotel letterhead—reveal a woman who loved deeply and strove to perfect her craft. They show a Marilyn Monroe unsparing in her analysis of her own life, but also playful, funny, and impossibly charming. The easy grace and deceptive lightness that made her performances so memorable emerge on the page, as does the simmering tragedy that made her last appearances so heartbreaking.

Fragments is an event—an unforgettable book that will redefine one of the greatest stars of the twentieth century and which, nearly fifty years after her death, will definitively reveal Marilyn Monroe's humanity.
RELATED POST:
Commentary from
Sarah Churchwell
, author of
The Many Lives of Marilyn Monroe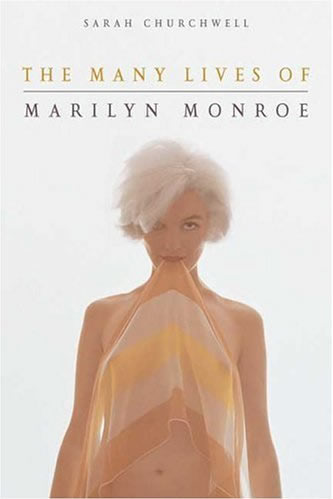 The Many Lives of Marilyn Monroe, a critical analysis of Monroe's treatment at the hands of her myth-makers, has joined the blogosphere with two posts about MM since yesterday.
The first piece, biographical in tone, focuses on some of the popular misconceptions about Marilyn; while the latter post, intriguingly, refers to the eagerly-awaited collection of Marilyn's writings, Fragments: Poems, Intimate Notes, Letters.
"Marilyn: Fragments is due for publication in October; I will have more to say about it then. But I will say this: many books (many books) have purported to be 'in her own words' since she died. This claim has been everything from highly arguable (such as her ghost-written 'autobiography,' My Story, which was co-authored by at least two writers, and probably ghost-revised after her death; it was certainly ghost-edited after her death) to the outright nonsensical (everything else). This book actually is Marilyn's own words–it reproduces notebook pages, in her handwriting, and then transcribes them. That alone makes it worth reading."