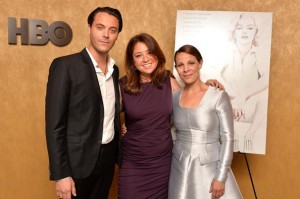 A launch party for Love, Marilyn was held in New York yesterday, celebrating its upcoming broadcast on HBO (this Monday, June 17th.) Director Liz Garbus is pictured above with actors Jack Huston (John's grandson), and Lili Taylor, who appear in the film. Among the other guests was Amy Greene.
Variety reports on the event:
"In a room in HBO's corporate headquarters, attendees enjoyed a beautiful view of Bryant Park and were left to wonder what the exact ingredients were of a 'Norma Jean', a purplish concoction created for the event. (The answer? Watermelon-infused vodka and simple syrup, according to a bartender.)

'You can feel Marilyn through this cacophony of voices,' said Liz Garbus, the movie's director.

It's 'thespians on thespians,' said Taylor.

And sometimes, you get the straight story. One of the people featured in the film is Amy Greene, a former model who was a friend of the screen icon.

'I'm the only one that knew her, and I'm saying what actually happened,' said Greene, holding forth in a coat closet so her raspy voice could be heard above the din of the reception. 'No bullshit.'"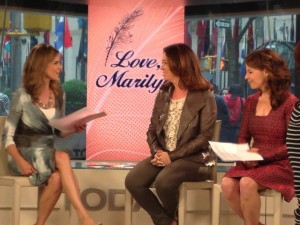 Garbus and Taylor also appeared on The Today Show, and you can view the footage here.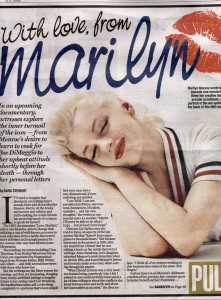 Marilyn also made the cover of the New York Post's entertainment section yesterday. Read the full article here.
"'She wasn't dumb at all,' says actress Ellen Burstyn, one of the film's readers. 'She was smart — and very well-read. She read all the time, trying to educate herself. But she was fragile. She didn't have the strength that someone gets if they have a loving mother and father. She was knocked around in foster homes, and she just didn't have any psychological solidity.'

Still, says Burstyn, 'she was smart enough to create the character of Marilyn Monroe.'

Amy Greene, widow of Monroe's favorite photographer, Milton Greene, says Monroe was a lot more clever than she got credit for. 'She knew everybody loved her as a dumb blonde, and the minute she got off the set she wasn't that way,' she says. 'She was playing a character.'"