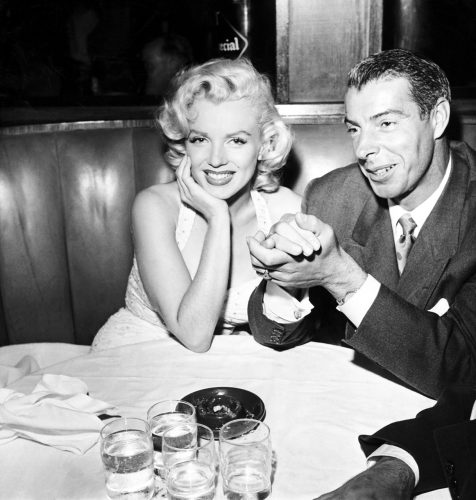 You can now read my review of Dr Rock Positano's memoir, Dinner With DiMaggio, here.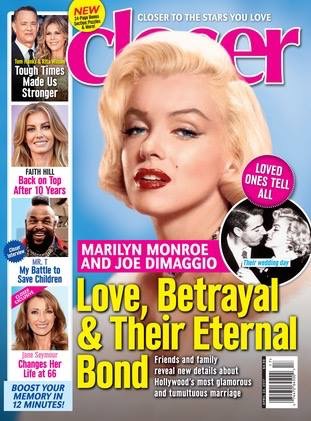 Dr Rock Positano's memoir, Dinner With DiMaggio – first announced back in 2015 – will be published in May, and is already attracting coverage in celebrity magazines and on gossip websites.
Marilyn's relationship with Joe is the subject of a cover story in the current issue of Closer Weekly (USA only.) And Radar Online has claimed that their marriage ended because she was unable to have children. In fact, Marilyn left Joe because he was too controlling. While Marilyn certainly wanted children, she wasn't ready during their marriage because of her burgeoning career.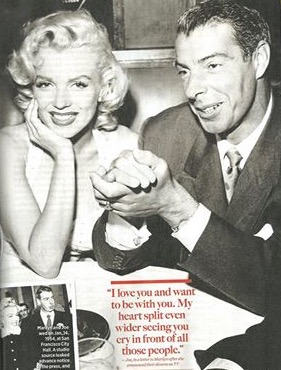 "From Joe's point of view, they didn't stay married, because Marilyn was not able to have children. It was as simple as that," Positano writes. "Joe wanted kids, and Marilyn could not have them." However, when reporters at their wedding asked if they wanted children, Marilyn said "six," only for Joe to interrupt, as if correcting her: "one."
While Marilyn certainly wanted to be a mother – she suffered at least two miscarriages during her later marriage to Arthur Miller, and even considered adoption – I don't believe it was a priority during her marriage to Joe. And such was Joe's enduring devotion to Marilyn, I don't believe he would have divorced her for that reason either.
Dr. Rock Positano, podiatrist to Joe DiMaggio, has written a tell-all book about his former friend, reports the New York Post's Richard Johnson.
"Positano — the Hospital for Special Surgery expert known for his non-surgical approach to treating foot disorders — befriended DiMaggio in 1990 when he cured the Yankee Clipper of painful bone spurs.

Though DiMaggio was famously irascible and standoffish, he took a shine to his fellow Italian-American. During their many meals and travels together, DiMaggio revealed his innermost thoughts to Positano and other members of his 'Bat Pack.'

Rock has finally shared his fond memories of DiMaggio with his lawyer brother, John Positano, who wrote it all down in Dark Icon, a loving tribute recently sent to publishers.

The manuscript I read states clearly that Monroe was the love of Joe's life. 'When we got together in the bedroom, it was like the gods were fighting,' Joltin' Joe told Rock. 'There was lightning and thunderclouds above us.'

The sex bomb's alleged infertility was the breaking point. 'Marilyn was hurt by the woman thing . . . her inability to have children,' DiMaggio told his friend."
Positano also claims that DiMaggio blamed the Kennedys for Marilyn's demise, and that impotency prevented him from marrying again.
However, as DiMaggio rarely talked about his private affairs – even among close friends – Positano's claims should probably be taken with a large dose of salt.