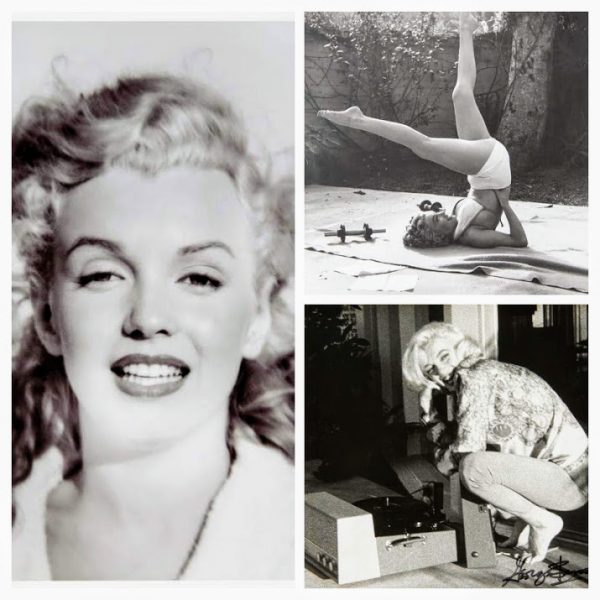 An online entertainment sale, featuring 78 Marilyn-related lots, is set for August 19 at Julien's Auctions. In addition to photos by Andre de Dienes, Bert Stern and George Barris, and an original nude calendar from 1955, there are also numerous documents from her personal files which shed new light on her life and career. Here are some selected highlights: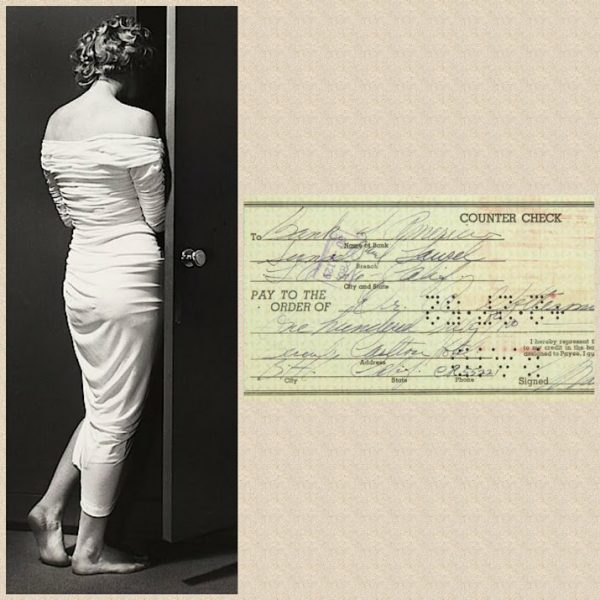 "A counter check written entirely in Monroe's hand in black ink dated February 26, 1952, and paid to Dr. A. Gottesman, in the amount of $160. The check is drawn on Monroe's Bank of America account. Monroe lists her address as the Beverly Carlton Hotel. Gottesman was a psychoanalyst Marilyn started seeing in the early 1950s. "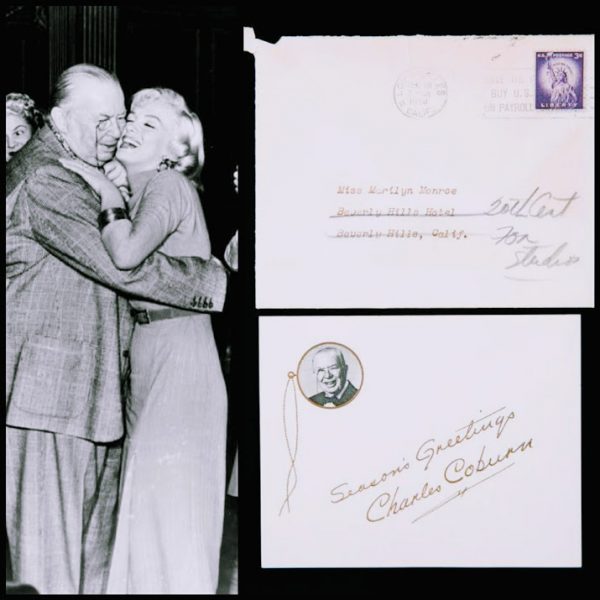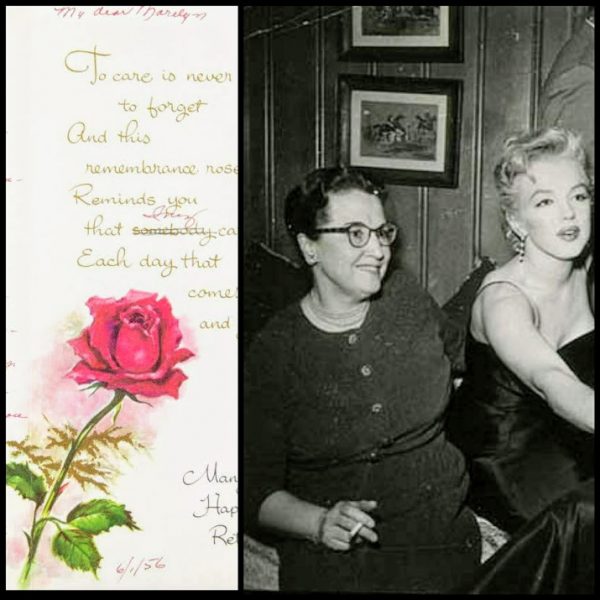 "A colorful birthday card sent to Marilyn for her 30th birthday by business manager and friend Inez Melson. In her message Melson acknowledges she's been informed that Marilyn has transitioned the responsibility for the care of her mother Gladys away from Inez. Melson's handwritten message reads, 'Dearest Marilyn, This little card not only wishes you a Happy Birthday, but says "au-revoir." I say this because Mr. [Irving] Stein was in this morning and told me of the new arrangement with the Arthur Jacobs Company with respect to taking care of all matters relating to Mrs. Eley. I am truly sorry, dear one, but you know you can always call upon me if you should ever need me. With fondest love, always, Inez.' The original transmittal envelope is included. Melson managed Marilyn's finances and business affairs throughout the early portion of Marilyn's career. Interestingly, Melson ended up becoming the executrix of Marilyn's estate after her death, which included ensuring the care of Marilyn's mother who passed away in 1984. Inez passed away in 1985."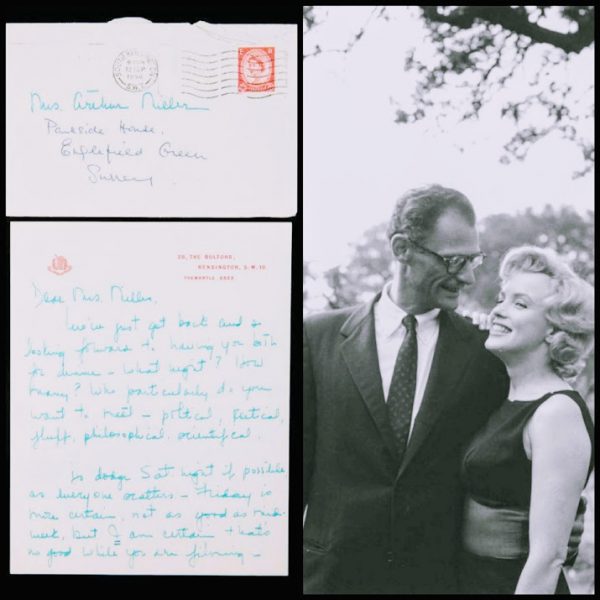 "A September 8, 1956 letter to Marilyn from Mary Lee Fairbank reading in part, 'We've just got back and looking forward to having you both for dinner – what night? How many? Who particularly do you want to meet – political, (undecipherable), fluff, philosophical, scientifical (sic).' The original envelope, also included, is addressed to Mrs. Arthur Miller, Parkside House, Englefield Green, Surrey, where Marilyn and husband Arthur Miller stayed for four months while filming The Prince and the Showgirl." [Possibly from Mary Lee Fairbanks, who married actor Douglas Fairbanks Jr. in 1939.]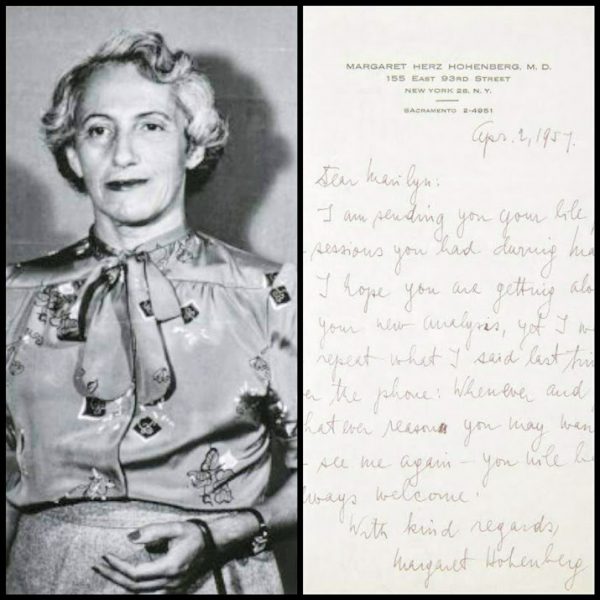 "An April 2, 1957 letter to Marilyn from Margaret Hohenberg, M.D., reading, 'I am sending you your file for the sessions you had during March. I hope you are getting along in your new analysis, yet I want to repeat what I said last time over the phone: Whenever and for whatever reason you may want to see me again – you will be always welcome.' Hohenberg was Marilyn's psychoanalyst from 1955 through early 1957."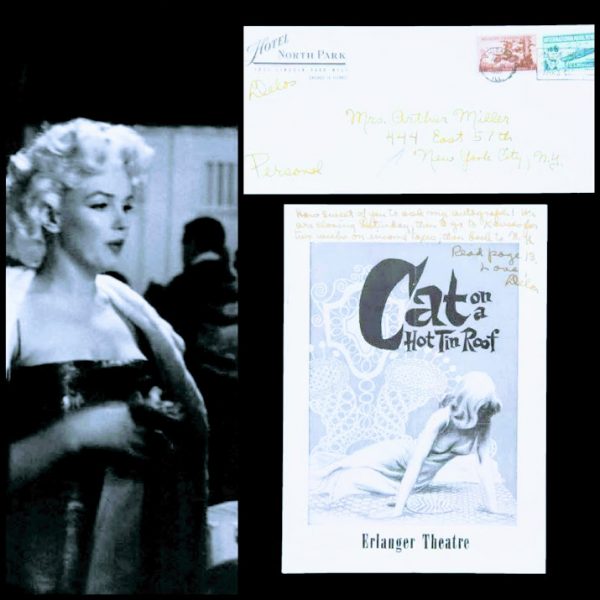 "An original program for Cat on a Hot Tin Roof from its run at the Erlanger Theatre in Chicago, IL for the week of July 7, 1957 signed by American character actor and producer/director Delos Smith. On the cover, Smith wrote, 'How sweet of you to ask my autograph! We are closing Saturday, then I go to Kansas for two weeks on income taxes, then back to N.Y. Read page 13. Love, Delos.'"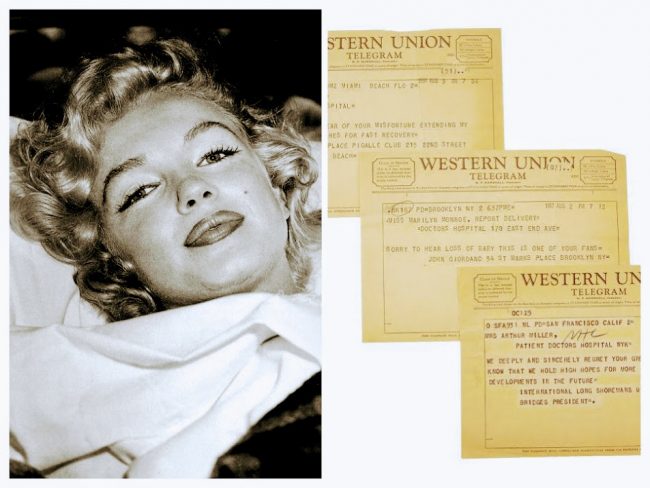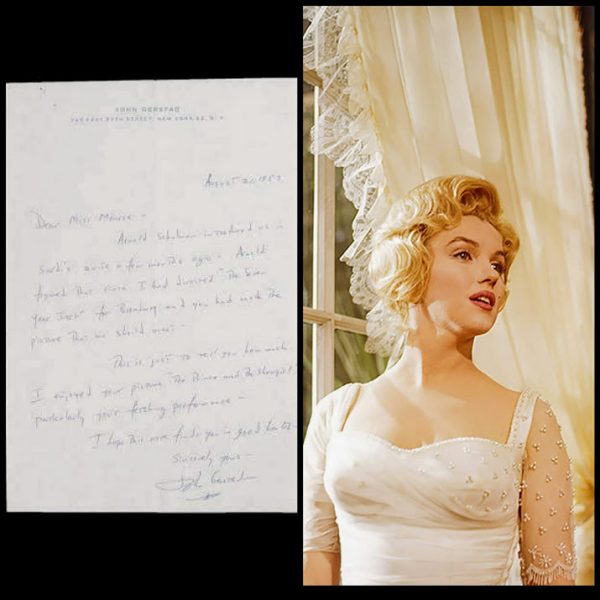 "An August 21, 1957 letter from [theatre director] John Gerstad. The letter reads, 'Dear Miss Monroe, Arnold Schulman introduced us in Sardi's quite a few months ago. Arnold figured that since I had directed The Seven Year Itch for Broadway and you had made the picture that we should meet. This is just to tell you how much I enjoyed your picture The Prince and the Showgirl, particularly your fetching performance. I hope this note finds you in good health. Sincerely yours, John Gerstad.' Also included, a carbon copy of a December 5, 1957 letter sent to Gerstad from Marilyn, reading, 'I am sorry it took so long to answer your note. It was very nice of you to write telling me that you enjoyed my performance in The Prince and the Showgirl. Thank you for your kindness. Warmest regards. Sincerely …'"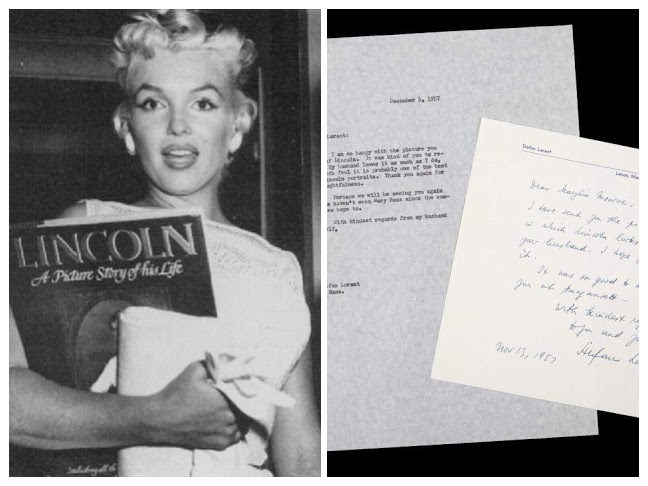 A November 13, 1957 handwritten letter to Marilyn from Stefan Lorant, which reads, 'I have sent you the picture in which Lincoln looks like your husband. I hope you like it. It was so good to meet you at Amagansett. With kindest regards to you and your husband, Stefan Lorant.' Lorant is referred to as a pioneering Hungarian-American filmmaker, photojournalist, and author. Included is a carbon copy of the response letter dated December 4, 1957 reading, 'I am so happy with the picture you sent me of Lincoln. It was kind of you to remember. My husband loves it a much as I do, and we both feel it is probably one of the best of the Lincoln portraits. Thank you again for your thoughtfulness. Perhaps we will be seeing you again soon. We haven't seen Mary Bass since the summer but we hope to. With kindest regards from my husband and myself.' Mary Bass was the executive editor of Ladies' Home Journal."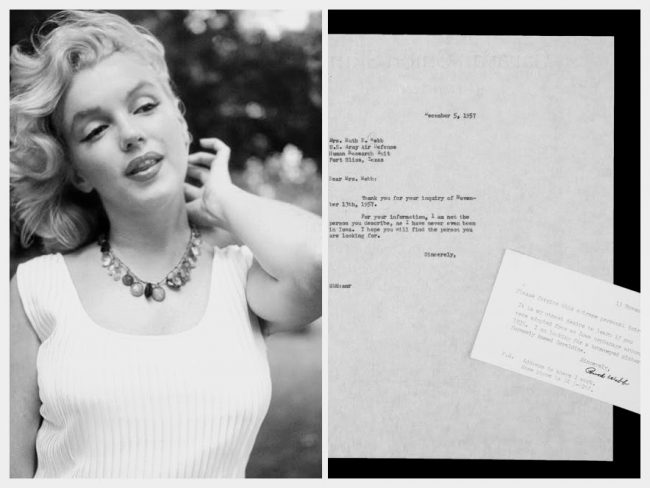 "A small notecard dated November 13, 1957 with a very unusual message. The card reads, 'Please forgive this extreme personal intrusion: It is my utmost desire to learn if you were adopted from an Iowa orphanage around 1935. I am looking for a browneyed (sic) sister formerly named Geraldine. Sincerely, Ruth Webb.' Included is a carbon copy of the response letter dated December 5, 1957 reading in part, 'For your information, I am not the person you describe, as I have never even been in Iowa. I hope you will find the person you are looking for.' Interestingly, Marilyn herself signed the original letter, and not a secretary as was the case for a great deal of Marilyn's correspondence."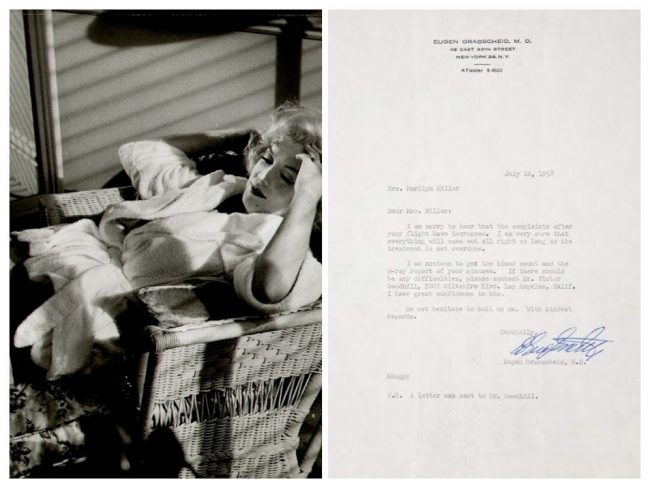 "A July 16, 1958 letter to Marilyn from Dr. Eugen Grabscheid that reads in part, 'I am sorry to hear that the complaints after your flight have increased. I am very sure that everything will come out all right as long as the treatment is not overdone.' This letter is likely referencing Marilyn's flight from New York to Los Angeles on July 7, to meet with director Billy Wilder about Some Like it Hot."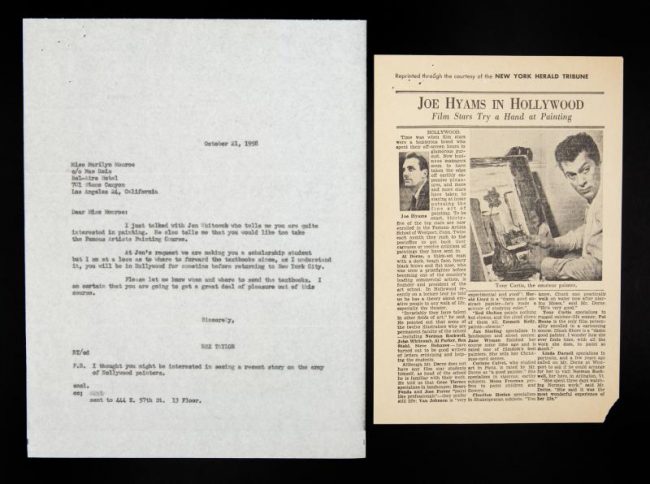 "A carbon copy of an October 21, 1958 letter to Marilyn from Rex Taylor in reference to Marilyn's interest in painting. The letter reads in part, 'I just talked with Jon Whitcomb who tells me you are quite interested in painting. He also tells me that you would like too (sic) take the Famous Artists Painting Course. At Jon's request we are making you a scholarship student but I am at a loss as to where to forward the textbooks since, as I understand it, you will be in Hollywood for sometime (sic) before returning to New York City,' and 'I thought you might be interested in seeing a recent story on the army of Hollywood painters.' Included with the letter is a reprint of a story referencing film stars taking up painting with a picture of Tony Curtis featured." (Marilyn did subsequently take this course, and some of her artwork survives – more info here.)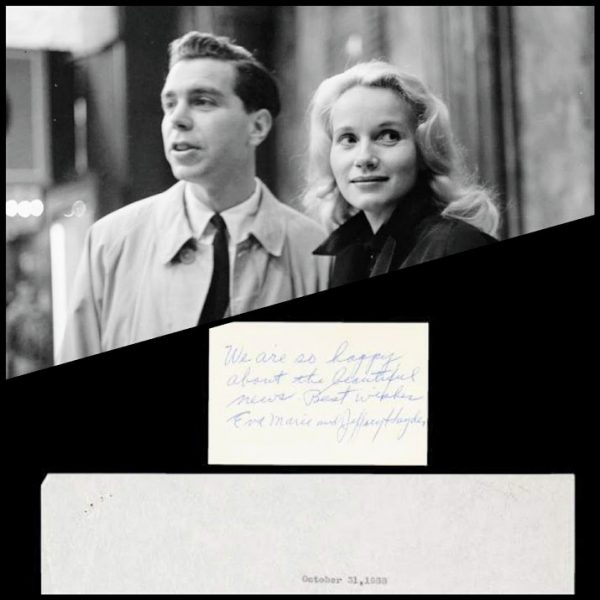 "A small notecard originally affixed to a floral arrangement with a personal message from Oscar winning American actress Eva Marie Saint and her husband American television director and producer Jeffrey Hayden. The notecard reads, 'We are so happy about the beautiful news. Best Wishes.' The greetings are likely in response to the news that Marilyn and husband Arthur Miller were expecting a child. Sadly Marilyn miscarried in December, 1958. Also included, the original carbon copy response letter from Marilyn to the couple reading, 'Thank you so very much for the beautiful flowers and the good wishes. My best to you both.'"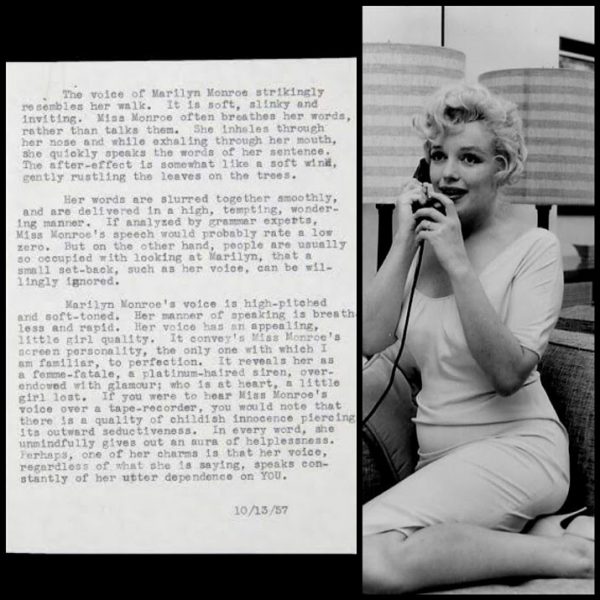 "A July 23, 1959 letter to Marilyn from Mrs. Frank Klein, regarding an article her daughter had written for speech and drama class during her freshman year in high school. The assignment was to write about the voice of a well-known personality. The typed article, also included with this lot, reads in part, 'Marilyn Monroe's voice is high-pitched and soft-toned. Her manner of speaking is breathless and rapid. Her voice has an appealing little girl quality. It convey's (sic) Miss Monroe's screen personality, the only one with which I am familiar, to perfection.'"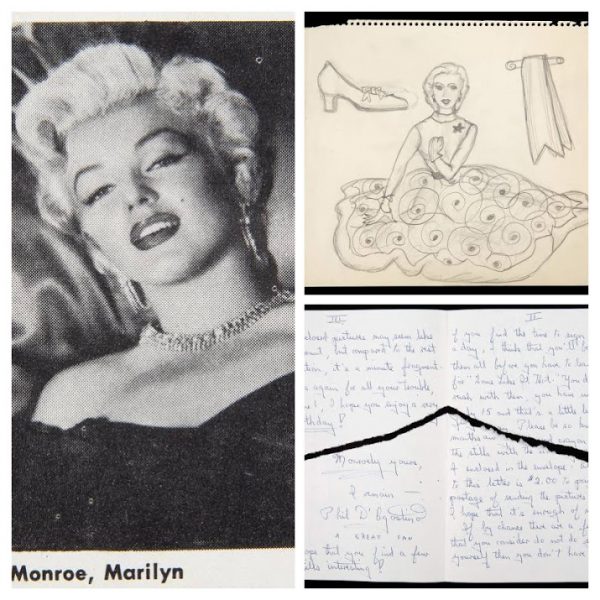 More fan mail, including a torn-up 1958 letter from Phil D'Agostino, asking Marilyn to send two signed photos daily for 2 months; a small photo sent by Myrna E. Phaire, who also gave Marilyn artwork previously sold at Julien's; and an unsigned drawing.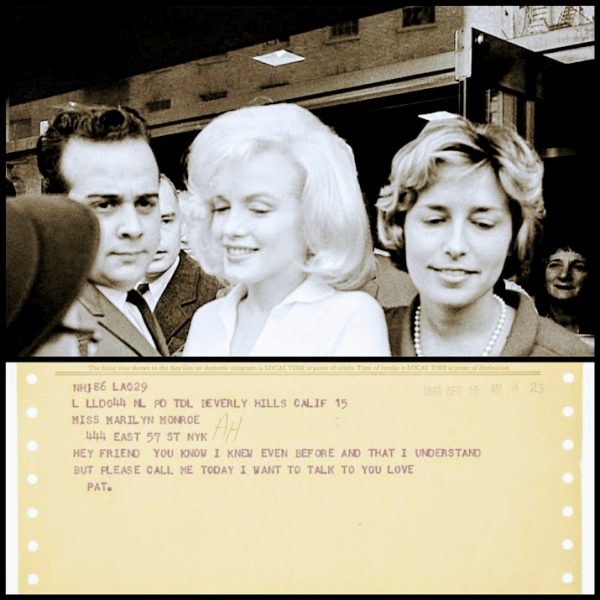 "A Western Union telegram from publicist Pat Newcomb, addressed to Marilyn at her 444 East 57th Street, New York apartment, dated April 16, 1961 reading, 'Hey friend. You know I knew even before and that I understand, but please call me today. I want to talk to you. Love, Pat.' It's unclear what this telegram is referencing. A number of events were occurring in Marilyn's life at this time. Just five days prior to the date of this telegram Marilyn attended an opening day baseball game at Yankee Stadium with former husband Joe DiMaggio. They'd been on vacation together in Florida just weeks prior. In early March Marilyn was released from Columbia Presbyterian hospital. On March 7, Marilyn attended the funeral for August Miller, the mother of third husband Arthur. "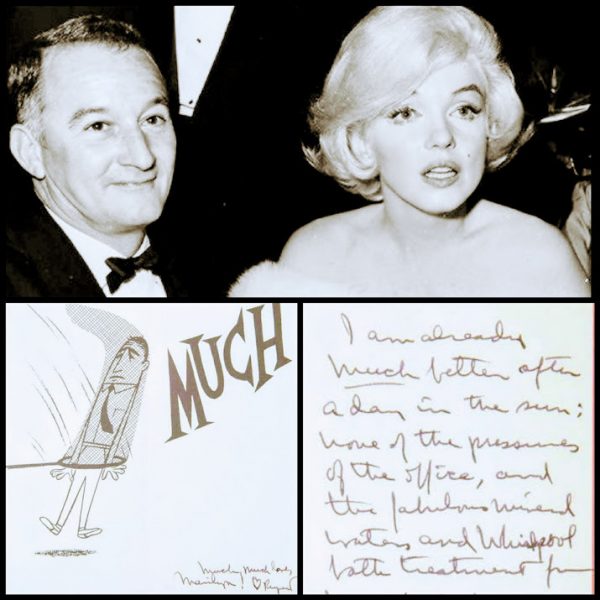 "A greeting card from Rupert Allan, who handled Marilyn's publicity and press inquiries for several years. The card's message from Allan reads in part, 'I am already much better after a day in the sun: none of the pressures of the office, and the fabulous mineral waters and whirlpool bath treatment for my pinched nerve. It is so hot and relaxing.' Included is the original transmittal envelope date stamped May 4, 1961."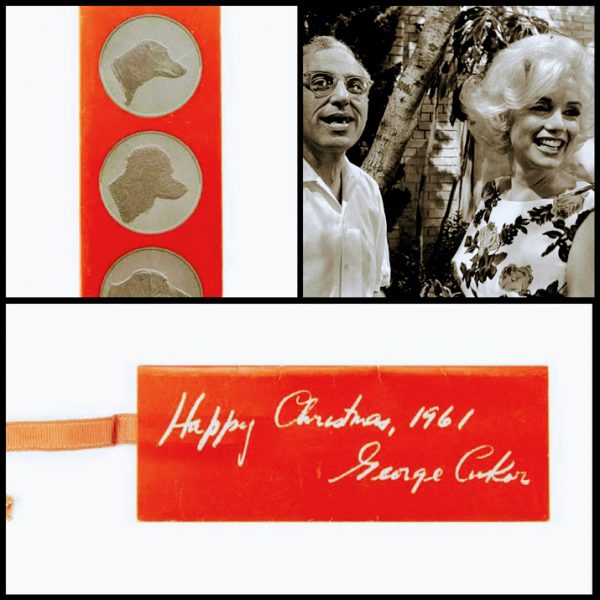 "A small red gift tag with an attached red ribbon. The tag reads, 'Happy Christmas, 1961,' and 'George Cukor,' written in silver ink in Cukor's own hand. Interestingly, research indicates that Cukor agreed to direct Something's Got to Give in November of 1961, and this card was likely attached to a Christmas gift he gave to Marilyn considering they'd soon be working together again."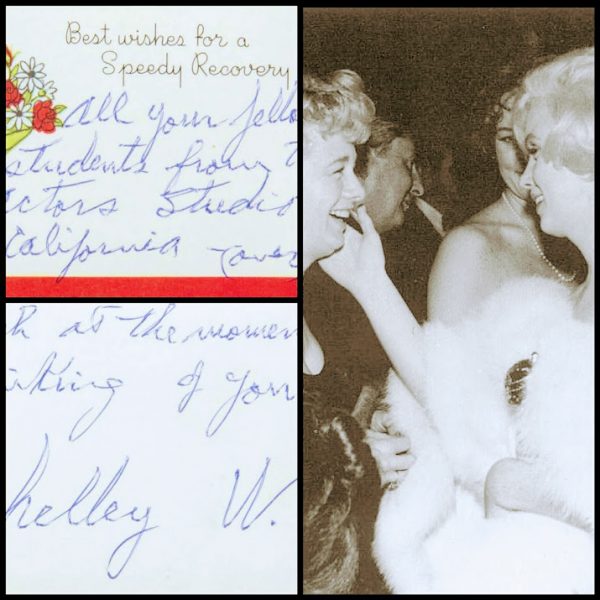 "A small notecard, presumably originally affixed to a floral arrangement due to its size and artwork, with a personal message from two-time Oscar winner Shelley Winters. The card reads, 'All your fellow students from the Actors Studio California branch at the moment thinking of you.' The card is signed, 'Shelley W.'" [UNDATED]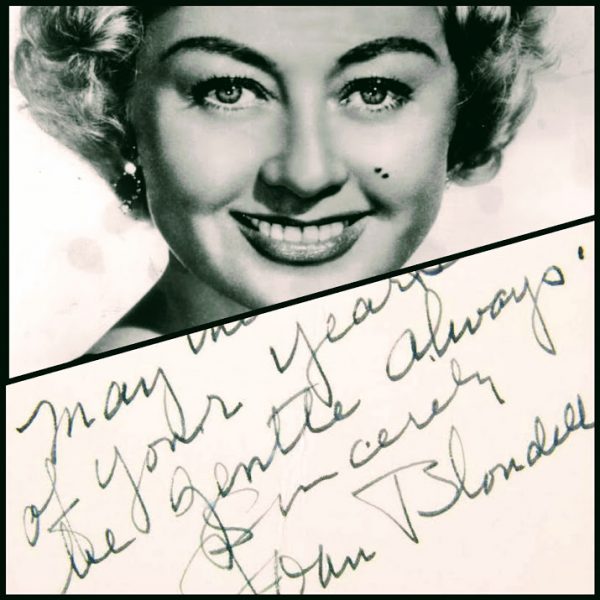 "A small notecard with embossed letters reading 'WADLEY & SMYTHE, NEW YORK.' The handwritten note on the card reads, 'May the days of your years be gentle always. Sincerely, Joan Blondell.' A comparison of Blondell's known autograph resembles the signature on the card, indicating it's very likely she wrote the note herself. Blondel starred in more than 100 productions both in film and television, her most notable being her performance in the 1951 film The Blue Veil, for which she received an Academy Award nomination. Younger generations will recognize her as Vi, one of the waitresses at the Frosty Palace in the 1978 cult classic, Grease. [UNDATED]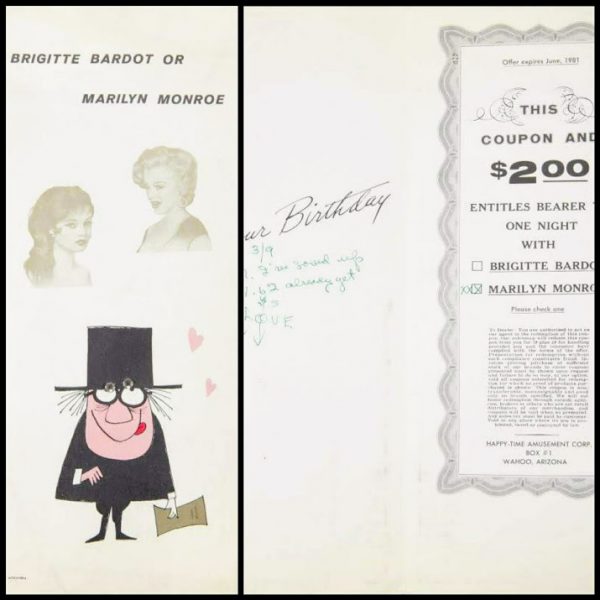 "An oversized birthday card with an image of Marilyn on the cover together with an image of Brigitte Bardot. The card's cover reads, 'Brigitte Bardot or Marilyn Monroe.' The message inside offers the bearer a night with Bardot or Monroe for $2.00 with the coupon printed in the card. A handwritten message on the card's inside cover reads, 'Tell M.M.M. I've saved up $1.62 already yet. Love, Del' under a greeting that reads, 'For your Birthday.' An interesting yet crass greeting card featuring Marilyn herself (and likely without her approval) sent to the film star by a fan. [UNDATED]
UPDATE: The nude calendar, and check to Dr. Gottesman were the biggest sellers among the Marilyn-related lots – more details here.