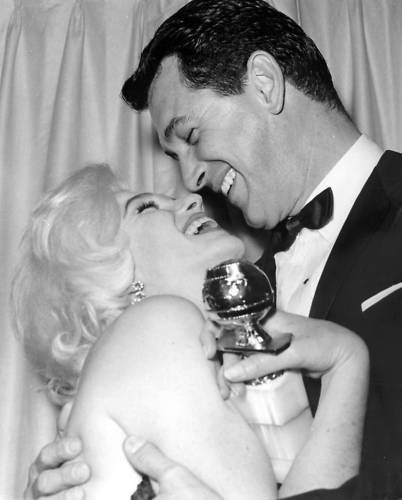 Author Darwin Porter is nothing if not prolific, publishing new books every year. He has become a one-man National Enquirer of Old Hollywood, writing salacious biographies following this lucractive dictum: the dead don't sue. Among film historians, Porter has very little credibility, but certain tabloid newspapers, more interested in cheap thrills than evidence, lap up his tall stories.
In 2012, Porter published Marilyn at Rainbow's End, a lurid tome panned by many long-term Monroe fans. He has since mentioned her in equally dubious 'biographies' of Ronald Reagan, Elizabeth Taylor and James Dean. His latest victim is 1950s heartthrob Rock Hudson.
This latest publication, Rock Hudson: Erotic Fire, is featured in the UK's Daily Mail. Porter claims that his source is actor George Nader, whom inherited the interest on Hudson's estate along with his partner Mark Miller, Hudson's former secretary. The couple were close to the star throughout his long career. Rock's homosexuality was hidden until shortly before his death from AIDS in 1985. (George Nader died in 2002.)
Porter claims that Rock met a young Marilyn on the Universal lot in 1949 and offered to buy her lunch. They met for dinner on several occasions at a 'hamburger den', before Marilyn reportedly told him, 'We don't want this to get more serious. Both of us will have to lie on a few casting couches.'
This alleged quote is third-hand at best, and besides, Marilyn never worked at Universal. It's highly unlikely that an affair between two such famous names could have gone unnoticed for sixty years. Rock was initially considered for the male lead in Bus Stop (1956), while Marilyn was considered for Pillow Talk (1959.) Marilyn also wanted him to star in Let's Make Love (1960.)
Hudson presented an award to her at the 1962 Golden Globes, where they were photographed hugging affectionately. However, her date that night was Jose Bolanos. Hudson also narrated the documentary Marilyn, produced by Twentieth Century Fox after her death.
All of this suggests that they were on friendly terms, but nothing more. In a life as scrutinised as Marilyn's, there are very few secrets left. Her relationships with celebrities like Marlon Brando, Frank Sinatra and Yves Montand are well-known. At this late stage, a rumoured affair with Hudson should be treated as hearsay, if not outright fantasy.