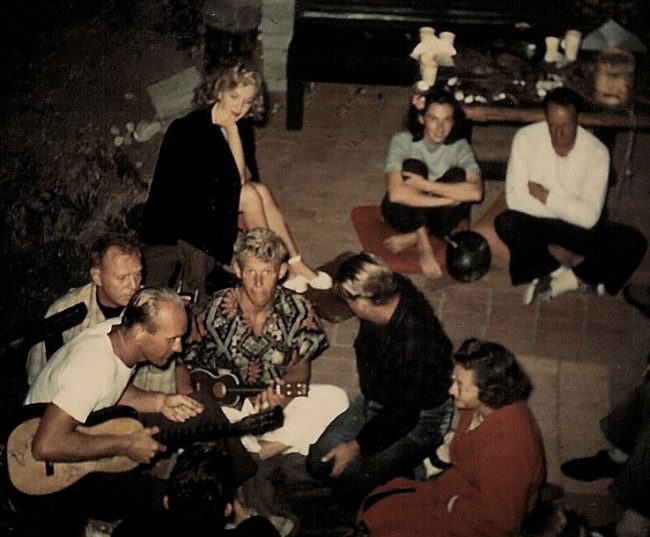 Writing for the Malibu Times, Colin Newton explores the history of Cypress Sea Cove, a hangout for surfers since the 1940s:
"The story of Cypress Sea Cove begins in the 1940s with its original owner George "Cap" Watkins, a Bunyon-esque character who would eventually turn the place into his own private Shangri-La.

Between the palm trees, hammocks were strung up, and five-gallon plastic jugs were filled with rum drinks. Guests as varied as then-California Governor—and later Supreme Court Justice— Earl Warren and blond bombshell Marilyn Monroe showed up, as well as pioneer surfers and many of Watkins' lifeguard friends."
The article states that Marilyn was then the girlfriend of lifeguard Tommy Zahn. This would place her visits around 1946-7, during her first year as a Hollywood actress.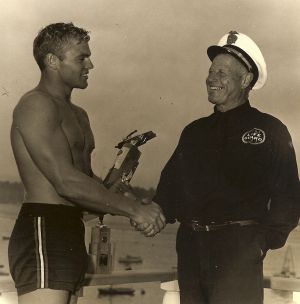 Zahn was signed to Fox at around the same time – mainly because studio chief Darryl F Zanuck's daughter, Darrylin, had taken a shine to him. It was while working as a contract player that Tommy met the 20 year-old Marilyn.
Anthony Summers interviewed Tommy Zahn for his 1985 biography, Goddess: The Secret Lives of Marilyn Monroe.
"'[MM] was in prime condition,' says Tommy Zahn, 'tremendously fit. I used to take her surfing up at Malibu…She was really good in the water, very robust, so healthy, a really fine attitude towards life.'"
This echoes other recollections of a young, sporty Marilyn. In later years, however, she was less confident in water.
Zahn recalled that Marilyn was the most hard-working of all the young actors. They often worked together on dance, which they both found challenging.
After talking to Zahn, Summers formed an interesting theory as to why Marilyn was dropped by the studio in 1947, which may also partly explain why – even after she became a star – Zanuck was never a strong supporter of MM.
"Tommy Zahn, Marilyn's lifeguard boyfriend, thinks he knows what happened, not least because he was fired at the same time. Zahn believes that he was only hired in the first place because Zanuck wished to groom him for marriage to one of his daughters. Zahn's dalliance with Marilyn was noted and disapproved from on high, and both were fired. Zahn shipped out to Honolulu. Marilyn was adrift, professionally and emotionally."
By the time Tommy Zahn died in 1991, he was a sporting hero, with a distinguished career behind him. You can read a recollection of his life by Craig Lockwood at EatonSurf.com. A biography of Zahn – including a chapter entitled 'Hollywood & Marilyn' – is downloadable from the Legendary Surfers website.