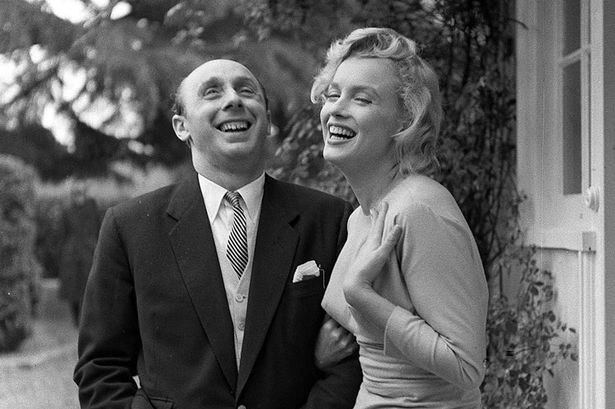 As entertainment writer for the Daily Mirror, Donald Zec was the British equivalent of US columnists Sidney Skolsky and Earl Wilson, and he is seen here sharing a joke with Marilyn at Parkside House in Egham, Surrey after she flew into London on July 13, 1956 to begin filming The Prince and the Showgirl.  They had met a few months before, on a flight to Phoenix, Arizona where Marilyn would film the rodeo scene in Bus Stop. (You can read about their airborne chat here.)
By the time Marilyn came to England, Marilyn had married Arthur Miller and with an independent production deal for The Prince and the Showgirl, she was about to lock horns with her esteemed director and co-star, Sir Laurence Olivier. Finding her standoffish, the British press soon took his side and she would doubtless have been glad to see a friendly face.
After recently attending Donald Zec's 100th birthday party, author Howard Jacobson has paid tribute in an essay for the Jewish magazine, Tablet – recounting his boyhood idol's show-business exploits, including the story behind his photo opportunity with Marilyn.
"For a while I had a page from the Daily Mirror pinned above my bed. It showed Donald Zec and Marilyn Monroe standing so close they could have been secretly holding hands. She was throwing her head back in appreciation of something he'd told her. A Jewish joke was my guess. Rabbi walks into a bar. But nothing suggestive. Jews didn't do suggestive. Not English Jews, anyway. And Marilyn's mirth had a clear innocence about it. As did my passion for Donald Zec. But it alarmed my father. Why him? 'He knows how to make Marilyn Monroe laugh,' I explained. 'Joe DiMaggio made her go hot all over; Arthur Miller made her read the Oxford English Dictionary from cover to cover; only Donald Zec makes her laugh.'

I have said that he had just become a widower when we met. Dancing cheek to cheek with Hollywood beauties notwithstanding, his marriage had been by all accounts spectacularly successful. So he was suffering the cruel heartbreak that a happy marriage has in store for us. I never heard a man speak more reverently of his wife. And yet he could make sublime comedy out of his grief. This was the opposite of disrespect. He knew that if you are to bring the whole range of your emotions to remembering and describing love, then laughter is as important as sorrow.

'So anyway, Marilyn …' I said to him once. He shook his head. Nothing doing. 'It touches me to think you remained such a good Jewish boy all those years,' I said. This time he put a hand on mine. 'Let's not make a nebbish of me altogether,' he said. Make what you will of that. Every heart, as D.H. Lawrence wrote, has its secrets.

He did not intend to give speeches at his 100th birthday, then ended up giving three. He has the fluency a man a quarter of his age would kill for. His comic timing is still perfect. But there is a weight in his words that wasn't there in 1955. The weight of grief; of experience touched by love. If you didn't know how he'd earned his living you'd guess teaching philosophy at Oxford, not making Marilyn laugh in Beverly Hills.

To Marilyn, the last word. Never really grasping that London and Hollywood were in different time zones, she would ring up at some crazy hour. Donald told me of his phone going off in his London apartment in the middle of the night. His wife would take the phone and in the sweetest tone of understanding pass the receiver over to Donald. 'It's Marilyn for you,' she'd say.

I hear that and all my old envious idolatry returns. I can't decide which I covet most, the age he has reached while still accumulating accomplishments, or the fact that Marilyn Monroe rang him in his bed."