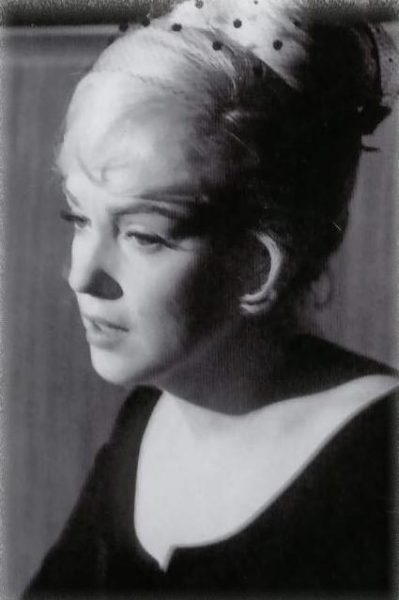 Marilyn was an admirer of Russian culture: she studied Stanislavsky's teachings on acting, and campaigned (sadly without success) to star as Grushenka in a movie adaptation of Dostoevsky's classic novel, The Brothers Karamazov. At the height of America's anti-Communist fervour, she observed, 'They're for the people, aren't they?' She briefly considered visiting Russia in 1956, and was later introduced to Soviet premier Nikita Khrushchev at a Hollywood luncheon.
However, when the Russian press unjustly accused her of ruining Arthur Miller's career, she shot back: "Listen! I know Arthur Miller better than the Russians do and I've learned more from Arthur Miller than the Russians have. I've learned from Arthur Miller that he does not believe in a communistic state. The Russians can talk all they want about my 'climb to the stars,' his 'broken life,' and what I've done to somebody. But I know the man. They're talking about an idea. They can have their ideas. I had the man." (Redbook, 1962.)
In some quarters, however, it appears that these prejudices still exist. In a recent article entitled 'Candle in the wind: America, Russia, and Marilyn Monroe's Free Fall' for the RBTH website, novelist Viktor Yerofeyev recalls meeting Miller with his third wife Inge Morath during the 1990s, and ruminates on Miller's prior marriage to Marilyn.
"I looked at Inge and realized that it was for this woman with an intelligent look that Miller had refused to be the skyscraper roof for Monroe, after which the star flew downward. Although in her flight, possibly, she remained the most popular actress in America.

America, at first glance, is not about actresses, singers or writers. It is about the absolute success of an individual, who was nothing and then became everything (as our revolutionary song goes).

And it is not important whether this person had a poor or rich childhood, whether he lived in an orphanage or he quietly went to school. Because this, from the national audience's view, is routine, but what is important is that the chosen one reached the sky and turned into the Himalayas.

In such a system happiness is only a substitute for powerful success and in this system Monroe and Miller were like twins. And they appeared equal on the cover of a popular magazine that announced their union to the whole country.

Why equal? Because Miller's high-altitude flight was stronger than Death of a Salesman, which held up a mirror to America. And Monroe's high-altitude flight was stronger than all of her roles and all of her money. Two high-flying planes.

However, America is actually a country with a double cultural circulatory system. While the larger circle of cultural circulation is destined for the mass public, which creates the broth of national success, the smaller circle is the one in which I found myself in Connecticut, and where a lot opposes the larger circle … Properly speaking, where the Millers live, happiness … is valued more than success and talent is more important than money…

The participants were snobs but as I have just said, they were the cream of the crop. And in this circle Monroe and Miller were opposites. She was no one and he was everything. But she was burning with desire to be included in this world."