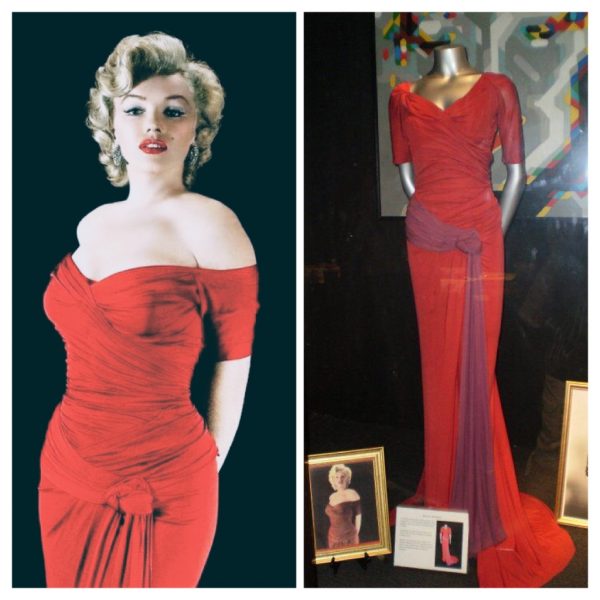 The movie costume collection of Marilyn Remembered president Greg Schreiner – around 500 garments in total, including this red dress originally designed by Oleg Cassini and worn by his former wife, Gene Tierney, in On the Riviera (1951) , and by Marilyn a year later in promotional shots and at the premiere of Monkey Business – returns to the spotlight in Hollywood Revisited, a musical extravaganza at the Annenberg Theater in Palm Springs on February 22, the Desert Sun reports.
"'It began with Marilyn,' Schreiner beams. 'She was always my No. 1 star.' In those early days of collecting, he says he could fetch a vintage garb from $200 to $500. 'It was one of the first times [auction houses] had done something like it; nobody had thought the costumes would ever be worth anything.' As prices for movie costumes shot north over the years, especially Monroe-related items, Schreiner fell deeper in love with collecting all kinds of movie wardrobe items.

In 1987, Schreiner formalized the genesis for what is now Hollywood Revisited in a very small way — in nursing and retirement homes. Things snowballed after that. This year, Schreiner has shows booked in major theatrical houses around the country — from West Palm Beach and Santa Monica to Chicago. He is now heralded for being one of the most well-known collectors of classic movie costumes worn by Monroe, Davis, Elizabeth Taylor, Julie Andrews, Katherine Hepburn, Mae West, Judy Garland, and countless others. In fact, 30 of Schreiner's costumes are on display in the Hollywood Museum."
UPDATE: Hollywood Revisited will be staged again at the Colony Theatre in Burbank, Los Angeles on Match 26, to benefit the Musical Theatre Guild's extensive youth outreach programs.