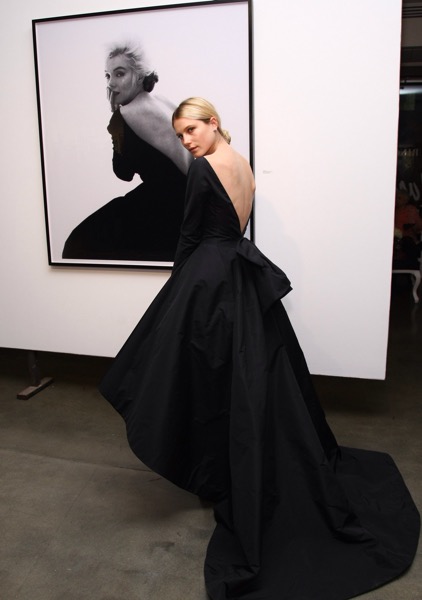 My Week With Marilyn was screened last night at New York's Milk Gallery, where the 'Picturing Marilyn' exhibit is on display this weekend. Celebrities like supermodel Christie Brinkley attended, along with members of the movie's cast and crew: producer Harvey Weinstein, director Simon Curtis, and actor Dominic Cooper, who plays Milton Greene.
The evening was hosted by Dior, who recreated the black dress that Marilyn wore in one of her last photo sessions, with Bert Stern, for Vogue in 1962. The dress was modelled by Dree Hemingway (daughter of Mariel, and great-grand-daughter of Ernest Hemingway.)
Nearly 80 photos from the event are posted at StyleList, where Brinkley shared her love for Marilyn:
'The blonde stunner's hair was styled in Monroe-esque waves, "Somebody said I was channeling Marilyn Monroe tonight and I was extremely flattered," she confessed. How would she try to get the full look? "Well I think a key element is, first of all, the hair. The second anyone bleaches their hair really blond like that, it's that Marilyn platinum. And then of course, the eyebrows. The lips. And then there's just a certain openness and vulnerability that she exudes." Brinkley continued, "I think Marilyn Monroe had the type of personality that if she gained 20 pounds, she'd still be Marilyn Monroe. A few pounds here or there. So if somebody asked me if I thought she could make it in today's modeling world, I would say absolutely because she possesses that 'x'-factor." And Brinkley should know! The 57-year-old Hamptons resident has been modeling for decades. "I hope that I have that kind of connection with the camera, but Marilyn was just different. The thing about Marilyn is that she's lasted forever, and I think she is forever." '
A selection of photos from the exhibit are posted at NY Mag.