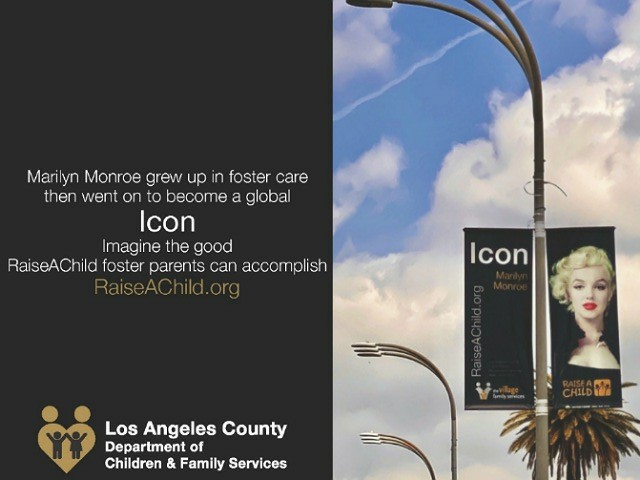 As many fans will know, Norma Jeane Baker was born in Los Angeles to an absent father and her mother suffered from mental illness. For much of her childhood she stayed with friends and family, and also spent time in an orphanage and in foster care.
As children's services protect vulnerable families during the coronavirus crisis, Marilyn has been chosen to front a campaign for the Raise a Child non-profit organisation based in her hometown, alongside some of today's celebrities who have also benefited from fostering.
Although Marilyn's childhood memories were not all happy, she would later lend her name to numerous children's charities and was reportedly considering adopting a child in the final months of her life, so this campaign is a wonderful way to honour her legacy.
"The faces of some notable former foster children — screen legend Marilyn Monroe, actress/comedian Tiffany Haddish and Olympic gold-medalist Greg Louganis — are featured prominently in a new street-banner campaign that began this week in an effort to recruit foster and adoptive parents.


The campaign by the nonprofit RaiseAChild — which will run through mid-July — is an effort to increase the number of foster and adoptive homes, particularly in Los Angeles County, which manages the nation's largest child welfare system with 35,000 children in care, officials said.

'We're honored to support RaiseAChild's mission and bring awareness to this important cause,' said Katie Jones, vice president of entertainment at Authentic Brands Group, which owns the Marilyn Monroe estate.

Jones said many people are unaware that Monroe grew up in the foster care system and often craved the stability of loving parents and a permanent home."

Los Angeles Daily News